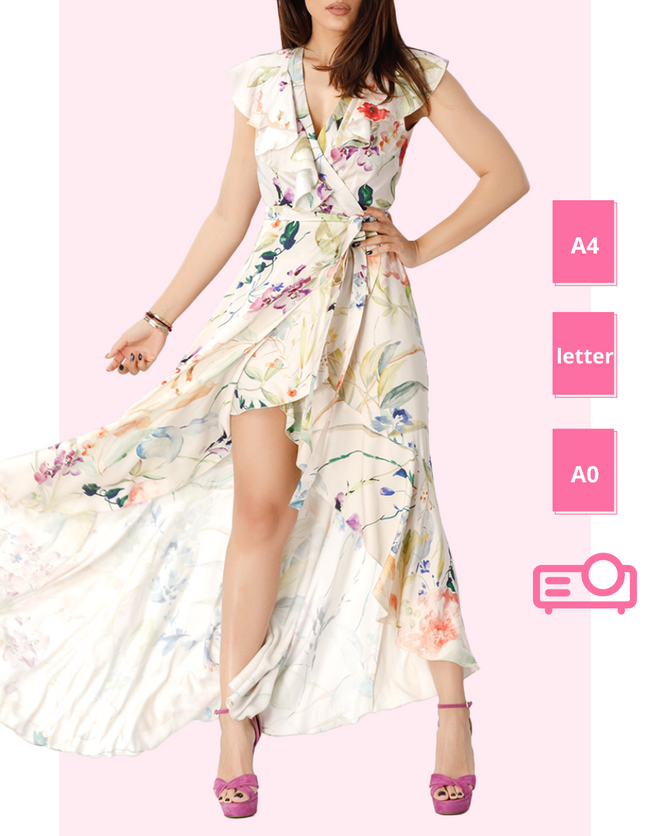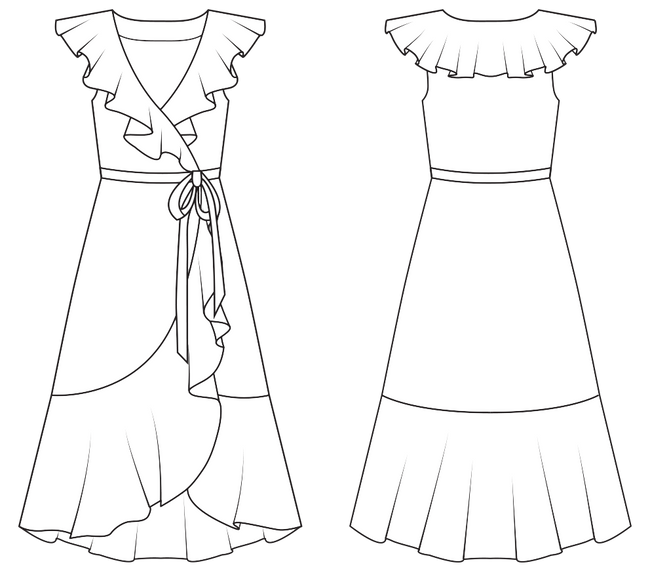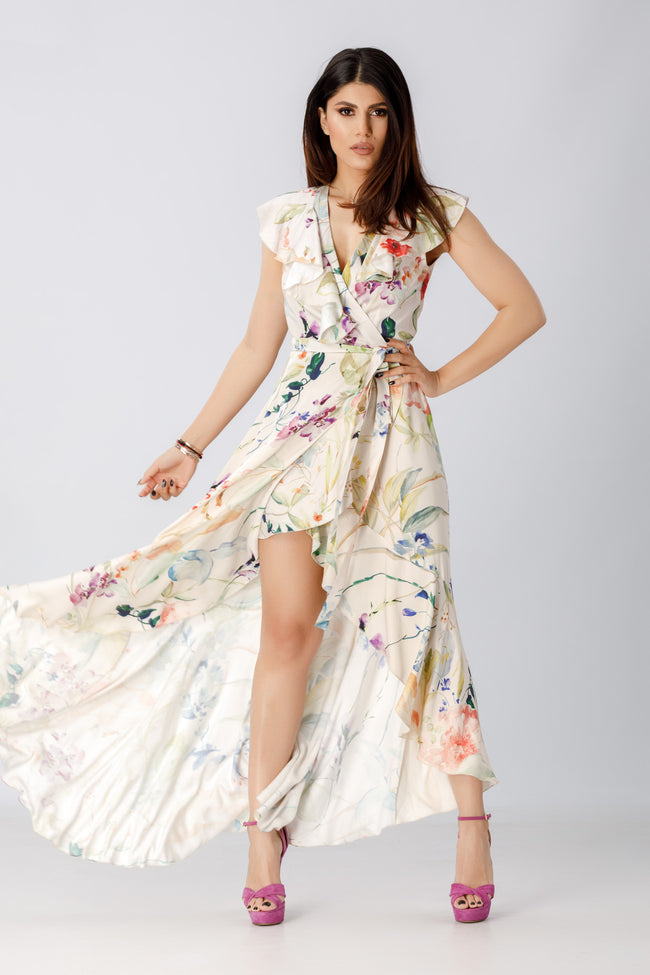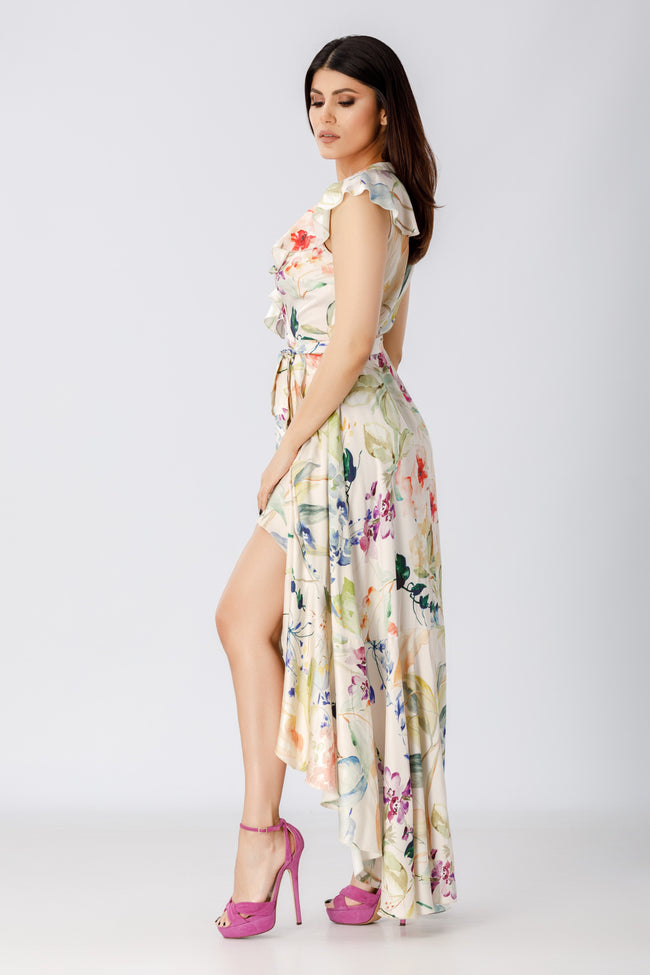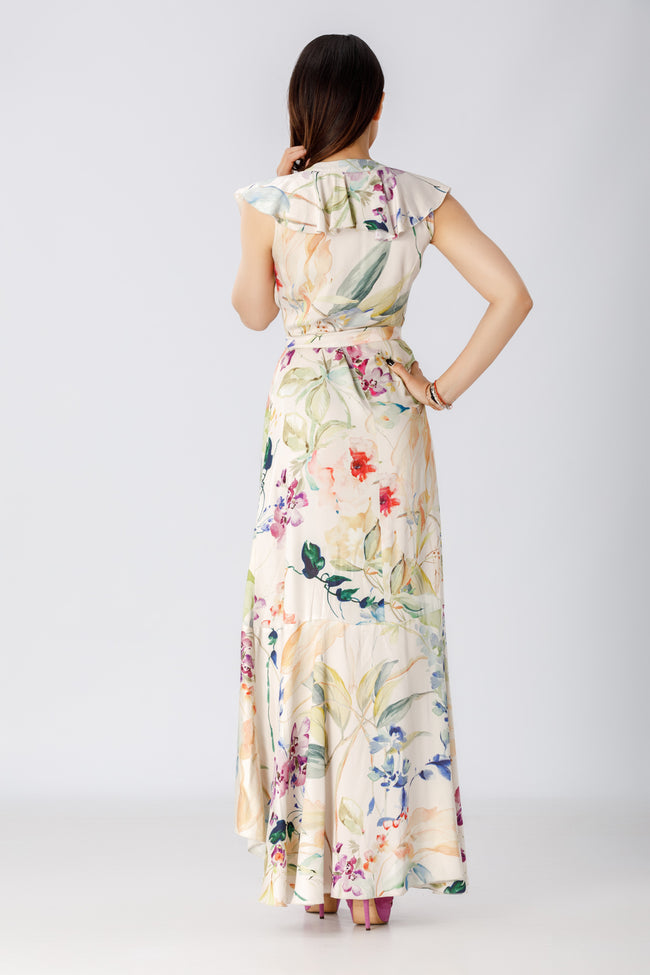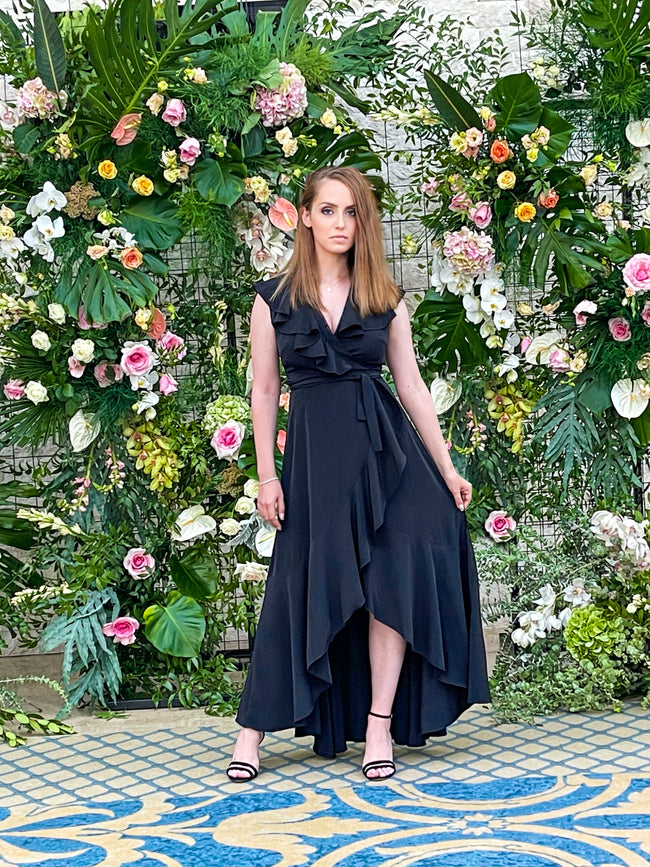 Looking for a versatile, summery wrap dress pattern that you can sew up in no time? Then check out our Michelle pattern! This pretty design is perfect for hot days spent strolling in the sunshine - the lightweight fabric and playful ruffles will keep you feeling cool and comfortable, even when the temperatures start to climb. Plus, the waist tie means you can adjust the fit to suit your figure perfectly. Whether you make it in a pretty floral print or a classic solid colour, we know you'll love wearing this dress all season long!
Design Highlights
True wrap style
Surplice V-neck
Sleeveless
Ties at side waist
Tulip hem
Flared skirt
Michelle Dress Sewing Pattern Overview
With every breath, you are surrounded in softness. This classic wrap dress is perfect for any occasion and will make your figure look amazing! It's sleeveless design showcases an elegant neckline while the surplice v-neck ties at side waist brings out all sides beautifully with its tiered length that falls just right down below Tulip hem line so nothing gets lost or tucked away...not even those beautiful curves we love styling up here on our end payroll :)
More Details Of What's Inside Our Dress Pattern
A printable PDF sewing pattern
format (You will need Adobe Reader on your computer to open the PDF files)
Measurement sheet and size chart
Step-by-step guide on how to cut and sew your puffed sleeve dress pattern
Assembling the pattern piece
Step by Step Instructions with Illustrations

Flexibility to choose from different sizes 2-14 (US) / 34-46 (EU)

A4 and Letter format for printing at home
A0 for printing at the copy center on A0 paper rolls
Projector files for projecting the patterns directly onto the fabric using the home projector
*All files are compressed in the ZIP archive for easy downloading. All sizes have separate files, you only need to print the files that are relevant to you.
Sewing Level
The Michelle dress pattern is great for an medium skilled sewing enthusiast
Supplies
How To Style Your Wrap Dress Pattern
There are endless ways to style a wrap dress. For a casual look, pair it with flats and a denim jacket. For a more dressed-up look, add heels and statement jewelry. You can also change the look of the dress by choosing different fabrics. A printed wrap dress is perfect for spring and summer, while a solid-color wrap dress can be worn year-round.
Sewing Your Perfect Size Wrapped Dress Pattern
The wrap dress is a timeless style that looks great on everyone. With our pattern, you can choose your own fabric, size, and style. This is the perfect pattern for beginners and advanced sewers alike
This pattern is easy to follow and comes with detailed instructions.
You'll need:
Your Michelle Wrap Dress PDF Pattern
Preferred fabric
Color matching thread
Sewing machine
Bias tape for the armholes
Interlining
Seam Allowance:
Fabric Suggestion:
If you're looking for the perfect fabric to sew a dress from this pattern, you'll want to choose a lightweight natural or mixed woven fabric. These woven fabrics are ideal for dresses because they have a bit of give, making them comfortable to wear. Plus, they drape well, giving the dress a flattering silhouette. Of course, there are endless possibilities when it comes to choosing a fabric for your dress, so ultimately it's up to you to decide what you want. But if you're looking for a fabric that will be easy to work with and will produce a beautiful finished product, choose drapey fabrics like rayon challis, linen, satin, crepe, viscose twill, viscose satin or even cotton lawn.
How much fabric do you need for your DIY dress?
To make sure you have enough fabric for your project, consult the table below. This table will give you a general guide on how much fabric you will need for your project. The amount of fabric needed depends on the width of your material. Most sizes are based on an useful fabric width of 140-150cm. However, if your fabric has a different width or design (like stripes or plaids), you may need to adjust the placements of the pieces so that it fits your available width.
Check your contraction!
To keep your new garment true to size, steam the fabric at its maximum heat recommendation before cutting. This will ensure that the fabric doesn't shrink after first washing.
Once you've calculated how much fabric will be needed for your project, make sure to account for any potential shrinkage and buy 5% more than what is required.
How To Sew
Sewing Instructions
Sew the bust and waist darts to the front and back. Iron
The edges and shoulders of the bust are overlocked
Sew the shoulders and sides and make sure that on the right side at the waist to leave free 4 cm, for
the cord channel. Iron the seam open
Apply bias tape on the armholes
Sew the sides of the skirt. Overlock and iron the seam.
Sew the chest ruffles together, overlock and iron the seam. Sew the serger stitch on their hem
Repeat the operation on the ruffles of the skirt
Sew the ruffles on the chest, bad side on good side
Sew the ruffles to the skirt, overlock and iron the seam
Apply interlining on the facings and re-created according to the pattern. sew them together on the
side and iron the seam
Take the front + back facings and sew on the inner line. iron the seam open then bend it to the iron to
create the final shape
Sew the facings to the neckline of the chest, overlock the seam and iron it inwards
Sew the skirt and bust at the waist, overlock the seam and iron
The cords are created and applied through a seam of the 2 parts of the center front in the waist area
That was it! I want to take a moment and say Congratulations- because not only did YOU create something unique, but also improved you sewing skills and are closer to being an expert in this field :) That was truly amazing & fantastic achievement - hats off!!
Video Tutorial
Video Sewing Tutorial
With this how-to video sewing tutorial, we're going to walk you through the sewing steps and help relieve any anxiety that comes with making your own dress. With our detailed instructions on what each step entails, there's no limit to how far creativity can go!
Give your sewing skills a boost with this how-to video tutorial.
Sew Your Own Fashion
Check out our full line of sewing patterns and other related items to discover a whole range of stylish items. Choose from a wide variety of styles for all of your sewing needs!
You can also try your hand at sewing today by downloading 2 free pattern! Download our free sewing pattern for an bardot style top pattern or a tiered skirt pattern. Our patterns are easy to use, and you can see for yourself how enjoyable and relaxing they are. 
Size chart
Terms of use
This digital pattern is for personal use only. No part of the pattern can be shared, reproduced, or resold in any format. Thank you so much!

**Due to the electronic nature of this pattern, refunds and exchanges are not accepted. If you have problems or questions, feel free to contact me via message
MICHELLE - Wrap Dress Pattern