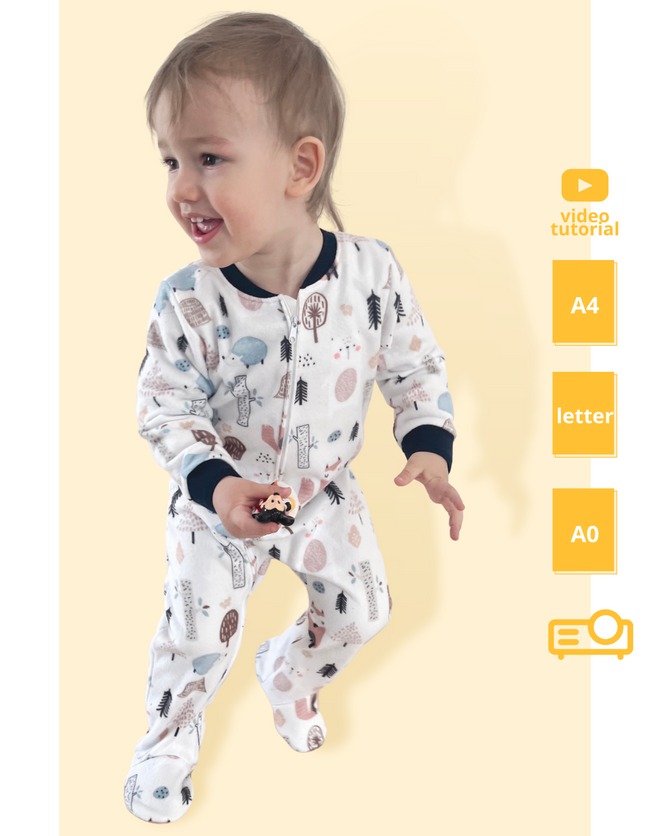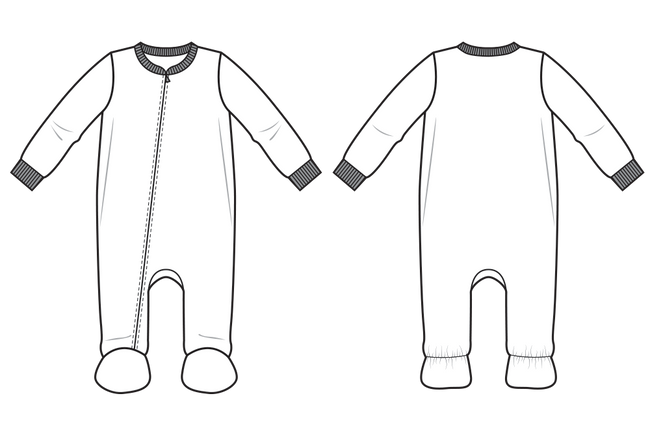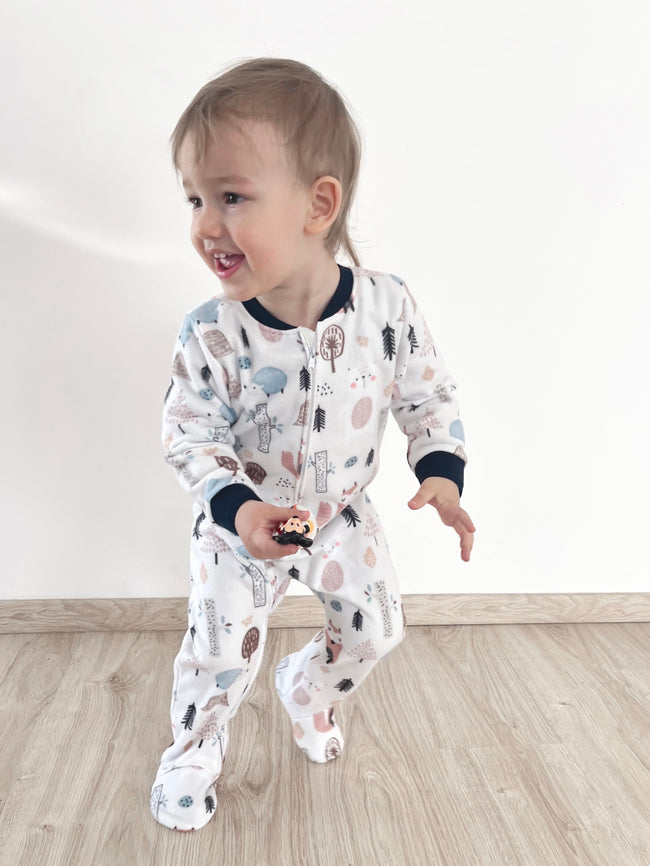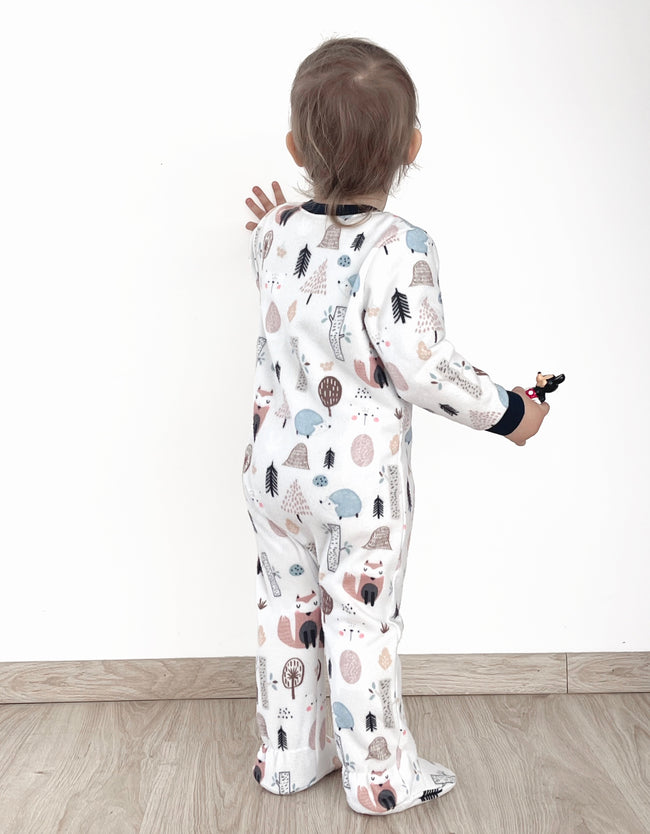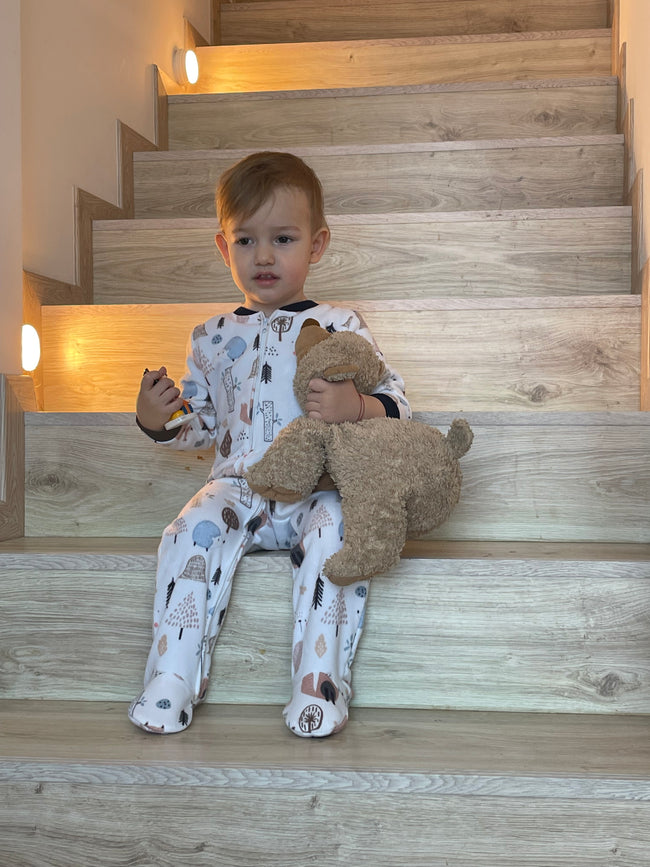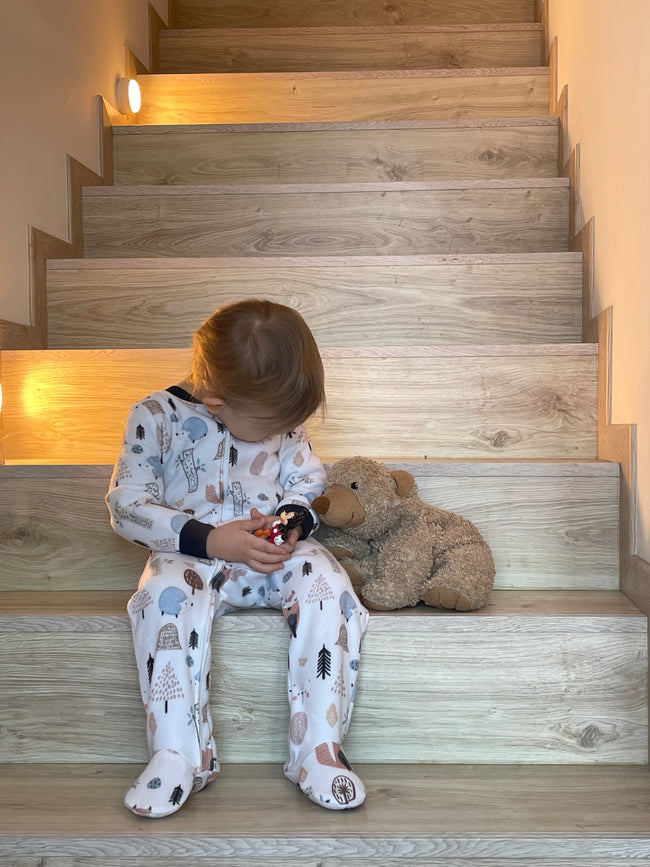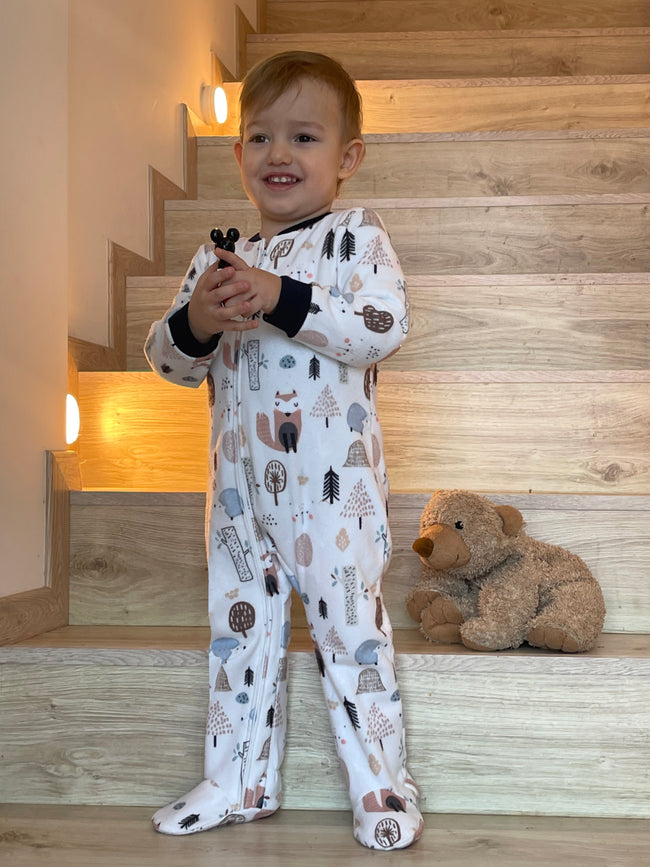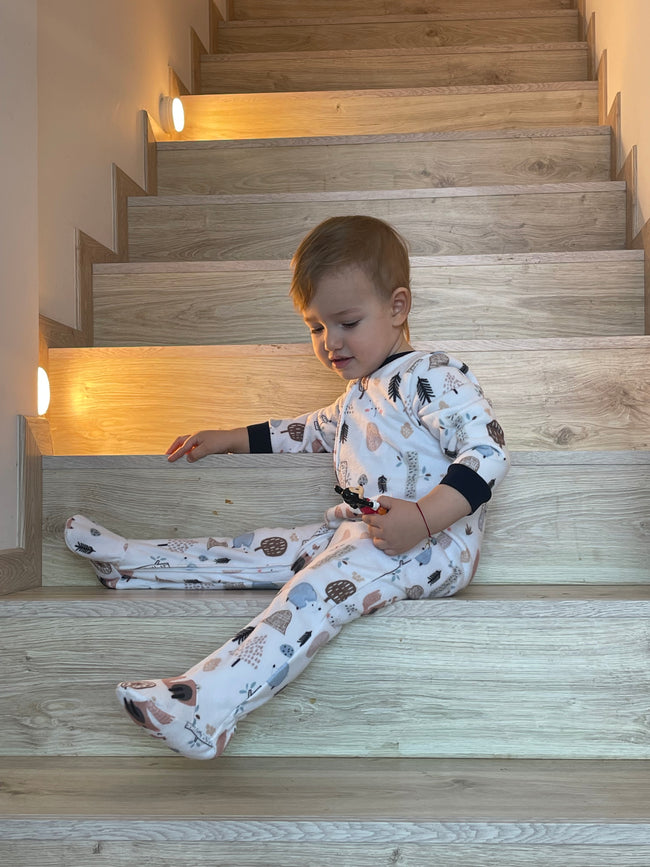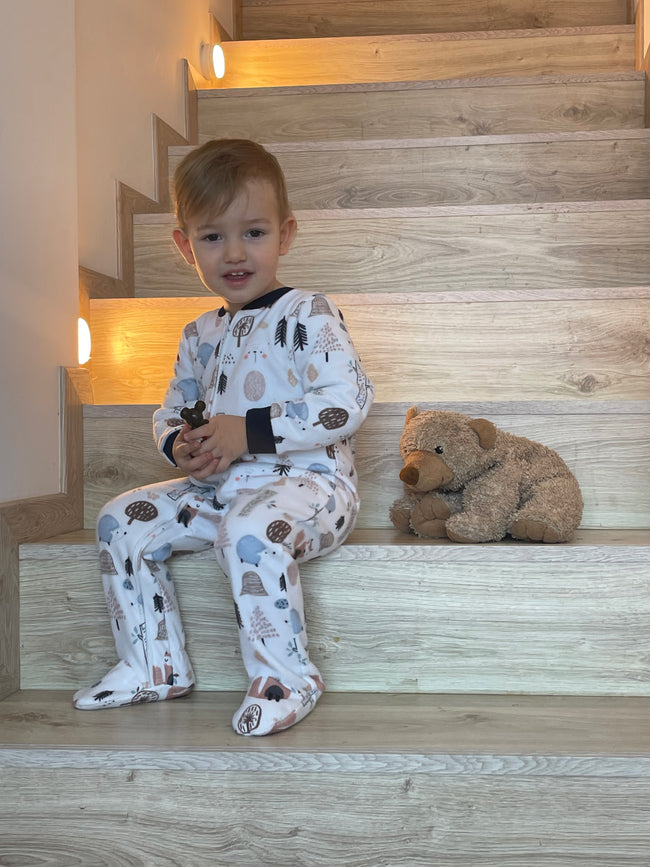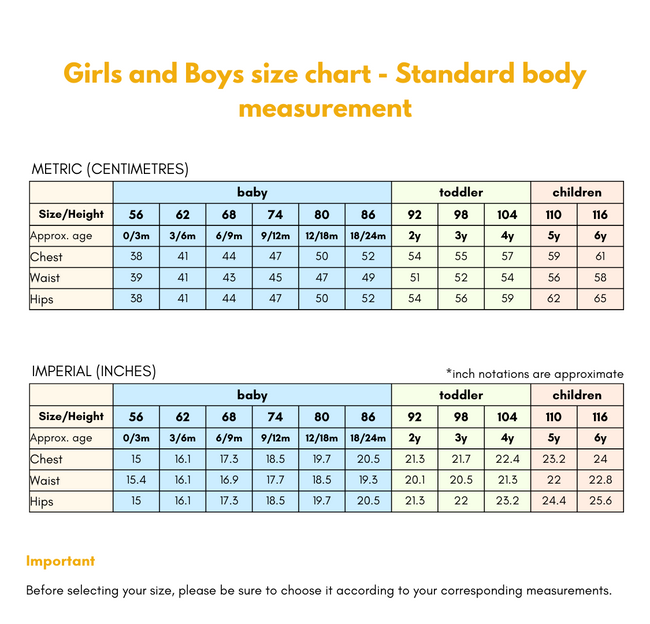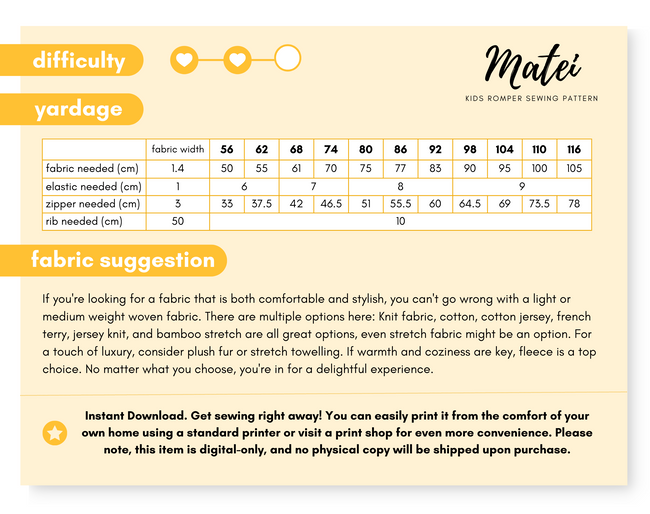 The Matei baby onesie pattern is perfect for your little superstar! Is designed to be comfortable for all-day wear from lying down to playing, making it ideal for playdates, nap time or any other time. The zip-front is similar to a pajama top and makes changing easy, especially at night. The built-in footies make this ideal for playing, napping or any other time a child is on the move. Happy Sewing!
Design Highlights
Built-in footies, no grippers
long sleeve onesie template
Zip up style

0-3m, 3-6m, 6-9m, 9-12m, 12-18m, 18-24m, 2y, 3y, 4y, 5, 6y - 

Sizes Included
perfect for a baby shower gift
Baby Onesie Sewing Pattern Overview
As any parent knows, finding the right baby clothes for your little one can be a challenge. You want something that is both cute and practical, and that can be worn for any activity. Footed onesies are the perfect solution! They are comfortable, stylish, and versatile, and they keep your baby's feet warm and cosy. Plus, they are easy to put on and take off, which is a huge plus when you're dealing with a wriggling baby. Whether you're looking for a sleepwear option or an everyday outfit, footed onesies are a great choice. So don't wait any longer, add a printable baby onesie sewing pattern to your cart today!
Sewing Level
The baby onesie pattern is a great pattern for an medium-skilled sewing enthusiast
More Of What's Inside Our Baby Long Sleeve Onesie Pattern
A printable PDF pattern format (You will need Adobe Reader on your computer to open the PDF files)
Measurement sheet and size chart
Step-by-step guide on how to cut and sew your pattern pieces
Assembling the pattern piece
Step by Step Instructions with Illustrations
Different sizes you can choose from
A4 and Letter format for printing at home
A0 for printing at the copy center on A0 paper rolls
Projector files for projecting the patterns directly onto the fabric using the home projector
Supplies
Sewing Your Perfect Size Toddler Onesie Sewing Pattern
There is nothing more rewarding than creating an item that is uniquely yours. With a little sewing skill, you can create the perfect onesie in no time! Besides getting exactly what you want, you will also be able to express your creativity.
Getting started will require:
Your Matei baby bodysuit pattern
Preferred fabric
Color matching thread
1 normal zipper (length depends on the size)
elastic 1 cm wide
fusible interlining tape
rib
Sewing machine
Seam Allowances
0.7 cm seams
1.5 cm zipper seam allowance
Fabric Suggestion:
If you're looking for a fabric that is both comfortable and stylish, you can't go wrong with a light or medium weight woven fabric. There are multiple options here: Knit fabric, cotton, cotton jersey, french terry, jersey knit, and bamboo stretch are all great options that will feel soft and gentle on your skin, even stretch fabric might be an option. For something a little more luxurious, try plush fur or stretch towelling. And if you're looking for a fabric that will keep you warm and cozy, fleece is always a good choice. Whichever fabric you choose, you're sure to be happy with the results.
How much fabric do you need for your diy onesie sewing pattern?
Material width determines the amount of fabric needed. The following table outlines the size and amount of fabric needed for each size based on a useful fabric width of 140-150cm. The pieces need to be adjusted to fit your available width if you are using patterns or fabrics of varying widths or design (think stripes, plaids, etc.).
Check your contraction!
A must-do! There are a few things that are worth taking the extra time to do. One of those things is measuring the contraction of your fabric before cutting. Steaming the raw material at its maximum heat recommendation will help you achieve accurate measurements. And, you'll be confident that your finished garment will hold its sewn size after washing - unlike if you had skipped this step and ended up with a garment that shrank after the first wash.
How to sew it
Sewing A Baby Onesie Pattern - Instructions
As soon as everything is set up, we can begin sewing. We have included instructions with our pattern that are easy to follow.
Simply follow along!
1. Apply a 1 cm (max) fusible interfacing tape on the right side of both center front piece opening to match the zipper placement. fig 1
2. Take the facing piece and sew the round edge at 0.7 cm, right sides together. Turn the facing and press the facing in half, lengthwise, wrong sides together. Overlock the edge.
3. Overlock the 2 center fronts separately
4. Undo the zipper and sew it to the seam allowance using a normal zipper foot. Align the edges.
5. Zip up the zipper. Pin the other side of the zipper in place on the right side.
6. Undo the zipper and sew in place along using a normal zipper foot.
7. Sew the ends of the zipper tape to the seam allowances to secure. Press the seam open below the zipper.
8. Push the right center front fabric towards the center of the zipper (0.5 cm), place the facing strip below and sew a straight stitch at 0.5 cm on all the layers. fig 2
9. Repeat the topstitch on the left side of the garment, without the facing, maching sure that now the zipper is hidden.fig 3
10. On the wrong side of the back piece, apply an elastic on the heel area, between the 2 notches. Cut a piece of elastic to the required length.
11. Secure the elastic at one end with a pin. Stretch the elastic across the fabric, pinning at regular intervals. The fabric will be loose under the elastic. Secure the elastic at one end with a few machine stitches. Place under the sewing machine and join the elastic to the fabric using a 3-step zigzag stitch, stretching the fabric and elastic together as you do so. fig 4
12. Sew the front pieces to the back piece at the shoulder seams using a 4 thread overlock stitch. Iron steam the seams
13. Place the long sleeves to the armhole of the garment, right side to right side. Match the notches and pin.Sew the sleeve to the armhole using a 4 thread overlock stitch. Press the sleeve seam toward the sleeve.
14. Fold the garment and sleeve right side to right side. Match the underarm seams. Sew together using a 4 thread overlock stitch. fig 5
15. Attach one side of crotch gusset to the back piece crotch, matching the notches, right side to right side. Use a 4 thread overlock stitch. fig 6
16. Sew the inner seam of the pants and the other side (leg) of the crotch gusset in one continuous seam using a 4 thread overlock stitch, right side to right side. Press the seam.
17. Sew the toe cap piece on the bottom of the front pieces, right side to right side, taking care to meet the markings. Use a 4 thread overlock stitch. fig 7
18. Sew the sole pieces to the bottom of the feet, right side to right side, taking care to meet the notches, using a 4 thread overlock stitch.
19. If you are using cuffs and neckline band from the same fabric with the jumpsuit, press the cuffs and neckline pieces in half, lengthwise. Sew the short edges together, right side to right side, and turn the pieces. Press again.
20. Apply the cuffs to the sleeves, using a 4 thread overlock stitch
21. Apply the neckband to the neck opening of the romper, right side to right side, using a 4 thread overlock stitch, slightly stretched. Sew a topstitch at 0.4 cm from the neck line, on the romper, making sure to catch the seam allowance in the seam. fig 8
Done! It's time for a celebration! After sewing your romper pattern to completion, you now have a playful onesie ready for play.

Video Tutorial
Your Footed Pajamas Pattern 

Sewing Tutorial
In case you find video tutorials more helpful, we have also recorded a sewing video tutorial that you can follow along with. In our tutorial, we walk you through each step of the sewing process so that you can follow along at your own pace. Whether you're a complete beginner or you've been sewing for years, we think you'll find our tutorial helpful and informative.
Explore your creativity with contemporary sewing patterns
Sewing your own clothes is a rewarding experience that anyone can enjoy. It's a great way to express your creativity, and you'll end up with a one-of-a-kind garment that you can be proud of.
So explore our range of patterns available in our shop and get started on your next sewing project today!
A Free Sewing Pattern To Get You Started
Try our off shoulder top free pattern or our skirt free sewing pattern to see if our styles are right for you. As these pattern can be easily adapted to fit a variety of body types and styles, it is perfect for all body types. You can wear them for any occasion, casual or dressy. Moreover, our patterns are easy to follow and guarantee a professional finish.
Size chart
Supplies
Terms of use
This digital sewing pattern is for personal use only. No part of the pattern can be shared, reproduced, or resold in any format. Thank you so much!

**Due to the electronic nature of this pattern, refunds and exchanges are not accepted. If you have problems or questions, feel free to contact me via message
Matei Baby Onesie Pattern