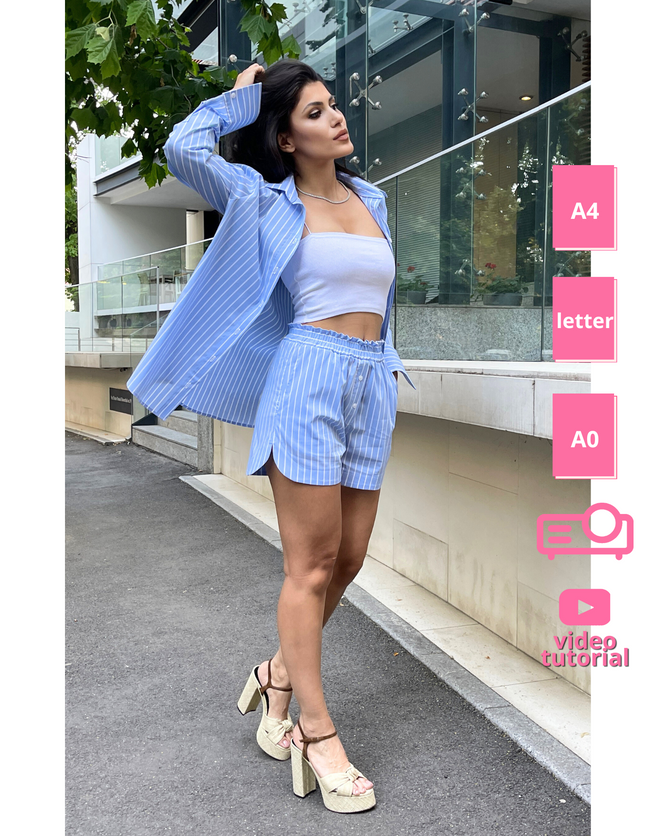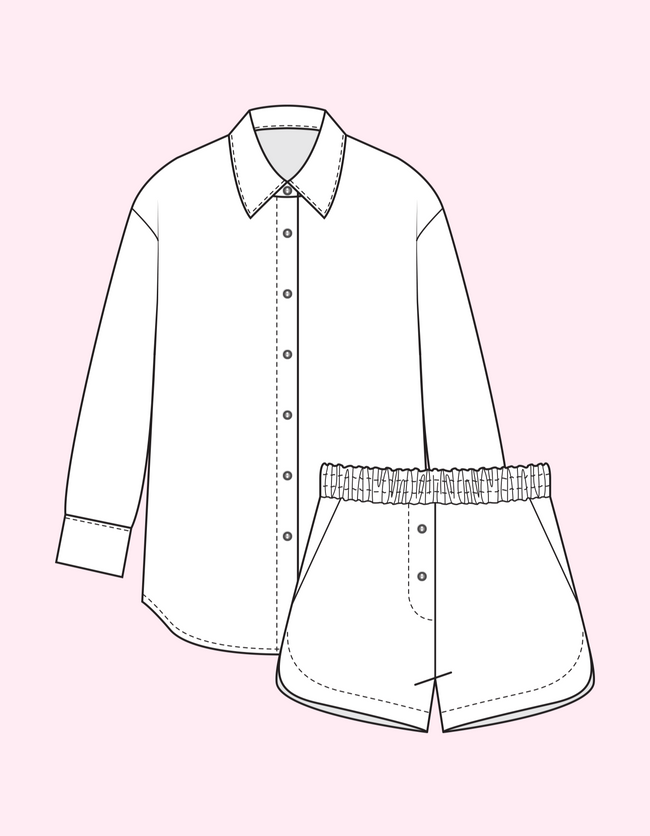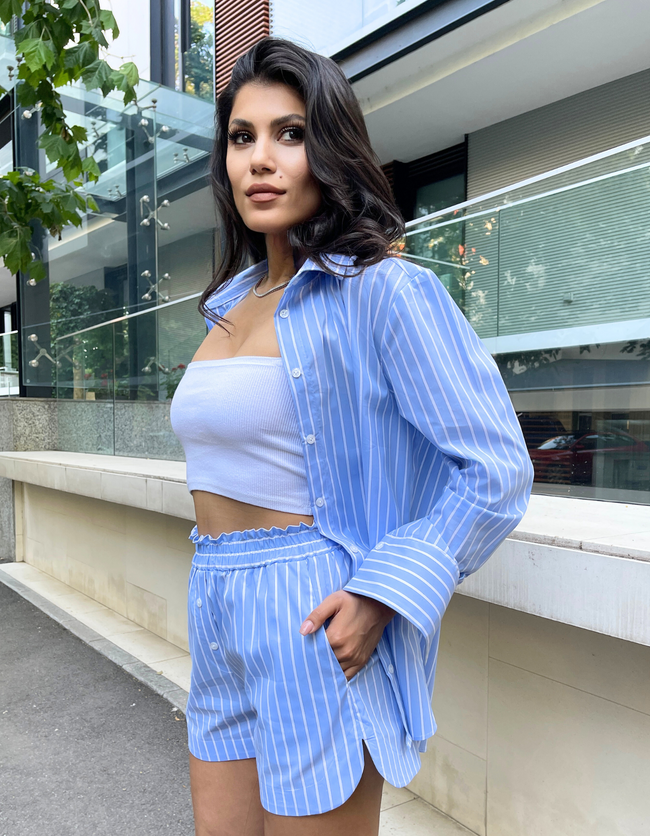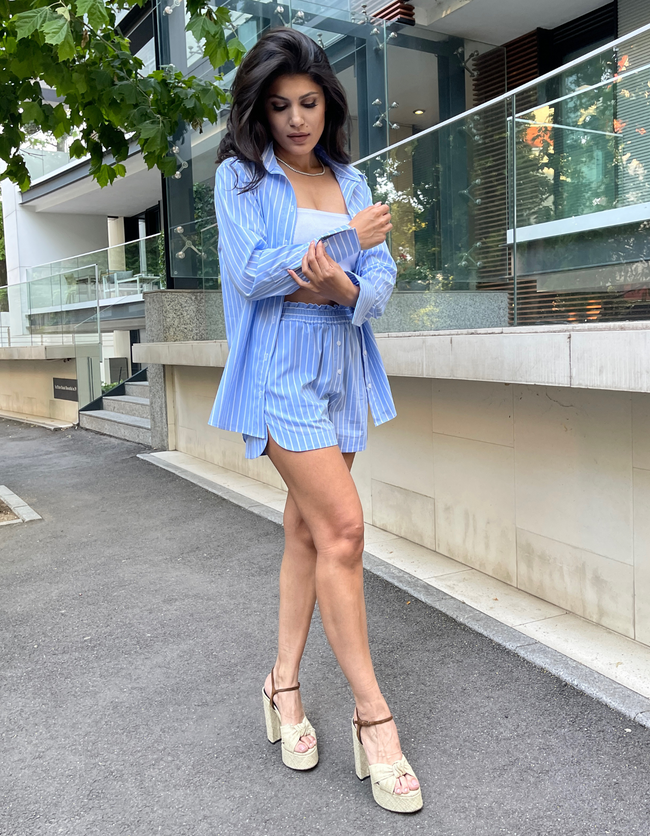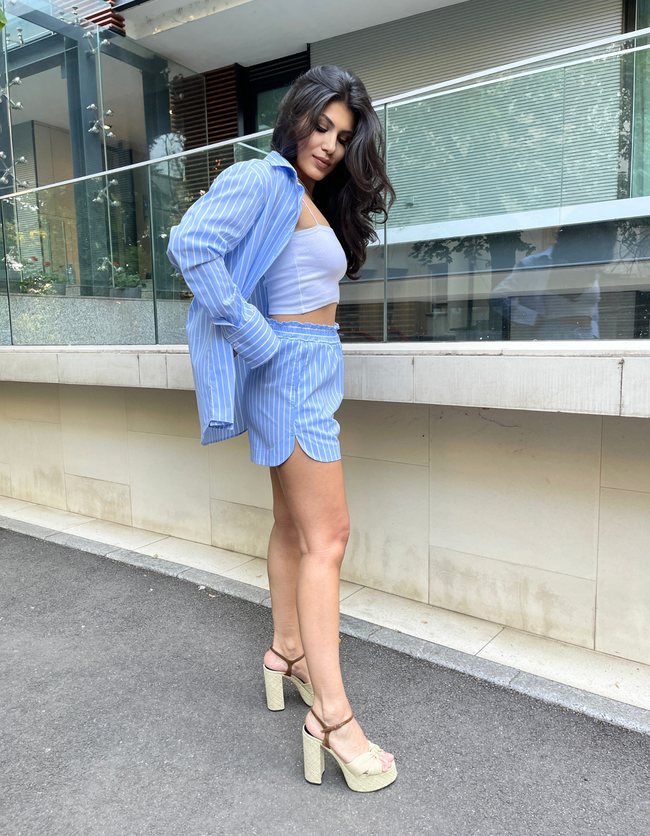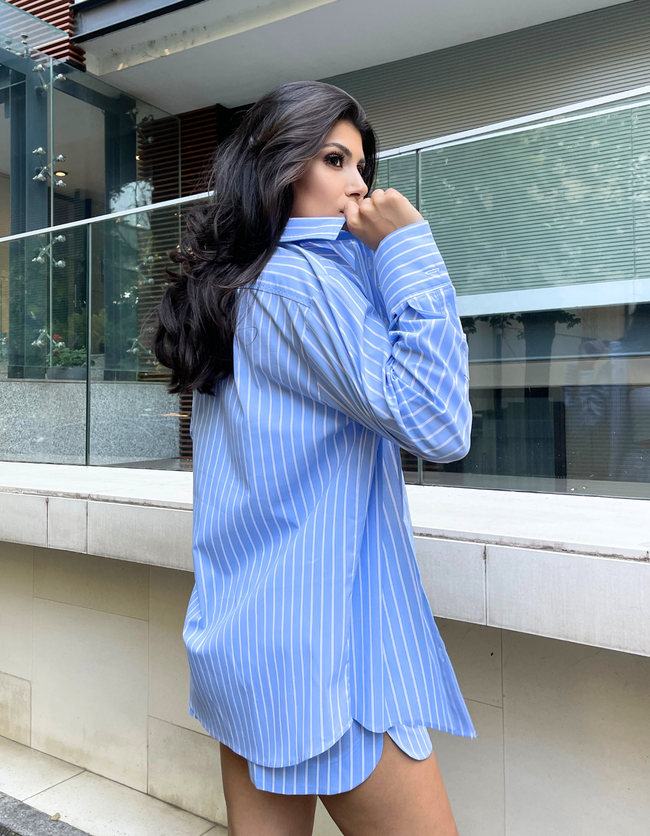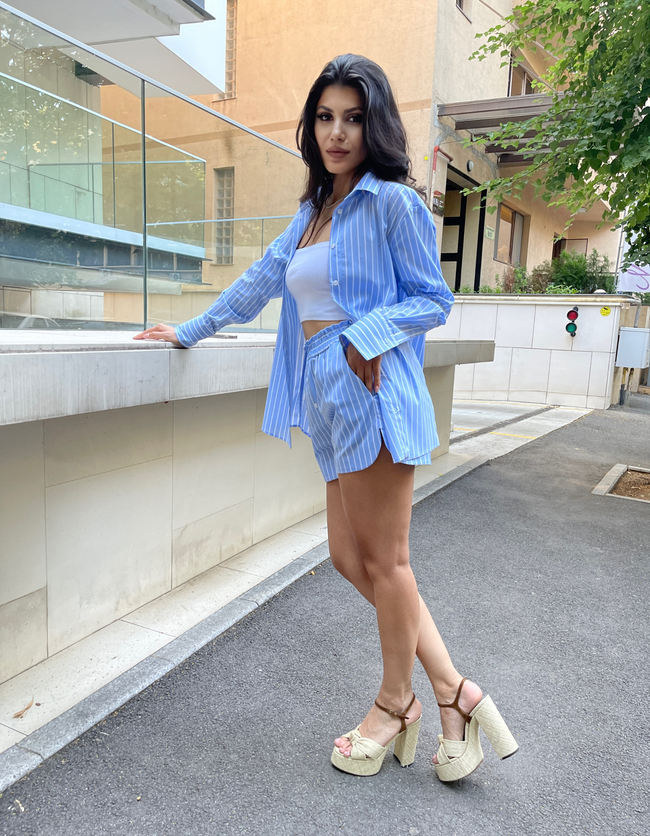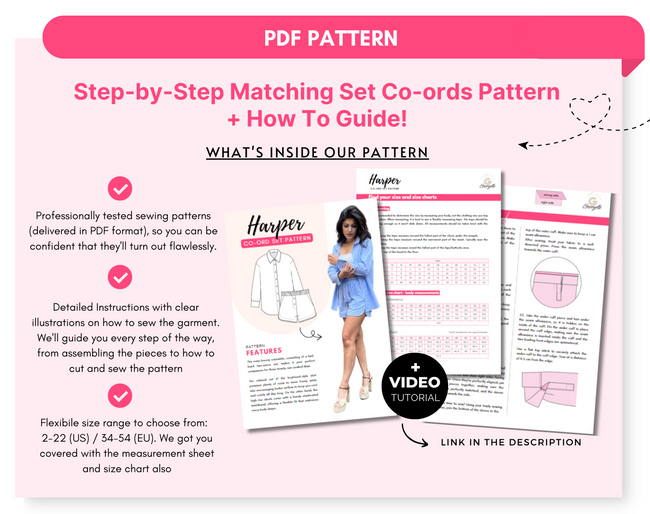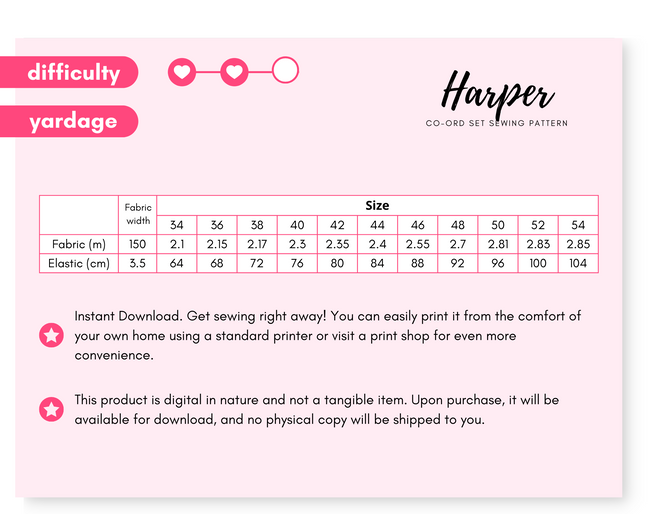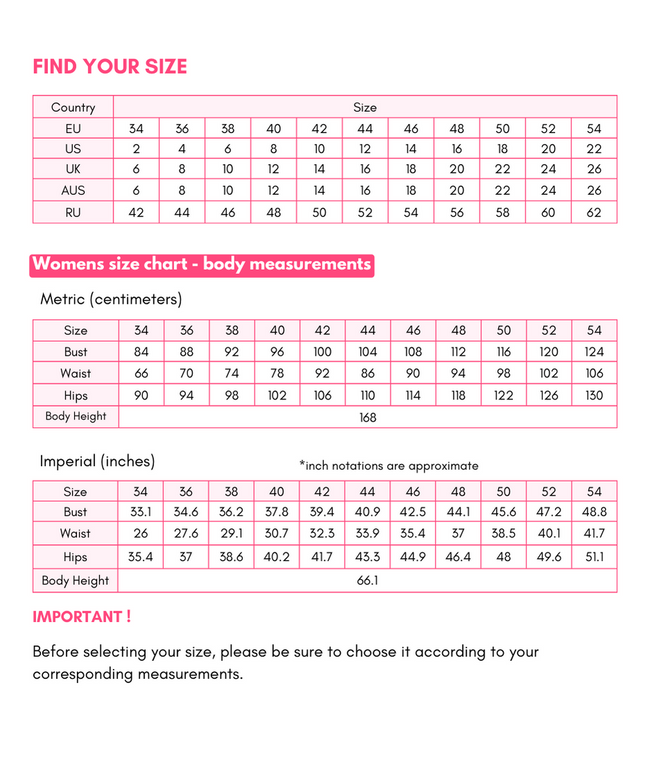 Prepare yourself to welcome the pinnacle of summer style with this versatile button-up outfit. This easy-fitting attire includes a laid-back, breezy two-piece set, making it a perfect pick for those hot, sun-soaked days.
How To Style And Wear Your Shirt & Shorts Pattern
Dressing to impress doesn't always have to mean donning formal attire; even the simplest of outfits can make a statement when styled right. Loose shirts can be tucked in or knotted at the waist for a chic, relaxed look, while fitted shirts lend a sleek edge to your outfit. Finally, complete the look with appropriate footwear and accessories. A pair of casual sneakers or loafers, a matching belt, and a cool pair of sunglasses can be the perfect finishing touches to your shirt and shorts. Remember, confidence is the best thing you can wear, and experimenting with patterns is a great way to express your personality and elevate your summer wardrobe. 
Sewing Pattern Overview
This adaptable sewing pattern isn't confined to just creating daytime attire. It can also be utilized to design chic cover-ups or even fashionable sleepwear. Given the wide variety of fabrics at your disposal, you can craft multiple sets, facilitating seamless mixing and matching.
Sewing Level
The Harper pattern is great for a medium-skilled sewing enthusiast
More Of What's Inside Our Pattern
A printable PDF sewing pattern format (You will need Adobe Reader on your computer to open the PDF files)
Measurement sheet and size chart
Step-by-step guide on how to cut and sew your pattern
Assembling the pattern piece
Step by Step Instructions with Illustrations
Different sizes you can choose from (2-22 US / 34-54 EU)
A4 and Letter format for printing at home
A0 for printing at the copy center on A0 paper rolls
Projector files for projecting the patterns directly onto the fabric using the home projector
Embark on your sewing adventure with a heart full of confidence! Rest assured, these features will hold your hand through every step of your project, guaranteeing a gratifying result from start to finish. Please do bear in mind that this pattern doesn't come in a physical paper form delivered to your door. Rather, it's a digital file, designed to be easily within your reach whenever you need it. This way, we're ensuring both the ease of access and the convenience of using it whenever inspiration strikes.
Supplies
Sewing Your Perfect Size Pattern
Simple-to-understand directions will lead you through the process of sewing our patterns, and upon completion, you'll be rewarded with a fashionable addition to your clothing collection.
Now comes the fun part!
You'll need:
Your PDF Pattern
Preferred fabric
Color matching thread

12 buttons

3.5 cm wide elastic

Fusible interlining

Fusible reinforcement tape (5-8 mm wide)

Sewing Machine
Seam Allowances
1 cm seam

1.5 cm hem (shirt)
Suggested Fabrics
Light weight woven fabric: Cotton, Linen, Cotton Poplin, Muslin, Chambray,
Lawn, Twill, Gingham, Crossweave, Satin, Plaid, etc
How much fabric do you need for your diy coordinated outfit pattern?
These material specifications pertain to fabrics having a width ranging from 140 to 150 cm. For fabrics of different widths or patterns (like stripes, checks, etc.), it may be necessary to adjust the pattern positioning. To avoid last-minute shopping rushes, ensure you purchase a little extra fabric for your project ahead of time.
A Fabric's Contraction Is Crucial!
Cleaning your fabric before cutting serves two critical purposes - preshrinking the material and eliminating surplus dye. This approach guarantees that your garments will maintain their original size post-sewing and won't undergo shrinkage after subsequent washes.
Video Tutorial
Sew Along With a Video Tutorial
The sewing pattern video tutorial we've assembled is simple to comprehend and provides the flexibility to learn at your individual speed. The video demonstrates the assembly process in detail, enabling a comprehensive understanding. Feel free to pause and replay the tutorial whenever required for a better grasp of the pattern. This approach ensures a swift project completion and an impressive final product.
Love At First Stitch: Professionally Sewing Patterns For You
Sewing offers a distinctive medium for showcasing your personal fashion statement. With the assistance of professional sewing patterns, you have the capacity to craft bespoke clothing comparable to luxury brands.
Our objective is to facilitate the successful execution of your forthcoming projects by developing professional sewing patterns that manage all the technicalities on your behalf.
We aim for you to concentrate on fostering creativity and enjoying the sewing process!
Free sewing pattern available
With a busy schedule, you don't have time to waste on patterns that don't work for you. This is a simple off-the-shoulder blouse pattern that you can use to get familiar with us. Our free skirt pattern matches it perfectly. Feel free to try us out and see if our way of doing things and your sewing needs are a good fit.
Size chart
Terms of use
This digital pattern is for personal use only. No part of the pattern can be shared, reproduced, or resold in any format. Thank you so much!

**Due to the electronic nature of this pattern, refunds and exchanges are not accepted. If you have problems or questions, feel free to contact me via message
Harper - Shirt & Shorts Matching Set Pattern