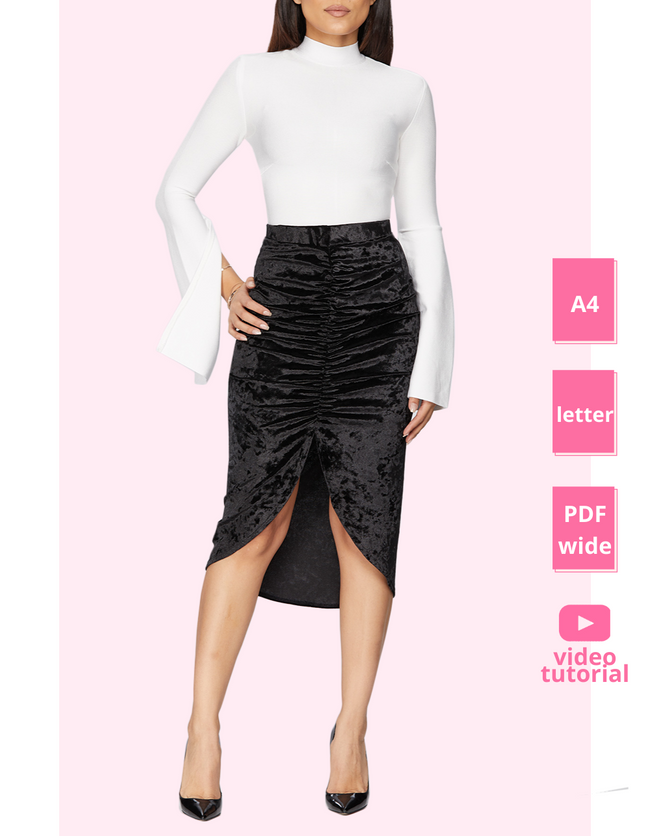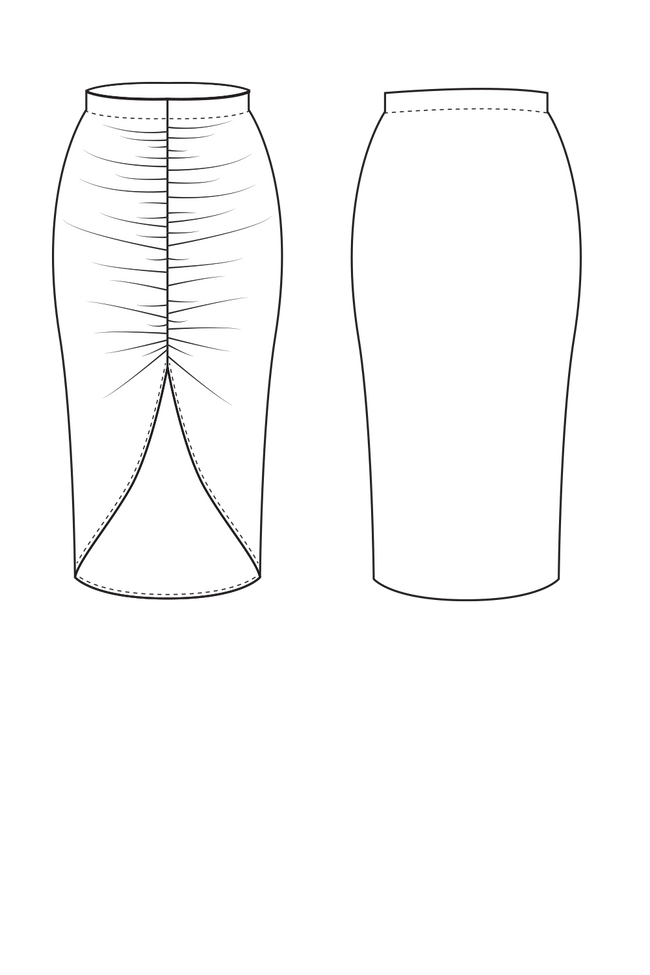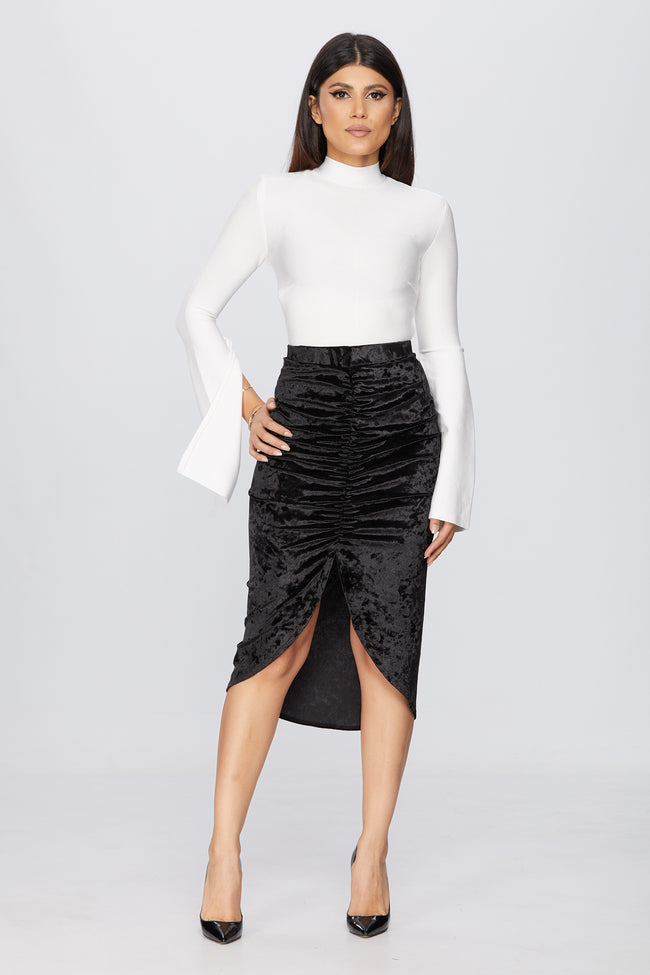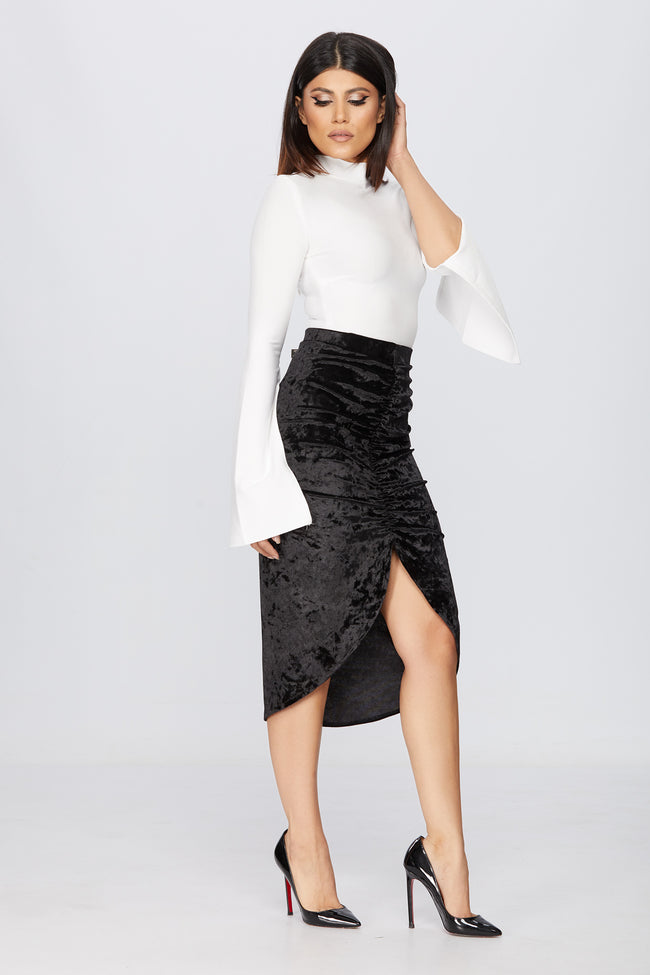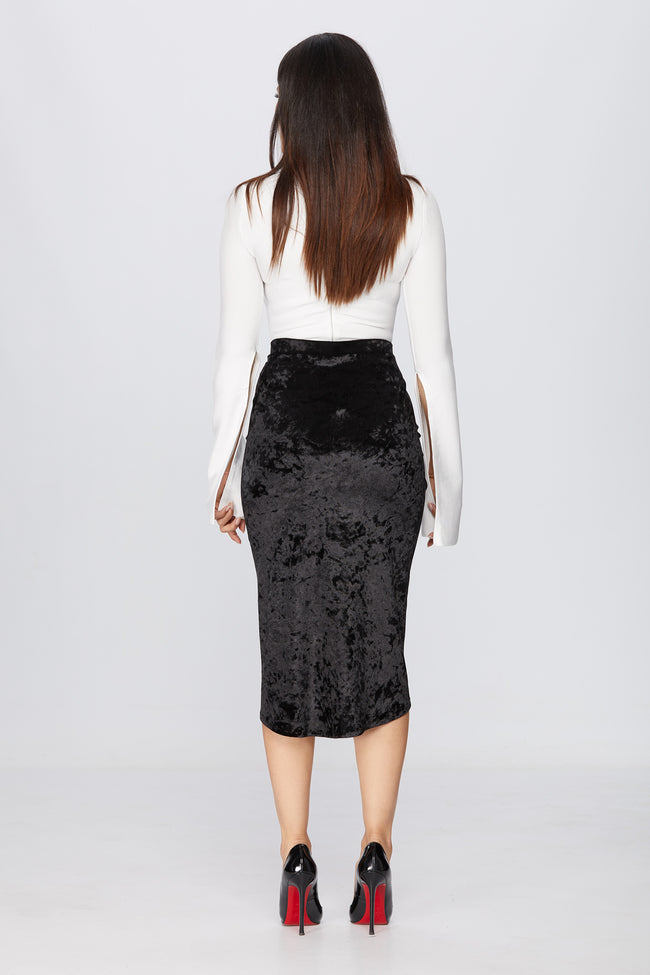 If you're looking for a signature skirt that will take you absolutely anywhere, this beautifully ruched pencil skirt pattern just might be the one. Featuring a figure-flattering silhouette and timeless appeal, this skirt is a perfect fit and is sure to become a wardrobe favorite. The result is a feminine and sophisticated look that makes it appropriate for the office, date night, or an event with friends.
Design Highlights
midi length
center-seam ruching
fitted high natural waist band
bodycon style
pencil shape
easy sew
elastic waistband
no lining
How To Style And Wear Your Pencil Skirt Pattern
This skirt looks great with a tucked-in blouse or tee and heels for the office. Or, try it with a cropped sweater and sneakers for a more casual look. For date night or a girls' night out, dress it up with a pretty blouse and statement earrings.
Midi skirts are so versatile and easy to wear, perfect for every body type. With the right top and accessories, they can be dressed up or down to suit any occasion. And this particular skirt sewing pattern is especially versatile because it can be made in a variety of fabrics to achieve different looks. For example, try it in a denim fabric for a more casual feel or a satin fabric for a dressier look.
The Ultimate Pencil Skirt Sewing Pattern Overview
The front ruching elevates the look of this curve-skimming pencil skirt and creates an asymmetrical, high-low effect. Every closet craves this shapely skirt designed with a high waist and comfortable fit.
Sewing Level
The Madison sewing pattern for pencil skirt is great for a beginner skilled sewing enthusiast
More Of What's Inside Our Printable Pencil Skirt Pattern
A printable PDF sewing pattern format (You will need Adobe Reader on your computer to open the PDF files)
Measurement sheet and size chart
Step-by-step guide on how to cut and sew your pattern
Assembling the pattern skirt pieces
Step by Step Instructions with Illustrations

A variety of sizes to select from, including US 2-14 / EU 34-46

A4 and Letter format for printing at home
A0 for printing at the copy center on A0 paper rolls
Projector files for projecting the patterns directly onto the fabric using the home projector
Supplies
How To Make A Tight Skirt
A great feature of this pattern is its ease of sewing. Our sewing patterns are easy-to-follow instructions make assembly a breeze. It will look stunning when you wear it - sure to turn heads.
Embark on an exciting journey!
You'll need:
Your PDF pattern
Preferred fabric
Color matching thread
Elastic for waist 3 cm wide
Elastic 1 cm wide
Sewing machine
Seam Allowance:
Fabric Suggestion:
When choosing a fabric for your skirt, it is important to consider the weight, stretch, and overall feel of the material. For this particular skirt pattern, an elastic medium weight woven fabric will be best suitable. Knit fabric is a great choice because it is stretchy and has a lot of movement, which is perfect for a skirt. Other good choices for this skirt pattern include stretch velvet, stretch satin, ponte de Roma, Jersey Knit, Stretch Rayon Jersey, Sweater Knit etc.
Midweight fabrics will provide the right amount of stretch and structure to create a flattering silhouette.
When shopping for fabric, be sure to ask for a swatch so that you can test the stretch and feel before making a purchase. With a little bit of planning, you can find the perfect fabric to make a show-stopping skirt that is both comfortable and stylish.
How much fabric do you need for your diy skirt?
The following specifications typically recommend fabrics with a width of 140 to 150 cm, as this width is the base of the table below measurements. It is occasionally necessary to adjust pattern placement due to variations in fabric width or design (striped, plaid, etc.). Buy enough fabric beforehand so you do not have to make last-minute purchases.
Check your contraction!
Preparing your fabric for cutting begins with washing it. You will eliminate any excess color and shrink the fabric beforehand this way. Consequently, the fabric will not contract anymore, preventing downsizing.
How To Sew It
How To Sew A Pencil Skirt - Instructions
I am so excited to show you how to make a tight skirt from our Madison Pattern! It's a really fun and simple pattern, perfect for beginners.
If you have a serger, neaten the raw edge of the lower part with a 3-thread serger stitch. It is one of the most professional ways to finish seams and is suitable for all types of fabric and items. If no serger is available, use a zig zag stitch on the sewing machine. fig 1
Fold the piece in half, right side to right side, and sew them together from the waist to the last notch. Press the seam open. fig 2
Turn up the hem to the wrong side 1 cm. Baste the hem close to the crease line. Working from the wrong side of the garment, sew the hem in place at 0.8 cm. Remove the basting stitch.
Cut a piece of 1 cm elastic to the required length. Pin the elastic in place on the opened center front seam (wrong side) starting at the second notch from the waist to the last notch. Secure the elastic at one end with a pin. Stretch the elastic across the fabric, pinning at regular intervals. The fabric will be loose under the elastic.
Secure the elastic at one end with a few machine stitches. Place under the sewing machine and join the elastic to the fabric using a 3-step zigzag stitch, stretching the fabric and elastic together as you do so. fig 3
Cut a piece of 3 cm elastic to the required length. Sew the ends of the waistband elastic together, overlapped 2 cm.
Attach the edge of the elastic to the upper edge of the waist in pins. Stretch the elastic across the fabric, pinning at regular intervals. Overlock both layers together while stretching the fabric and the elastic.
Bend the elastic inwards, to the wrong side so that the elastic doesn't show, and fasten it to the skirt with a seam at 4 cm. fig 5
Video Tutorial
Straight Skirt Pattern Sewing Tutorial
Watch my video tutorial for step-by-step instructions on how to sew this skirt pattern. Take a look at the video from beginning to end to get a sense of the project. Afterwards, gather your sewing supplies and sew along with the video, pausing frequently to mirror my movements.
A Sewing Pattern For Every Story
The best part about sewing your clothes is that you can make each piece unique to you. By choosing your own fabrics, trims, and details, you can create a garment that perfectly reflects your personal style. And with our sewing patterns, you can sew an item that tells YOUR story.
Among our patterns, you will find a wide selection of options for women, men, and children. And We continue to add new patterns to keep your wardrobe fresh and stylish.
Download a free sewing pattern
We place a high priority on customer satisfaction. For this reason, we're giving away a free pattern for an off-shoulder top and a maxi skirt free pattern. See if our patterns appeal to you by downloading our free sewing patterns to get a sense of the quality of our patterns.
Size chart
Terms of use
This digital PDF pattern is for personal use only. No part of the pattern can be shared, reproduced, or resold in any format. Thank you so much!
**Due to the electronic nature of this pattern, refunds and exchanges are not accepted. If you have problems or questions, feel free to contact me via message
MADISON - Pencil Skirt Pattern