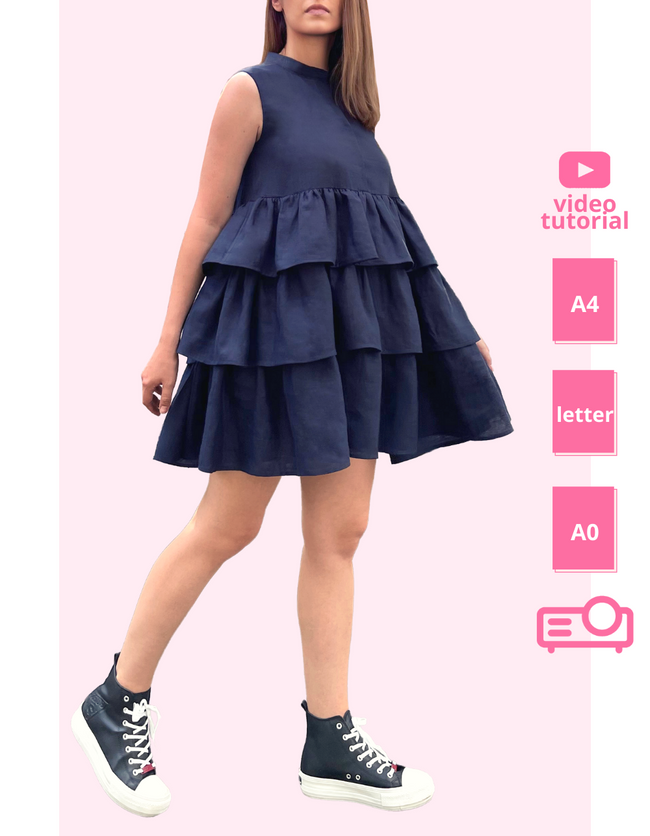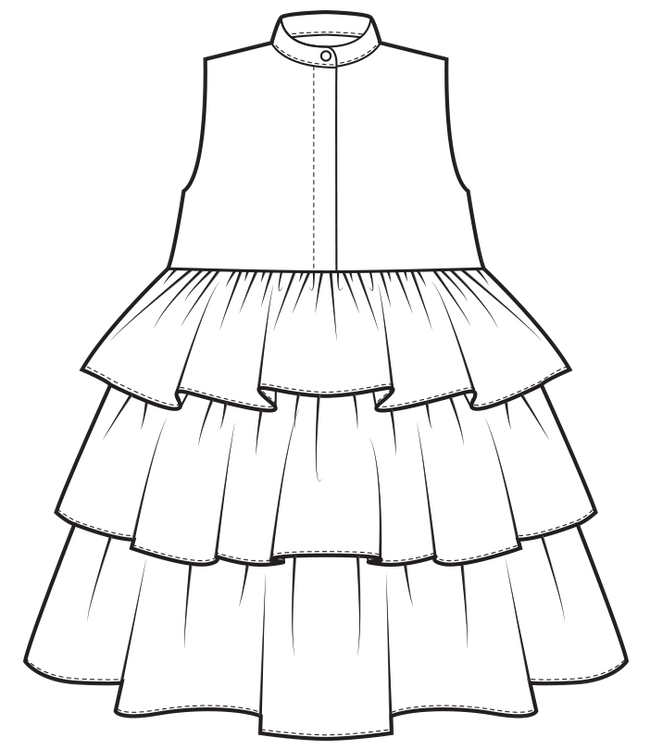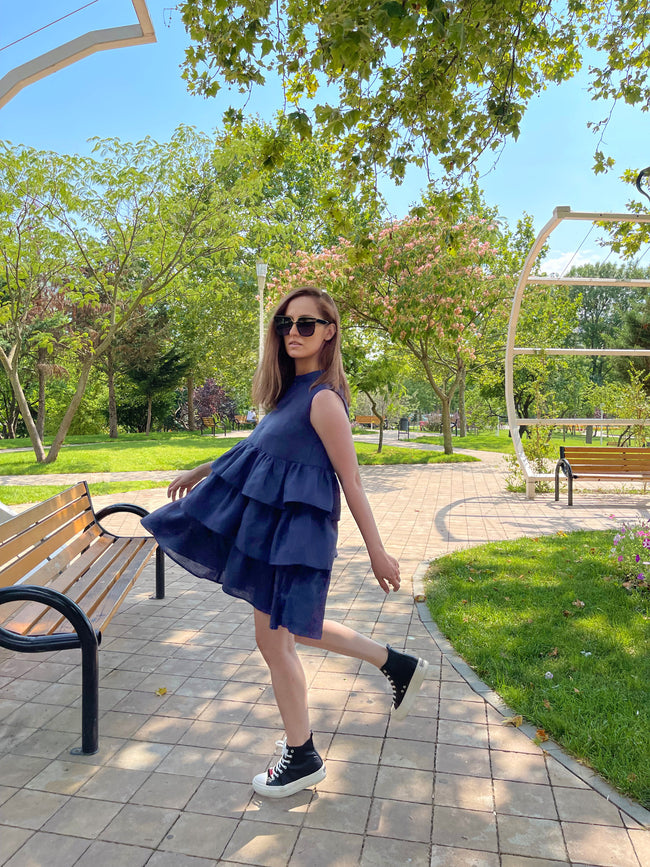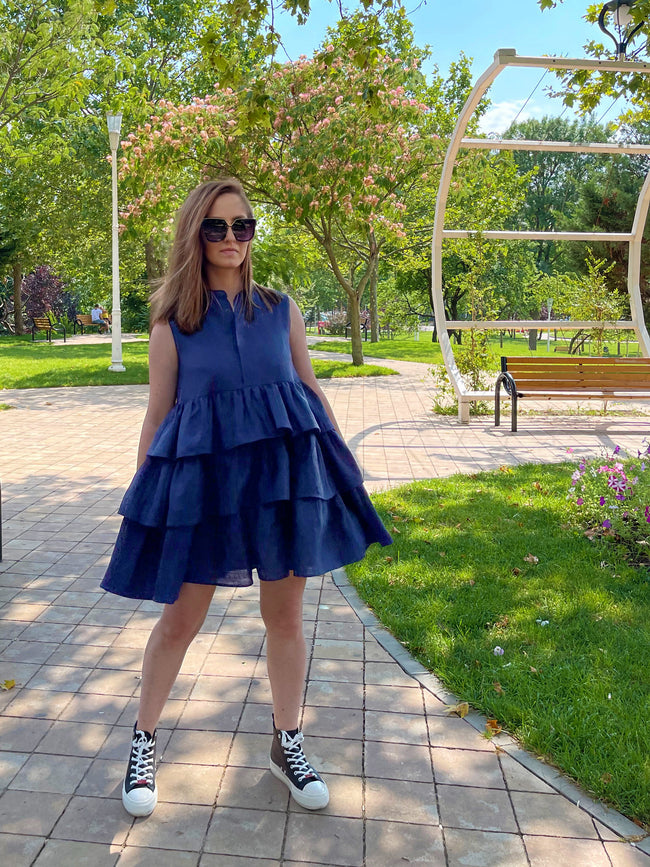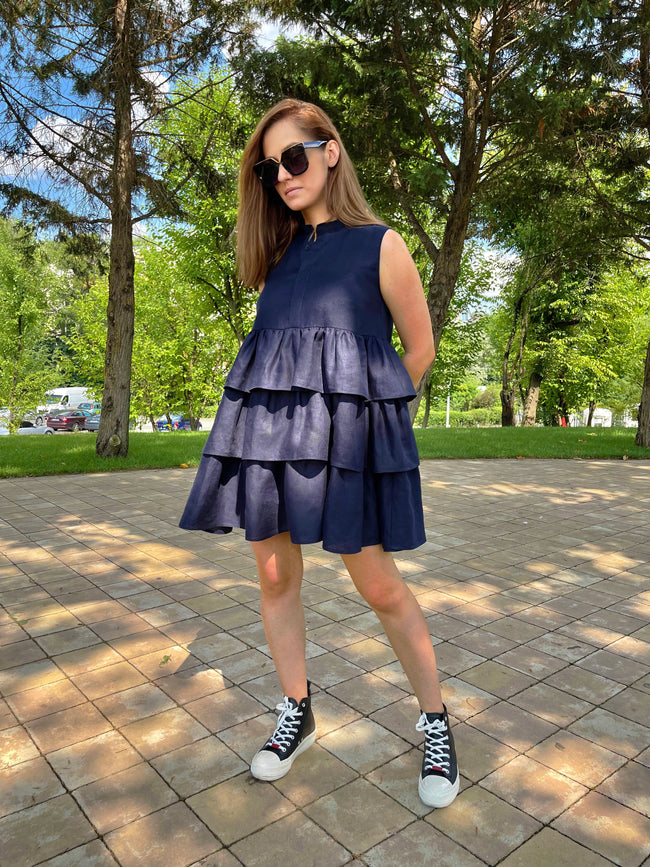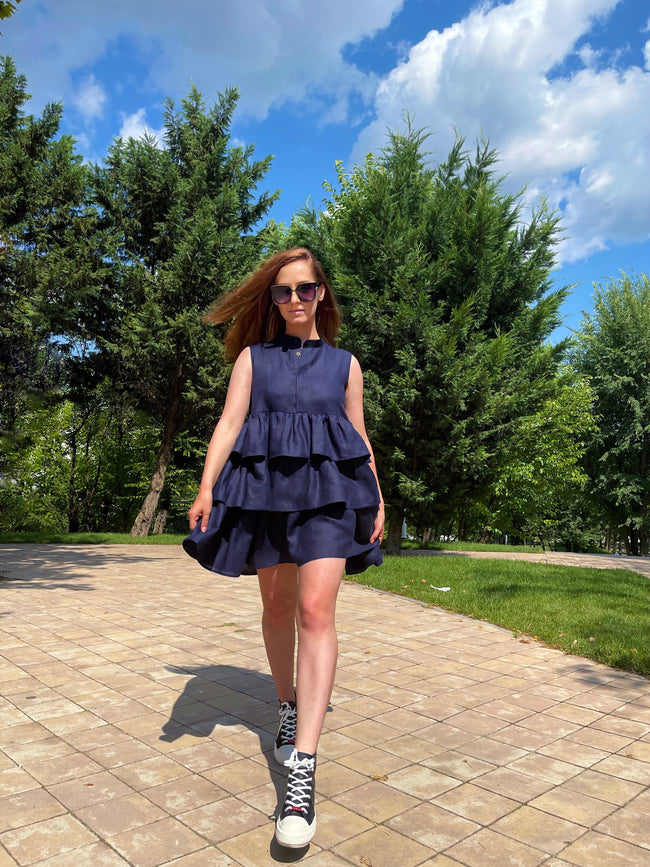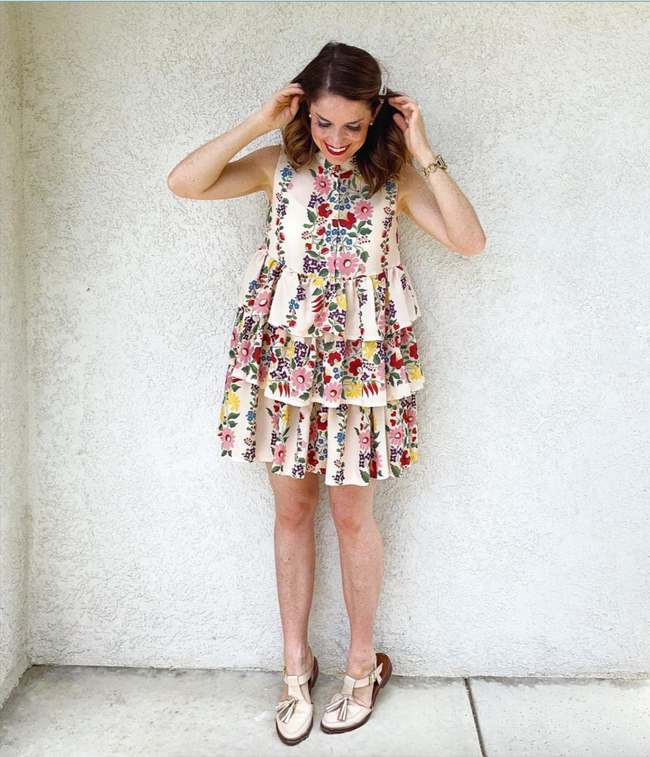 Elevate your style in the breezy and feminine smock dress pattern. This lovely dress features a flattering empire waistline and a dainty tiered skirt. It's perfect for any spring or summer event! Whether you're headed to a wedding or a garden party, this dress will have you feeling your most beautiful.
Design Highlights
Sleeveless Dress
Mandarin collar
Mini Length
wavy tiered hemline
How To Style And Wear Your Tiered Dress Pattern
Tiered Dresses have a cult following for a reason. Casual enough to be worn with sandals and a mini straw bag during your warm-weather city stroll, yet romantic and feminine for the cocktail hour, you can dress it up and down depending on the occasion. Style it with neutral-colored sandals or opt for kitten heels and throw your hair up in a ponytail. Rock it with a pair of espadrilles and a minaudiere bag to tap into romance territory. The options are endless.
Sewing Pattern Overview
This beginner sewing dress pattern is crafted with a mandarin collar, sleeveless design and falls into three ruffle overlays at the bottom to give your look a delicate touch. Enjoy carefree summer fun with our diy dress pattern that will keep you stylish in spring, and sizzling in the summer.
Sewing Level
Chloe smocked dress pattern is great for a beginner sewing enthusiast
More Of What's Inside Our Smock Dress Pattern
A printable PDF sewing pattern
format (You will need Adobe Acrobat Reader on your computer to open the PDF files)
Measurement sheet and size chart
Step-by-step guide on how to cut and sew your pattern
Assembling the pattern piece
Step by Step Instructions with Illustrations
Customizable in different sizes, from 2-14 (US) / 34-46 (EU)
A4 and Letter format for printing at home
A0 for printing at the copy center on A0 paper rolls
Projector files for projecting the patterns directly onto the fabric using the home projector
*All files are compressed in the ZIP archive for easy downloading. All sizes have separate files, you only need to print the files that are relevant to you. No paper pattern will be shipped to you, this is a digital download file.
Supplies
Sewing Your Perfect Size Dress Pattern
This will be fun and easy! Once you're done with this sewing guide, you'll end up with a new sense of style thanks to your improved sewing skills. There will also be a need to keep going beyond just one item - once you see how great your wardrobe can look with sewing patterns, you'll want more!
Here we go!
You'll need:
Your Chloe Dress PDF pattern
Preferred fabric
Color matching thread
interlining for collar
1 button
2-3 snaps
Sewing Machine
Seam Allowances:
1.4 cm hem (double turned hem)
1 cm seams
Fabric Suggestion:
For your tiered dress pattern, we suggest using a woven fabric such as cotton poplin, organic cotton or light linen. These lightweight fabric have a bit of structure, which will help the dress keep its shape. Additionally, these fabrics are easy to sew and press, so you'll have no trouble getting a professional-looking finish. And best of all, they're comfortable to wear in warm weather. So if you're looking for a fabric that will help you stay cool and look sharp, cotton poplin or linen is a great choice.
How much fabric do you need for your DIY dress?
For each size, you can find the fabric requirement table below, but you have to keep in mind that the calculations apply to fabrics with a width useful for 140-150 cm. The placement of the patterns will need to be redone for fabrics of different widths and different designs (stripes, plaids, etc.).
Check your contraction!
Prior to cutting, determine the fabric's contraction. It can be determined by steaming and ironing the raw material at its highest temperature recommendation. By using this method, your garment will remain true to its sewn size even after being washed for the first time.
To account for shrinkage, you should buy 5% more than your project requires
How To Sew
Sewing a tiered dress pattern - Instructions
Sew your way to a new look with our dress pattern! You can make this in no time :)
Apply interlining on the collar and facings ( pieces 6, 8 and 9) and on the button stand (piece 1)
Fold the center front to create the button stand (piece 1), according to the marks on the pattern. First you fold 1 cm and then you fold again until the last notch on the button stand. Topstitch at 1 mm from the edge
Sew the shoulders and the side seam of the bust (1+4). Overlock and iron the seam
At the collars (piece 9), bend inwards 1 cm and iron the seam allowance of the edge that is sewn on the inside. The 2 parts of the collars are placed face to face and sewn together along the front and top edge of the collars. The seam allowance is cut narrow and then the collar is turned and ironed.
The outer collar is sewn face to face on the edge of the neckline. The inner collar is hand stitched on the seam. From the front, sew a topstitch at 0.4 cm so that the inner collar is caught in the seam
Sew the facing pieces together ( 6+8, 6+8) and iron the seam open. Overlock the outer edge
Apply the facings on the armholes, taking care to meet the notches. Cut narrow the seam allowance and iron the seam.
Sew the sides of the underskirts (2+2, 3+3). Overlock the seam and iron
Sew the sides of the ruffles (5+5, 7+7,10+10). Iron the seam open and overlock
Overlock the hems of the ruffles. Turn the hem 1 cm inwards and sew at 0.8cm
Gather the pieces (5,7,10) into ruffles and apply them : Ruffle 10 on the bottom of underskirt 3, ruffle 7 on the bottom of underskirt 2 and ruffle 5 on top of underskirt 2. Sew together bottom 2 with top 3. Overlock the seams and iron.
Sew the bottom of the bust with the top of the skirt. Iron and overlock the seam
Sew the buttonhole and the button on the collar
Apply hidden snaps on the button stand
It's done, you've done it! Our tutorial hopefully proved helpful to you and contributed to a successful outcome for your work. Looking forward to seeing what you create next!
Video Tutorial
Sewing Tutorial
As well as the written tutorial, we have a video sewing tutorial that walks you through all the steps of this sewing project if that is more convenient for you. Check it out on our YouTube channel!
Turn Your Wardrobe Into a Work of Art With Our Sewing Patterns.
Having trouble deciding on a style? We've got lots of categories to help you decide. We offer an extensive collection of sewing patterns and other related products.
Get a free pattern
Also, check out our free sewing pattern for an off-the-shoulder top to find out if we are a good match. We also offer a free pattern for a tiered skirt, for a matching outfit. The patterns come with a video tutorial as well as step-by-step instructions.
Size chart
Terms of use
This digital pattern is for personal use only. No part of the pattern can be shared, reproduced, or resold in any format. Thank you so much!

**Due to the electronic nature of this pattern, refunds and exchanges are not accepted. If you have problems or questions, feel free to contact me via message
CHLOE - Smock Dress Pattern