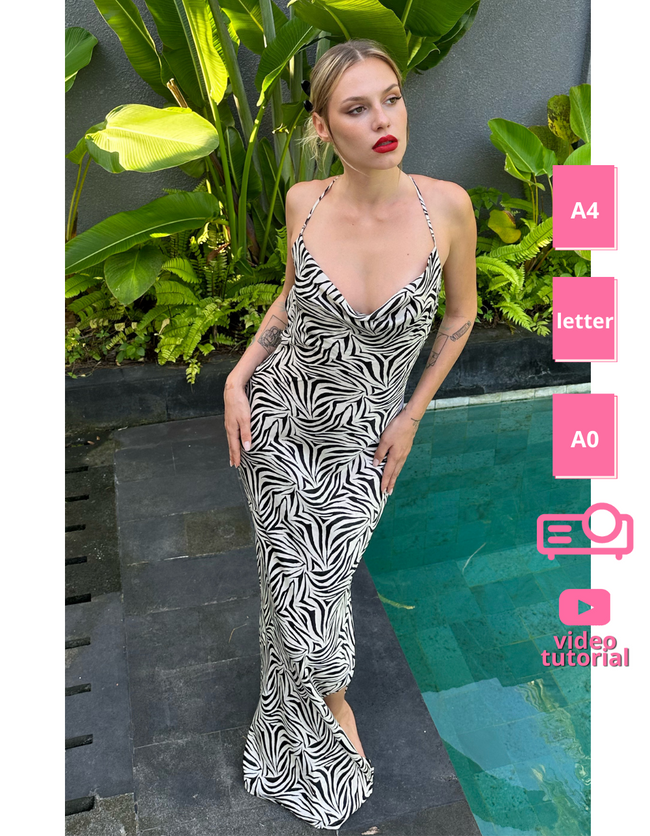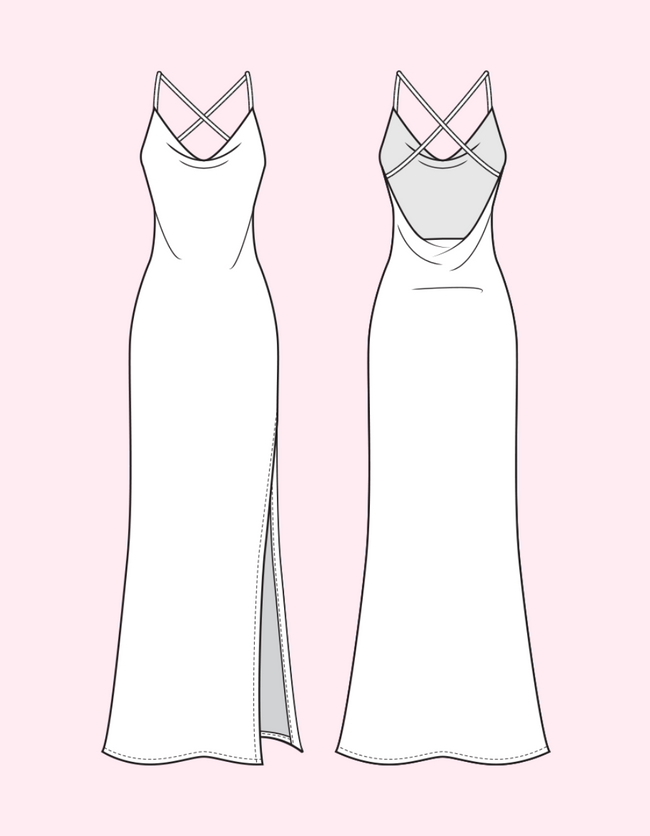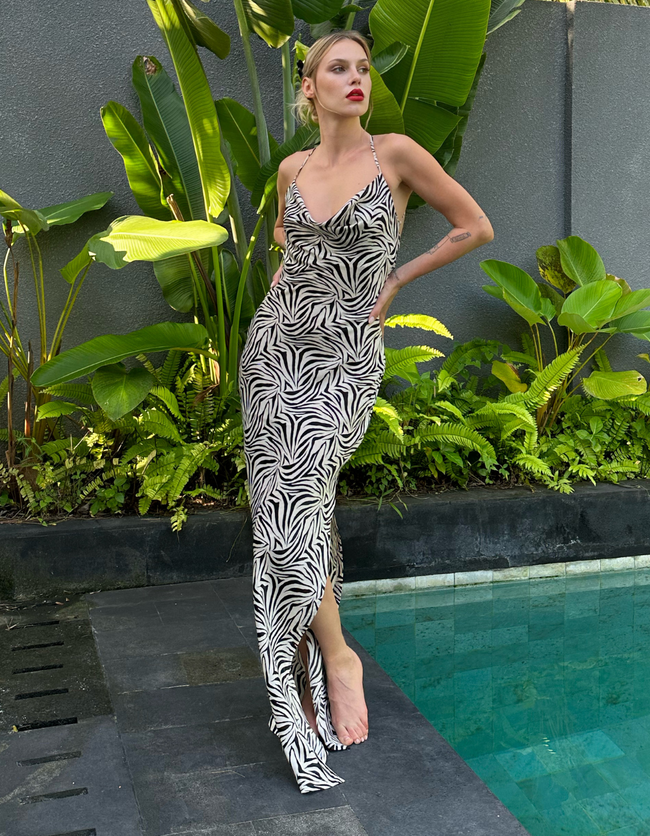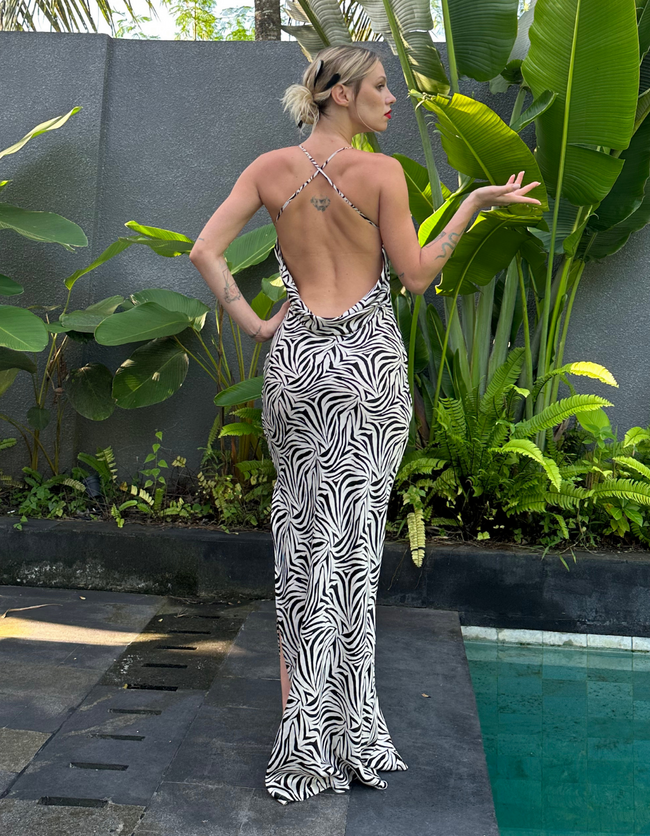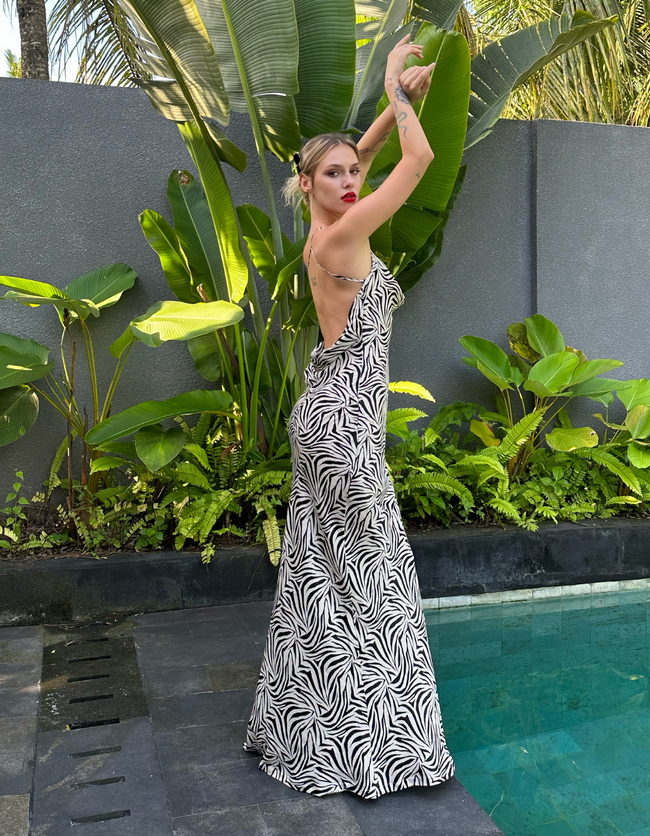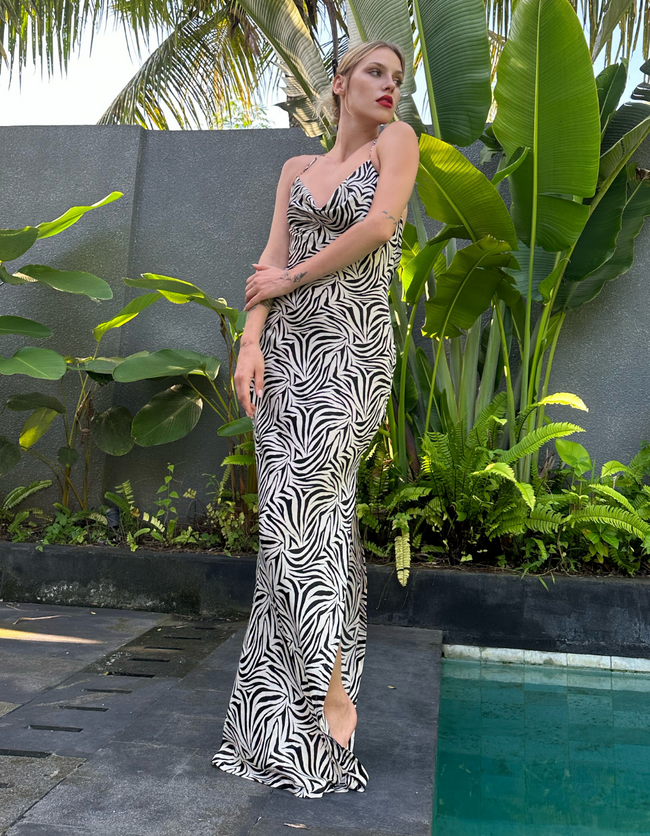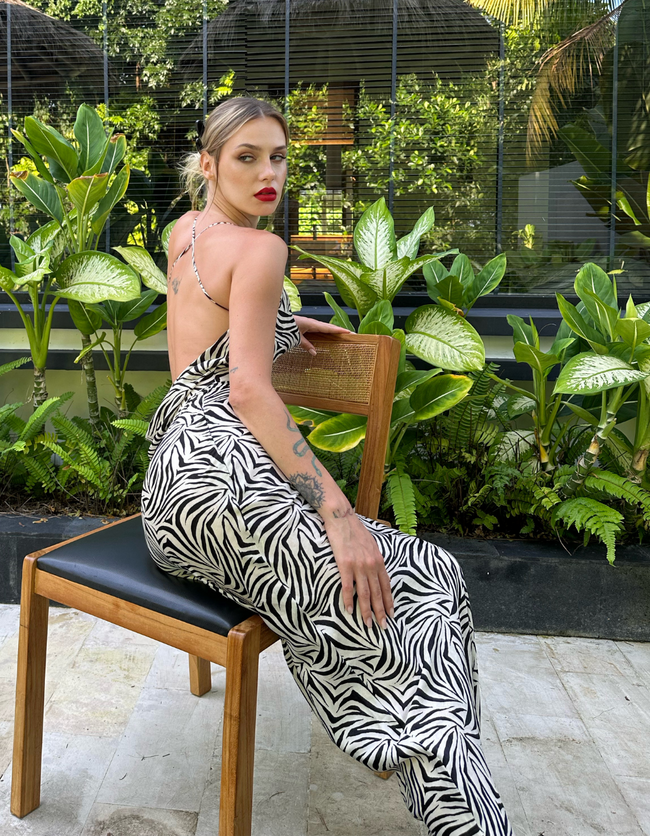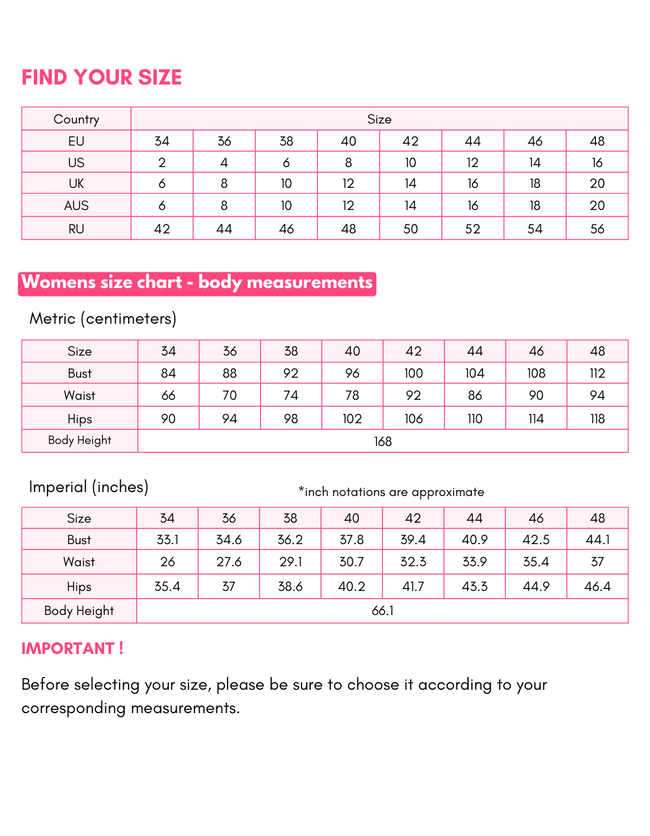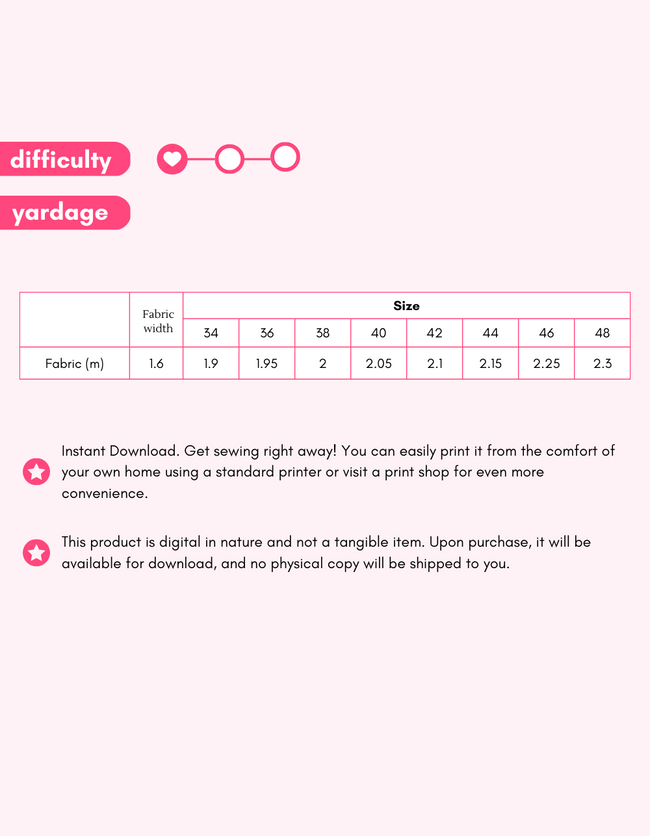 Introducing the Bali Cowl Neck Dress Pattern - a delightful sewing project that brings a touch of charm and elegance to your wardrobe. This adaptable gown seamlessly transitions from upscale soirées to sun-kissed seaside escapades, with the choice of fabric dictating its ultimate allure. Opt for sumptuous satin for a glamorous affair, or embrace a lighter, billowy material for a carefree coastal vibe. Either way, this enchanting dress ensures you radiate confidence and style at every turn. 
Design Highlights
Cowl neckline
Thigh high side slit
Open back
Maxi length
Sleeveless
Spaghetti straps
Bias cut slip dress pattern
How To Style And Wear Your Cowl Neck Dress Pattern
Highlight the beauty of a cowl neck and low open back dress with practical yet stylish choices. Choose a low-back bra or adhesive cups, for a seamless look. Style your hair in a simple bun or ponytail to showcase the open back, or let it flow naturally with gentle waves. For accessories, opt for a lightweight shawl or a statement clutch to add a pop of color or texture. Stay on top of the latest fashion trends by styling your cowl neck dress with a sweater, as showcased in numerous viral videos that celebrate chic and cozy ensembles.
Simplify Your Sewing: Bali Cowl Neck Sewing Pattern Overview
A drapey cowl neckline tops this enchanting dress, perfectly suited for a variety of occasions. The clingy fabric and graceful neckline come together to create a flattering silhouette that's both stylish and comfortable. 
Sewing Level
Our Bali pattern for cowl neck dress is the ideal choice for those seeking a simple sewing project. It's an excellent option for beginners eager to create their own stylish garment with ease.
More Of What's Inside Our PDF Pattern
A printable PDF sewing pattern format (Adobe Reader required) that brings the ease of digital convenience right to your fingertips
A comprehensive measurement sheet and size chart
Detailed step-by-step guide on cutting and sewing your pattern for a seamless and enjoyable process
Effortless pattern piece assembly to jumpstart your creative journey
Illustrated step-by-step instructions that make even the most intricate steps feel approachable
size range of 2-16 (US) / 34-48 (EU), catering to an array of body types and shapes
PDF A4 / Letter / A0 format 
Projector files for projecting the patterns directly onto the fabric using the home projector
Dive into the world of sewing with confidence as these features effortlessly guide you through your project from start to finish. Please note that no paper pattern will be shipped to you. This is a digital file only.
Supplies
Sewing Your Perfect Size Cowl Neck Slip Dress Pattern
You'll need:
Your Bali cowl neck dress sewing pattern
Preferred fabric
Color matching thread
Sewing machine
Seam Allowance
1 cm seam
2 cm slit hem
1.5 cm hem
Suggested Fabrics: 
Light weight woven fabric with fluid drape: Silk, Satin, Charmeuse, Chiffon, Georgette, Crepe, Rayon, Gabardine
How much fabric do you need for your diy dress?
Please note that fabric requirements depend on the width of your chosen material. Our sizing relies on a usable fabric width of 140-160cm, so be sure to consult the table below for both size and required fabric quantity. If your fabric features a different width or pattern (vertical or horizontal stripes, plaids, etc.), adjust the positioning of individual pieces to accommodate your available space.
Check your contraction!
It's important to wash your fabric prior to cutting it, as this guarantees accurate sizing and prevents shrinkage after the first wash. Additionally, this step helps remove any excess dyes for a flawless final garment.
How To Sew It
How To Make A Cowl Neck Dress - Sewing Instructions
The pattern comes with step-by-step sewing instructions and detailed illustrations that will guide you through every single aspect of sewing a stunning dress tailored to your unique body type. We're not going to leave out any details here, folks - we'll cover everything from picking out the perfect fabric to putting on the finishing touches. We'll make this project together. 
In the course of these sewing directions, you'll be refining your skills in the following:
Applying fusible reinforcement tape.
Using hemming tape for a neat hemline.
Overlocking for clean edges and professional finish.
Folding, pressing, and topstitching straps.
Attaching straps with precise alignment and topstitching.
Folding, pinning, and sewing facing areas and armholes.
Clipping corners and curved areas for a smooth finish.
Basting and attaching back piece with proper alignment.
Creating a "sandwich" with straps and sewing dress sides.
Folding, pressing, and topstitching slit seam allowance.
Measuring, folding, and sewing a clean dress hem.
Making something by hand is such a special feeling, and you're going to look absolutely stunning in your new dress.
Video Tutorial
Get Your Sew On With a Full Process Video Tutorial
This comprehensive sewing tutorial simplifies the process of creating this dress, making it even more accessible for all skill levels. With step-by-step instructions and helpful tips, you'll find it a breeze to construct your own beautiful and stylish dress.
Save time. Sew better. Let Our Patterns Guide You!
Embrace your love for sewing and style with the warm guidance of our patterns at www.georgettepatterns.com. Our carefully curated designs are tailored to make your sewing experience as enjoyable and time-efficient as possible. With easy-to-follow instructions and a touch of charm, we cater to all skill levels, helping you create beautiful pieces to cherish and wear with pride.
Embark on a delightful journey of creativity, elegance, and self-expression and see our other related products!
Experience Our Sewing Patterns for Free
Unsure if our patterns are the perfect match for you? Give us a try! Download our complimentary sewing patterns for an off-the-shoulder top free pattern and a tiered skirt free pattern. To ensure a seamless experience, we've included a video tutorial and step-by-step instructions to guide you through the process with ease.
Size chart
Terms Of Use


This digital pattern is for personal use only. No part of the pattern can be shared, reproduced, or resold in any format. Thank you so much!

**Due to the electronic nature of this pattern, refunds and exchanges are not accepted. If you have problems or questions, feel free to contact me via Etsy message.
Bali Cowl Neck Dress Pattern