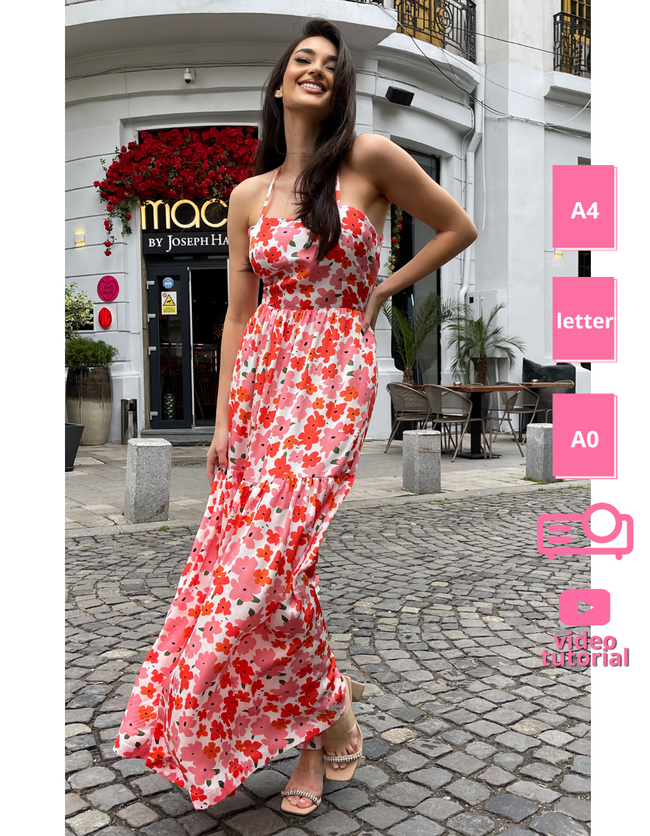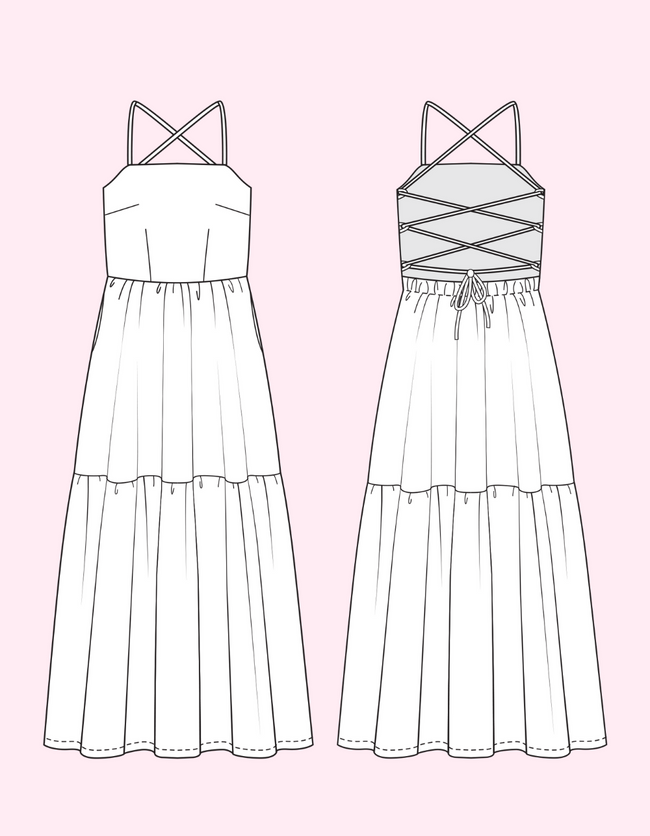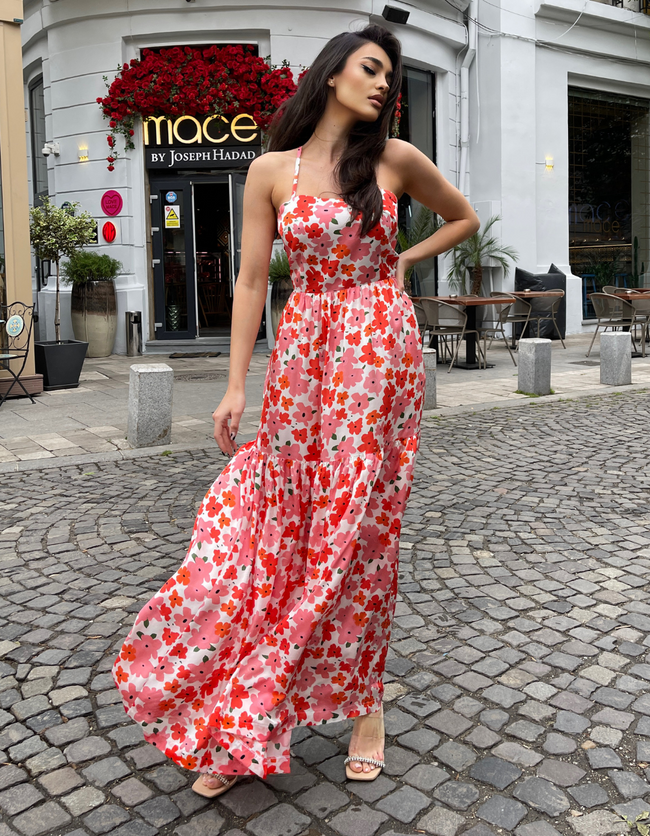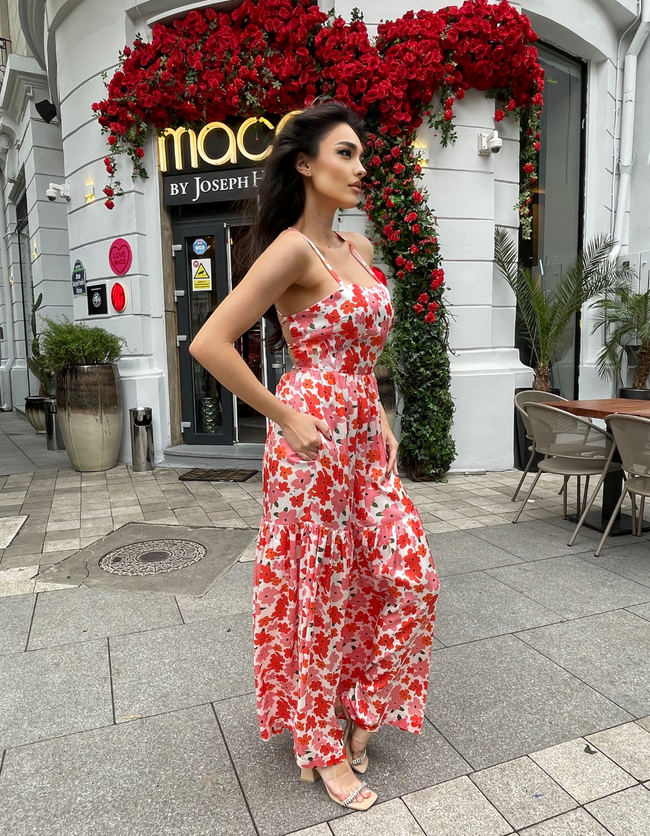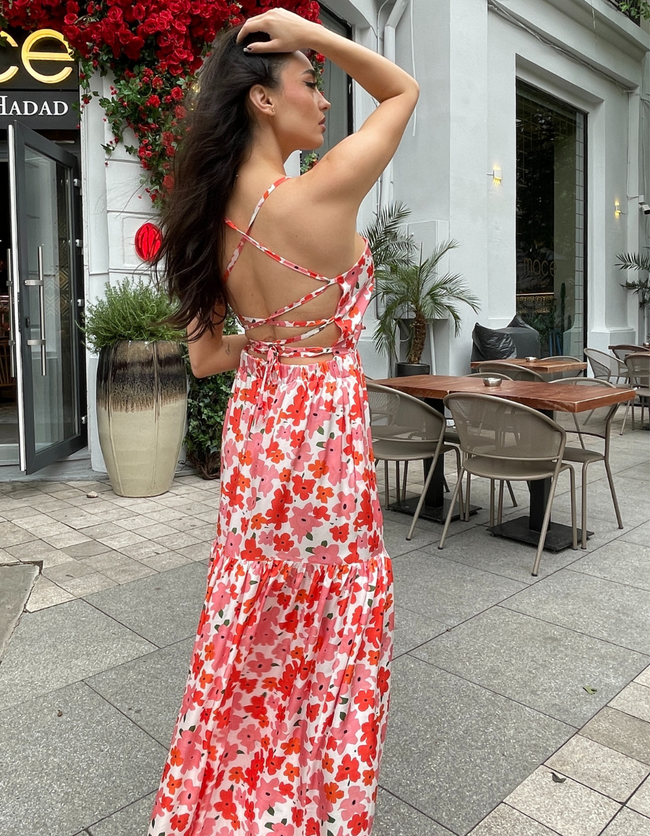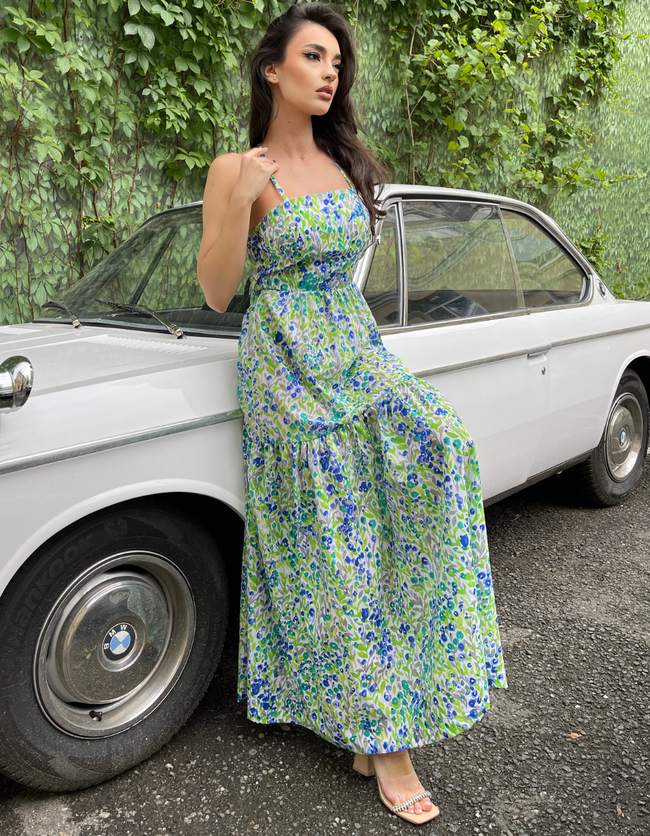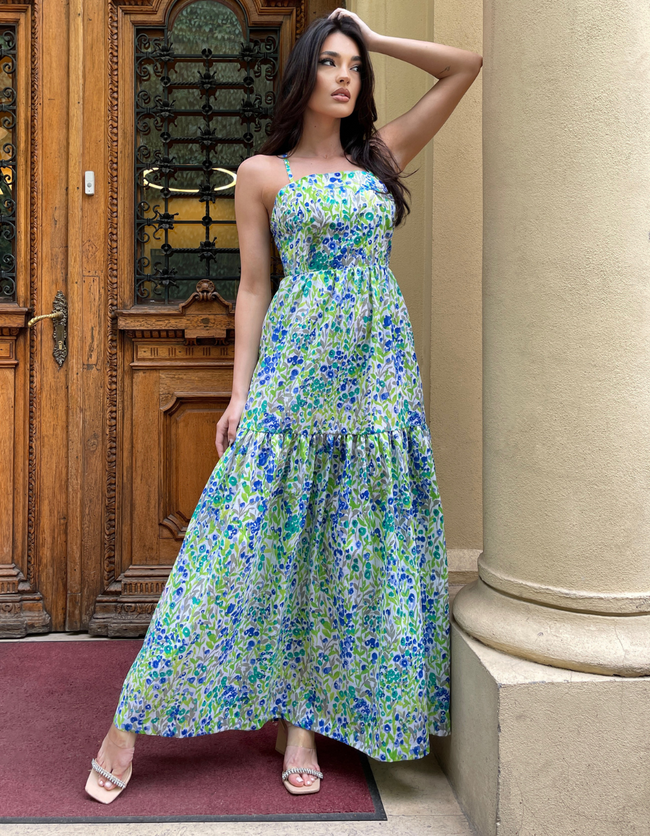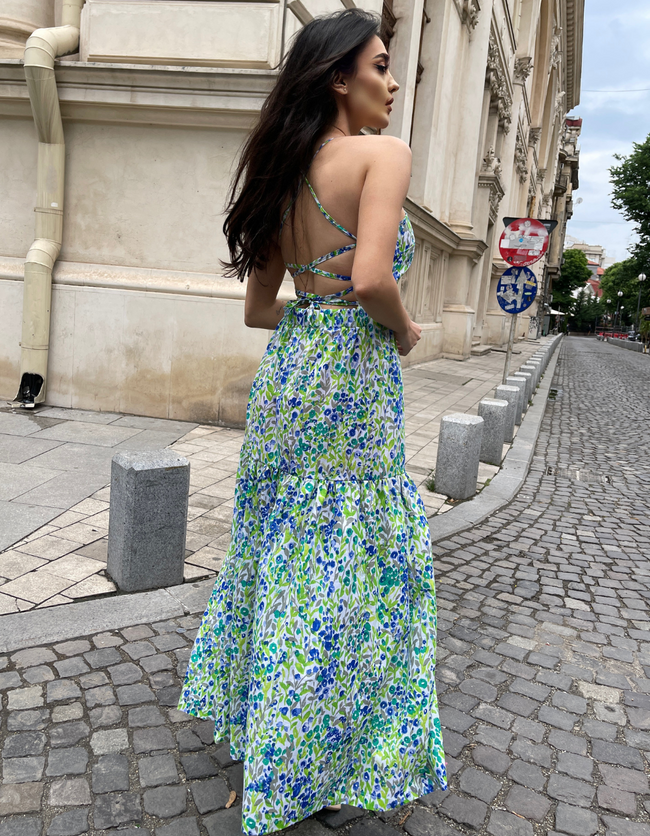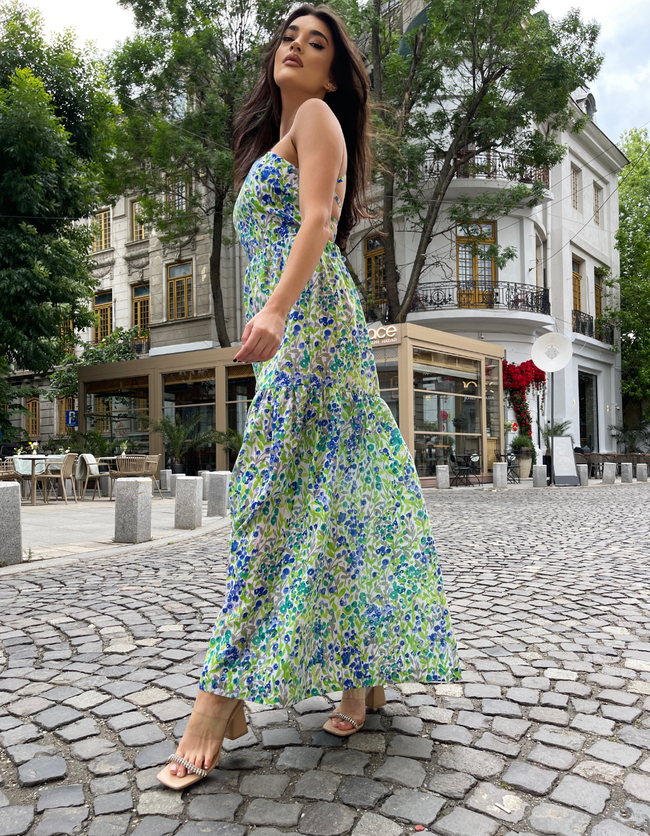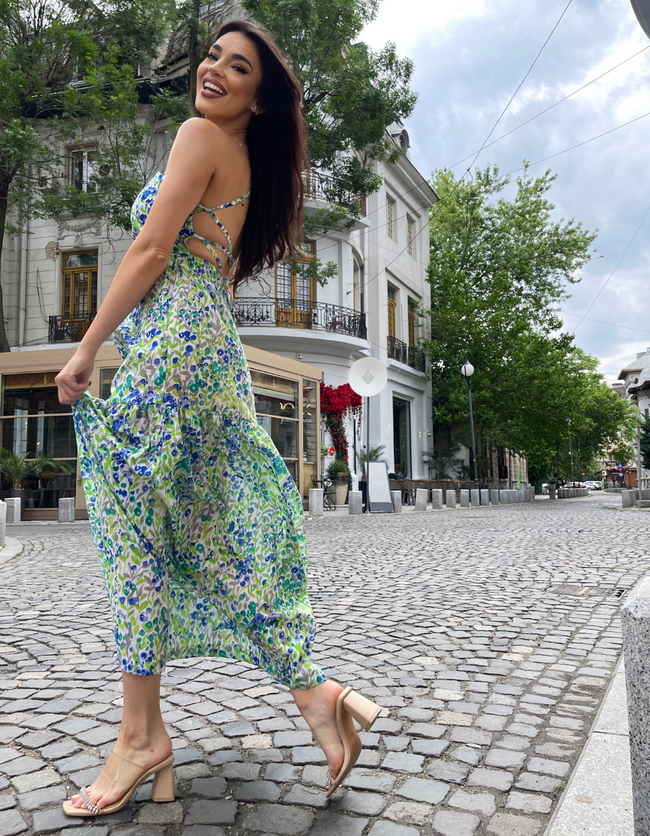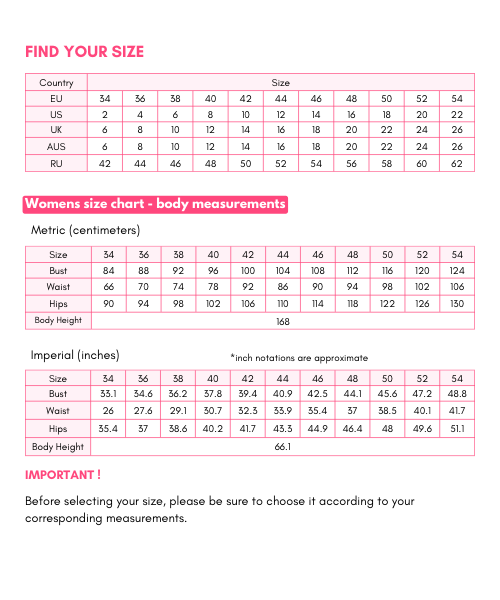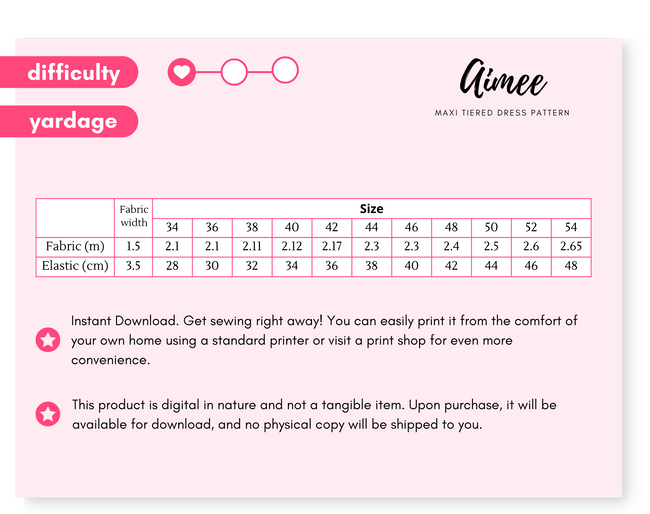 Experience the sheer delight of crafting your own unique fashion statement with our tiered apron dress pattern. Sew it in your favorite fabric and let your creativity soar, adding your unique flair and personality to every stitch. This pattern is a love letter to the dreamers, the free spirits, and the wanderers, celebrating the art of individual expression.
Design Highlights
Low Back
Practical side pockets
Maxi long dress
Sleeveless
Open Back
Featuring a swing circle skirt 
Back elastic waistband for a comfy fit
How To Style And Wear Your Apron Dress Pattern
Brimming with versatility and chic allure, this cross back apron dress pattern is your passport to effortless style, transitioning seamlessly from a sun-kissed summer dress to a polished evening ensemble For a relaxed daytime ensemble, team it with your favorite sandals or wedges, capturing the essence of laid-back summer style. As the sun sets, transform your look into a glamorous evening attire with strappy heels and bold, statement jewelry.
Make Sewing a Breeze with Aimee Apron Dress Sewing Pattern
Featuring a loose fitting tiered maxi skirt and a crisscross spaghetti straps, the Aimee tiered dress pattern is hard to beat. It's the epitome of sun-kissed style that's simply irresistible. Pair it with your beloved sandals, a chic pair of sunglasses, and a touch of golden jewelry to truly capture those ultimate summer vibes. It's the perfect ensemble for those long, lazy days of sunshine and blue skies.
Sewing Level
Our Aimee apron style dress pattern is a delightful choice for those seeking a simple and straightforward sewing project. Perfect for beginners yearning to create their own fashionable garments
Unzip More Goodies from Our PDF Pattern
A printable PDF sewing pattern format (Adobe Reader required) 
A comprehensive measurement sheet and size chart
Detailed step-by-step guide on cutting and sewing your pattern 
Effortless pattern piece assembly to jumpstart your creative journey
Illustrated step-by-step instructions that make even the most intricate steps feel approachable
multi size pattern range of 2-16 (US) / 34-48 (EU), 
PDF A4 / Letter / A0 format 
Projector files for projecting the patterns directly onto the fabric using the home projector
Embark on your sewing adventure with confidence, as our features guide you to a gratifying finish. Please note, this is a digital-only pattern, ready for easy access and convenience, with no physical paper pattern shipped to your doorstep. Enjoy the journey!
Supplies
Sewing Your Perfect Size Open Back Dress Pattern
You'll need:
Your tiered dress sewing pattern
Preferred fabric
Color matching thread
3 cm wide elastic
Fusible interlining
Fusible reinforcement tape (5-8 mm wide)
Sewing machine
Seam Allowance
Suggested Fabrics: 
Light weight woven fabrics with a nice drape: Silk, Satin, Charmeuse, Rayon, Linen, Cotton, cotton twill, lightweight canvas etc
How much fabric do you need for your diy dress?
Kindly be aware that the amount of fabric needed for your project will vary based on the width of your chosen material. Our sizing recommendations are based on a usable fabric width of 140-160cm. To determine the appropriate fabric quantity for your desired size, please refer to the comprehensive table provided below. In the event that your fabric has a different width or features specific patterns such as vertical or horizontal stripes, plaids, etc., it is essential to adjust the placement of individual pattern pieces accordingly, ensuring optimal utilization of your available fabric space.
Check your contraction!
We highly recommend washing your fabric before initiating the cutting process. This essential practice ensures precise sizing and diminishes the risk of post-wash shrinkage.
How To Sew It
How To Make An Apron Dress - Sewing Instructions
Our adorable apron dress pattern comes with detailed sewing instructions, paired with careful illustrations, making each step of your dress creation clear and easy to follow. We're with you every step of the way, sharing the joy of turning your vision into reality.
As you follow these sewing instructions, you'll be honing the following skills:
Crafting precise bust darts

stitching the straps

Assembling and joining the bust sections

sewing functional pockets

C

reating the elegant top skirt

sewing the facing

Attaching the beautifully crafted bodice to the skirt and facing

Constructing the elastic channel 

incorporating and securing the elastic

joining the bottom skirt
Video Tutorial
Sew Like a with a Full Process Video Tutorial
No matter your skill level, we've got you covered! Our friendly and inclusive sewing tutorial makes the process of creating your own stylish dress as simple as pie. With clear step-by-step instructions and helpful tips sprinkled throughout, you'll find crafting your own fashion-forward dress to be a delightful adventure. So, come along and experience the pure joy of creating something beautiful, as we guide you through each stage with warmth and ease. 
Let us do all the hard work for you so you don't have to!
Dive into the delightful blend of your love for sewing and fashion, guided by the warm embrace of our patterns available at www.georgettepatterns.com. Our designs, meticulously crafted and thoughtfully curated, are committed to enriching your sewing journey, promising both fun and efficiency.  
Try Our Sewing Patterns for Free
Not sure if our patterns are right for you? We invite you to give them a whirl! Enjoy free downloads of our captivating off-the-shoulder top and charming tiered skirt patterns. To make your sewing journey smooth and enjoyable, we've included a comprehensive video tutorial and detailed instructions. So, take this opportunity to explore our offerings.
Size Guide
Terms Of Use


This digital pattern is for personal use only. No part of the pattern can be shared, reproduced, or resold in any format. Thank you so much!

**Due to the electronic nature of this pattern, refunds and exchanges are not accepted. If you have problems or questions, feel free to contact me via Etsy message.
AIMEE - Apron Dress Pattern