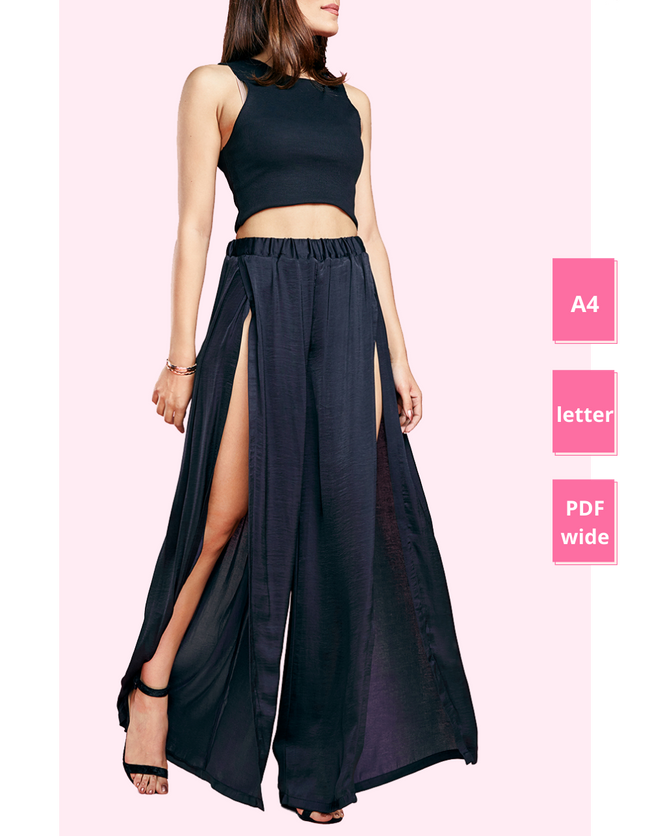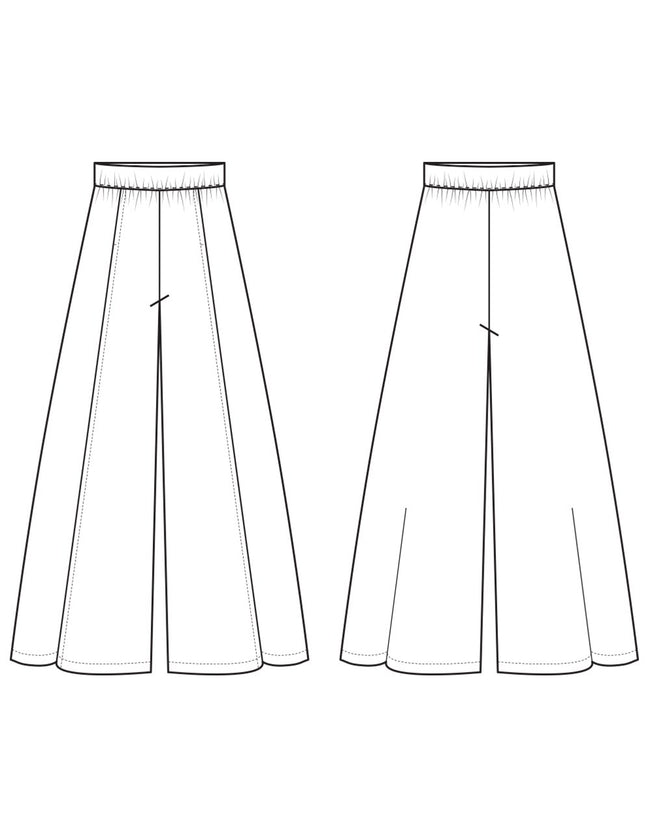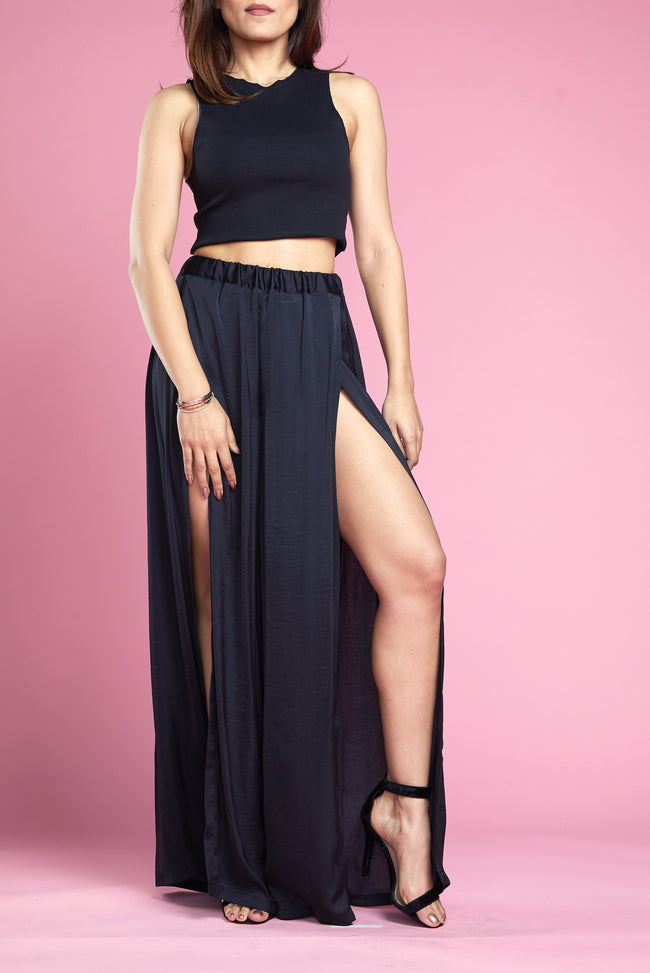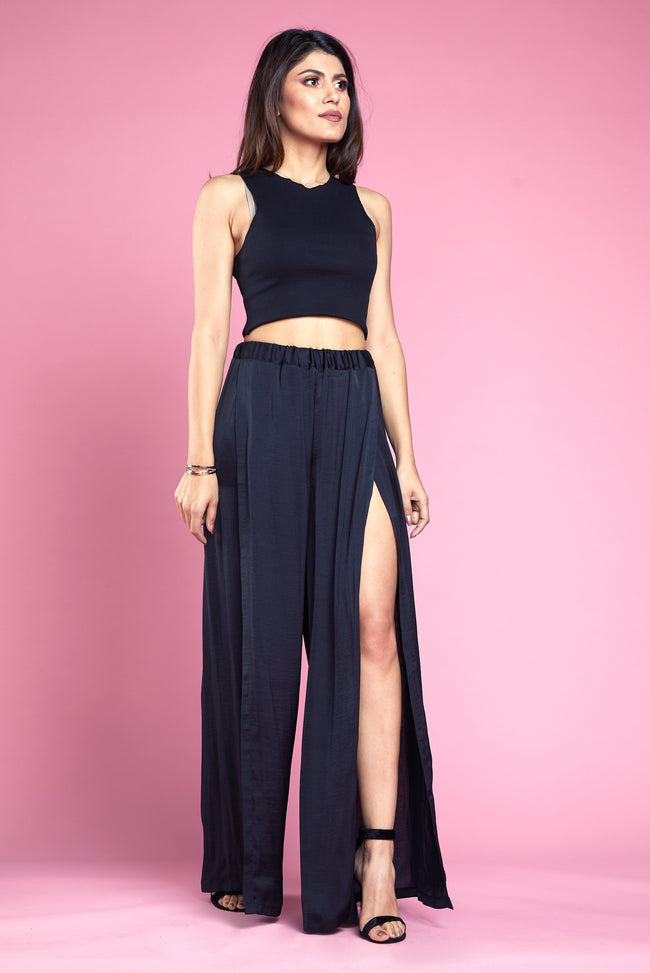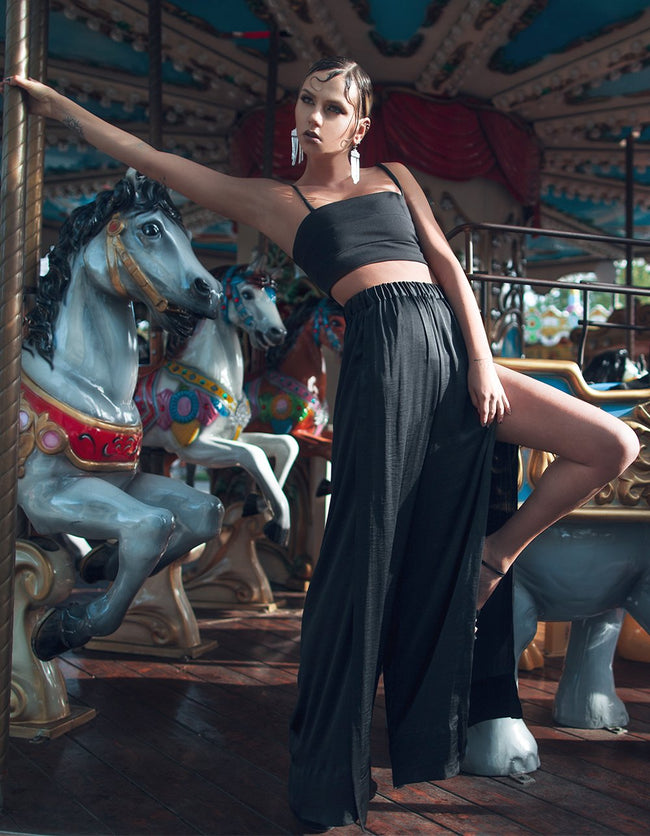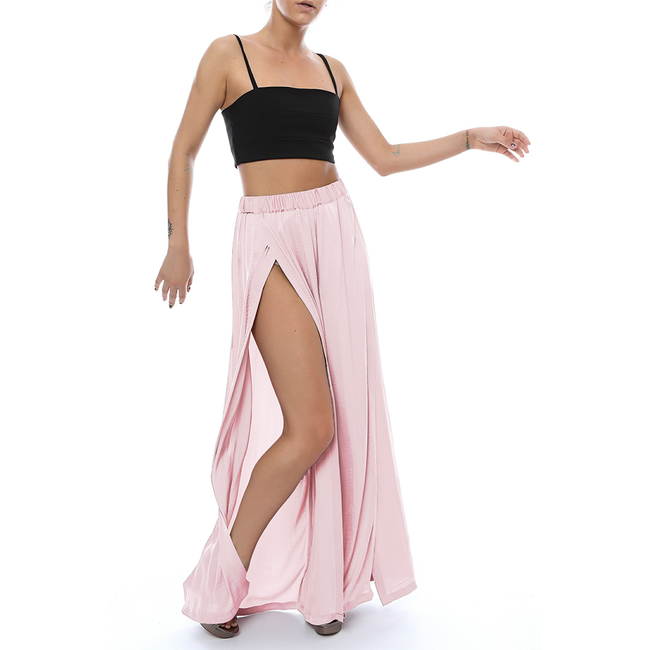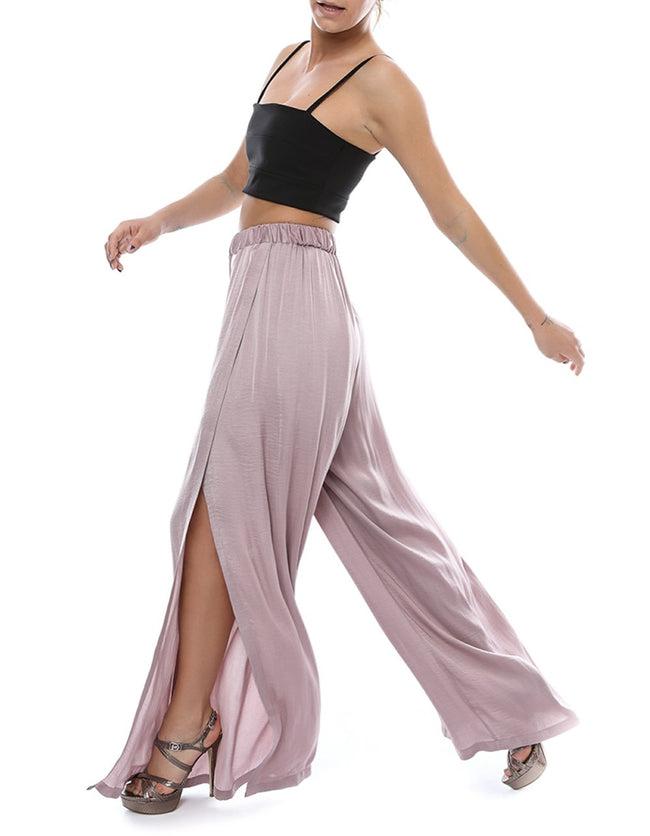 There's nothing quite like the feeling of a summer breeze flowing through your clothes. And with these split elastic waist pants pattern, you can enjoy that feeling to the fullest. The dramatic front slits allow for maximum airflow, so you'll stay cool and comfortable even on the hottest days. Plus, the relaxed fit and high waist ensures that you'll look good no matter what.
So whether you're headed to the beach or just out for a walk on a sunny day, these pants pattern will help you enjoy the summer weather to the fullest.
Design Highlights
high rise waist

wide leg pants style

elastic waistband

split hem
How To Wear And Style Your Split Wide Leg Pants Sewing Pattern
The great thing about these wide leg elastic waistband pants is that they can be styled in a variety of ways. However, there are a few looks that work especially well with this type of pants. For example, a simple tank top and sandals can create a relaxed and summery vibe. Alternatively, you could pair the pants with a blouse and heels for a more structured look.
So don't wait any longer - grab this pattern and get sewing!
Assye Elastic Waist Pants Pattern Overview
A versatile and comfortable piece to add to your warm-weather wardrobe. Made from a lightweight fabric, these palazzo pants are perfect for hot summer days.
The wide-leg design is both stylish and flattering, and the front slit adds a touch of femininity. These pants are sure to become a staple in your summer wardrobe.
Sewing Level
The ASSYE loose fitting pants pattern is great for a sewing enthusiast with medium sewing skills
More Of What's Inside Our PDF Pattern
A printable PDF sewing pattern

format (You will need Adobe Reader on your computer to open the PDF files)

Measurement sheet and size chart

Step-by-step guide on how to cut and sew your puffed sleeve dress pattern

Assembling the pattern pieces

Step by Step Instructions with Illustrations

A selection of sizes available (2-20 US / 34-52 EU)

A4 and Letter format for printing at home

A0 for printing at the copy center on A0 paper rolls

Projector files for projecting the patterns directly onto the fabric using the home projector
*All files are compressed in the ZIP archive for easy downloading. All sizes have separate files, you only need to print the files that are relevant to you. You can download our sewing patterns instantly so you can start sewing right away! No paper pattern will be shipped to you.
Supplies
Sewing Your Perfect Size Pants Pattern With Elastic Waist
These airy cover-up trousers that look like they're straight out of the sea are perfect to wear on those hot summer days. The front slits and drawstring waist give you some extra style points while keeping your outfit casual yet stylish at all times!
You can sew this pattern and follow our step-by-step instructions to create the perfect pair of shorts for your size. Grab a pair of scissors and get started on your new sewing project today!
You'll need:
Your ASSYE elastic waist palazzo pants pattern

Preferred fabric

Color matching thread

lightweight fusible Interlining tape for slits (if needed)

Elastic 3-3.5 cm wide

Sewing machine
Seam Allowances
4 cm hem and slit hem (double turned edge of 2 cm)

1 cm for the rest of the seams
Fabric Suggestion: lightweight fabrics
When it comes to choosing the right fabric for your trousers sewing pattern, there are a few things to keep in mind.
First, you'll want to choose a lightweight woven fabric. This will help to ensure that your pants are comfortable to wear and won't be too heavy.
Second, you'll want to choose a fluid fabric such as veils, satin, viscose, silk, rayon challis etc. This will help to create a pair of pants that flow nicely and look great on. With these things in mind, you're sure to find the perfect fabric for your next pair of pants.
We don't want to interfere into your creative process, but we see some great lightweight linen pants from this pattern :) just saying!
How much fabric do you need for your DIY loose fit silhouette pants?
Depending on the width of the chosen fabric, fabric requirements will differ.
The table below displays the sizes and quantities of fabric required for a typical 1 40-150cm fabric width. Just adjust the pieces as necessary if your fabric is a different width or has a pattern such as plaids or stripes. Making summer pants that suit your style and budget can be simple with a little planning.
Check your contraction!
Choosing the right fabric is crucial if you're making your own clothes. The fit and appearance of a garment can vary depending on the properties of the fabric. By checking the fabric's contraction before sewing, you will be able to prevent any troubling fitting issues later on.
Ironing your fabric at its highest temperature recommendation will ensure that you get rid of any wrinkles or imperfections in the material. During this process you will ensure that the finished garment will fit the way it was sewn and that it won't shrink after washing.
Sewing Instructions
Sewing An Elastic Waist Wide Leg Pants Pattern - Instructions
If needed (if the fabric is runny and is hard to handle)- Apply a 2cm wide strip of fusible interlining on the wrong side of the fabric, on the edge of the slit, on the front and back pants. fig 1
Turn the slits twice, to the wrong side of the fabric (2+2 cm), pin in place and press.
Sew a topstitch on the edge of the slit - at 1.8 cm. fig 2
Sew the inner seam of the front and back pants, right sides together, using a 1 cm seam allowance. Press the seam open and overlock. fig 3
If needed (if the fabric is runny and is hard to handle)- Apply a 2cm wide strip of fusible interlining on the wrong side of the fabric, on the edge of the hem
Turn the hem up twice, to the wrong side of the fabric (2+2 cm), pin in place and press.
Sew a topstitch on the edge of the hem - at 1.8 cm.
Sew the crotch seam, by pinning the left and right leg -right sides together. Press the seam open and overlock. fig 4
At the waist, the front is overlapped over the back according to the notches (13 cm). Sew at 0.5 cm to secure it. fig 5
Sew the short sides of the waistband together, right side to right side, at 1 cm. Press the seam open.
Sew the two parts of the waistband on the waist of the pant, right side to right side, leaving 5 cm open to insert the elastic
Cut a piece of non-roll elastic the length required to go around the waist comfortably (see the right measurement for your size in the fabric requirements table above)
Pin one end of the elastic to the fabric just below the opening. Pin a safety pin to the other end and thread through the casing. fig 6
Pull the two ends of the elastic together and machine to join in a square shape with an X for strength. Push the elastic into the casing and sew across the gap. Neaten the seam with a 3-thread serger stitch.
 (optional) Sew 2 buttonholes on the waistband according to the markings on the pattern and insert a string
Congratulations-you did it! You should be proud of yourself for completing the Assye elastic waistband pants pattern, and you can be sure that your results will be impressive. Using your new skills, the sky is the limit for what items you can create.
The next time you attempt a project, you can try a more complicated pattern or try a different fabric. Regardless of what you choose, we know you'll be able to achieve amazing results. It's been fun stitching along with you, and we can't wait to see what you create next!
Create The Clothes You've Always Wanted.
If you're anything like us, you've probably looked through fashion magazines and wished you could sew the clothes you see.
Well, now you can! With our modern and trendy sewing pattern, you'll be able to stitch up your own stylish garments in no time.
Unlock a free sewing pattern
Get started with sewing today by downloading a free pattern from us! Just download one of our free sewing patterns for either an off the shoulder top or a tiered maxi skirt. Or why not both :) There's no commitment, and you can see for yourself how easy and fun our patterns are to use.
Select some pretty fabric, and get to work making your very own one-of-a-kind garment. With a little effort, you'll have a unique off-the-shoulder top that will give any outfit a touch of luxury.
S
ize chart
Terms of use
This digital pattern is for personal use only. No part of the pattern can be shared, reproduced, or resold in any format. Thank you so much!

**Due to the electronic nature of this pattern, refunds and exchanges are not accepted. If you have problems or questions, feel free to contact me via message
ASSYE - Elastic Waist Pants Pattern