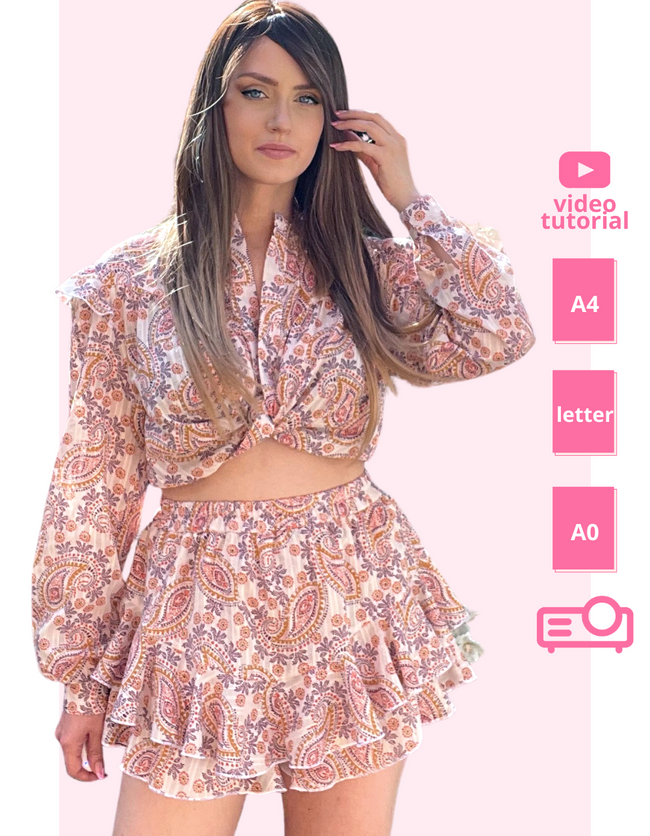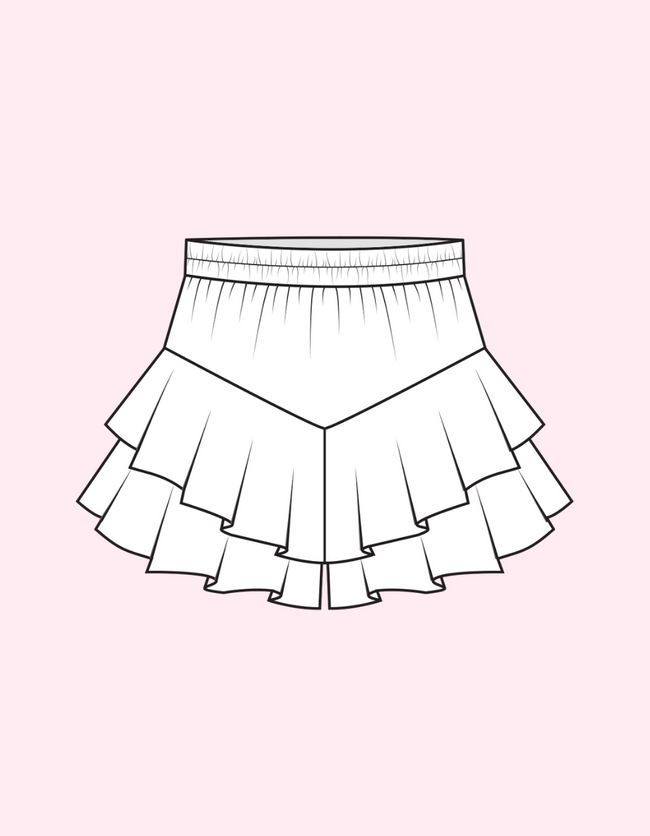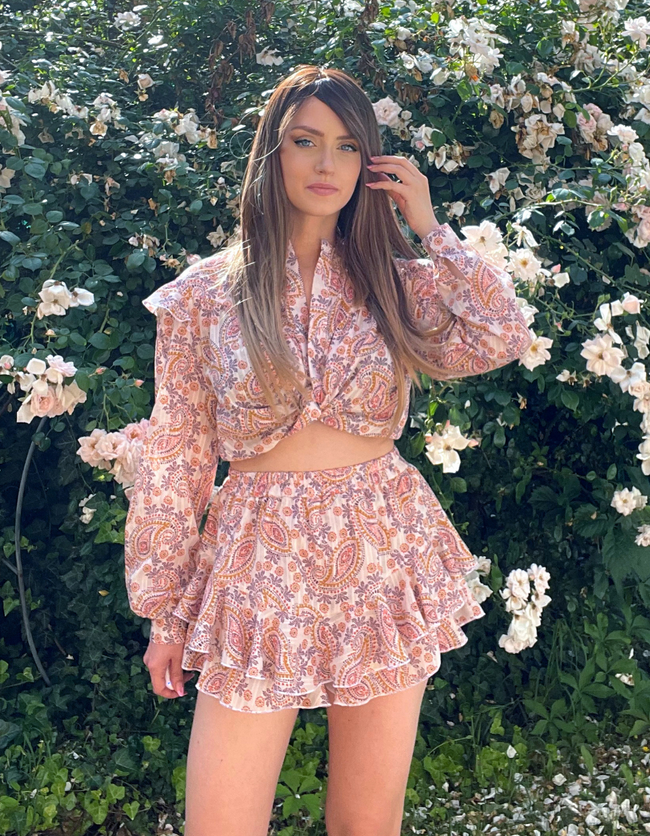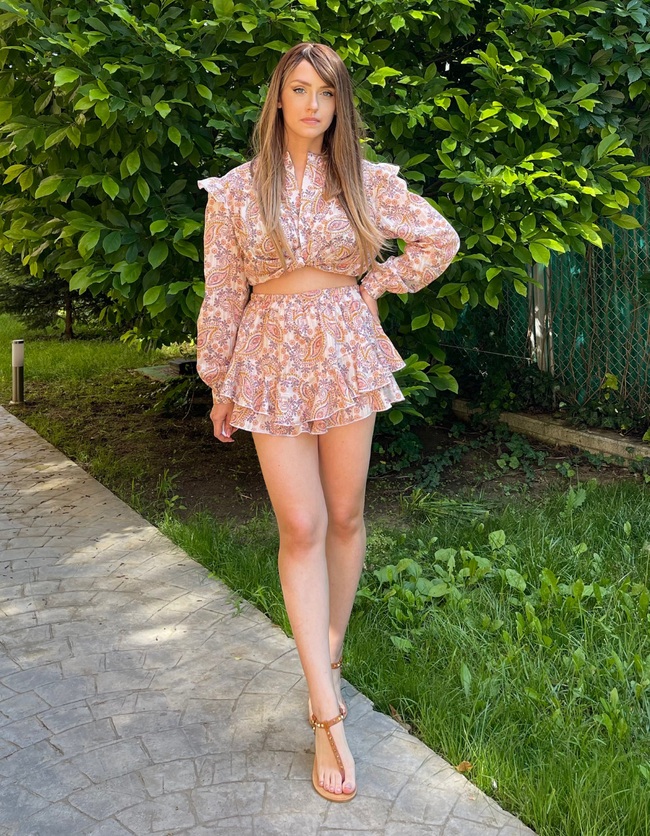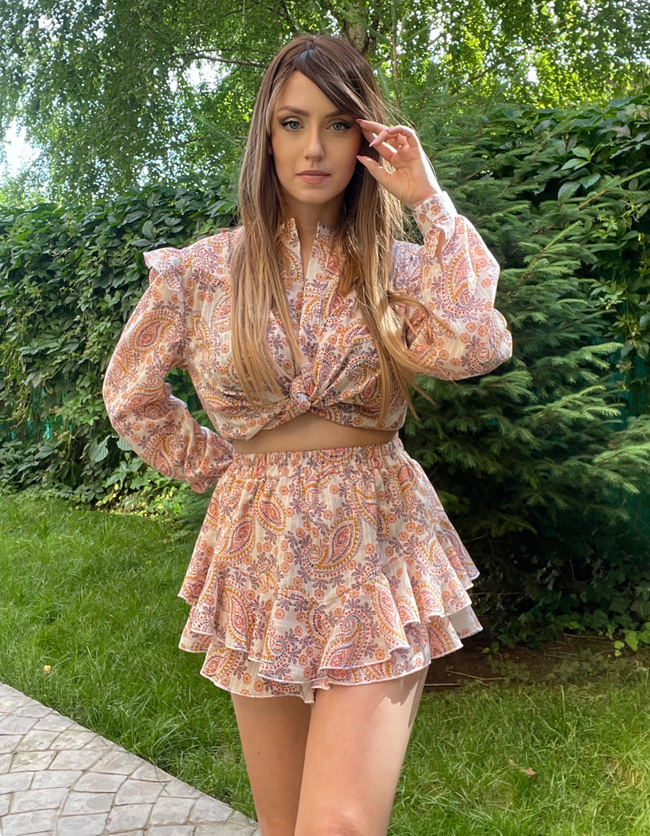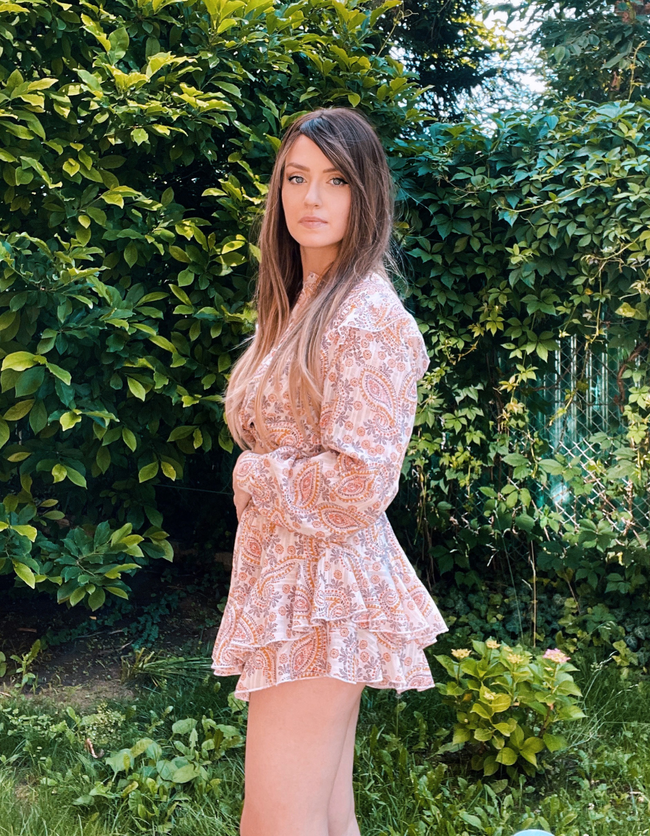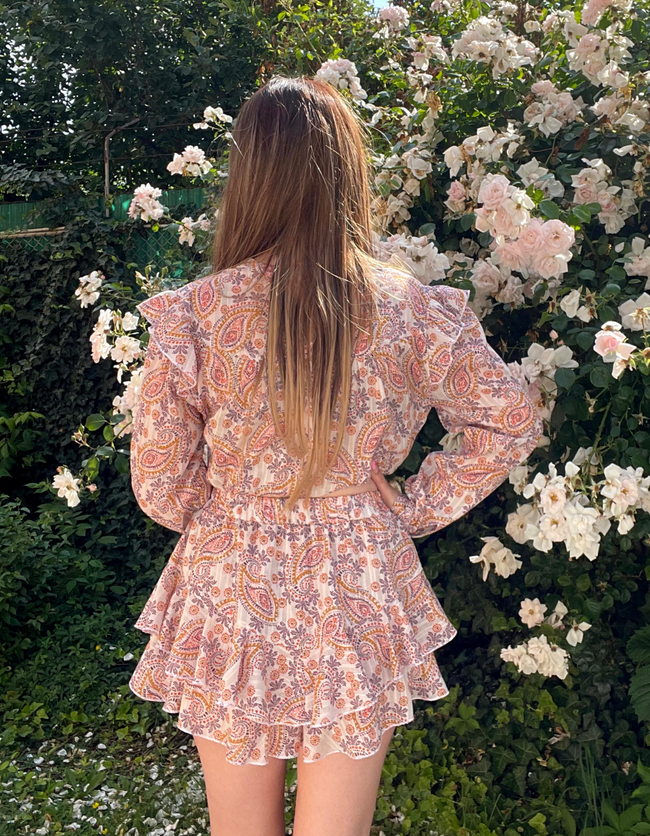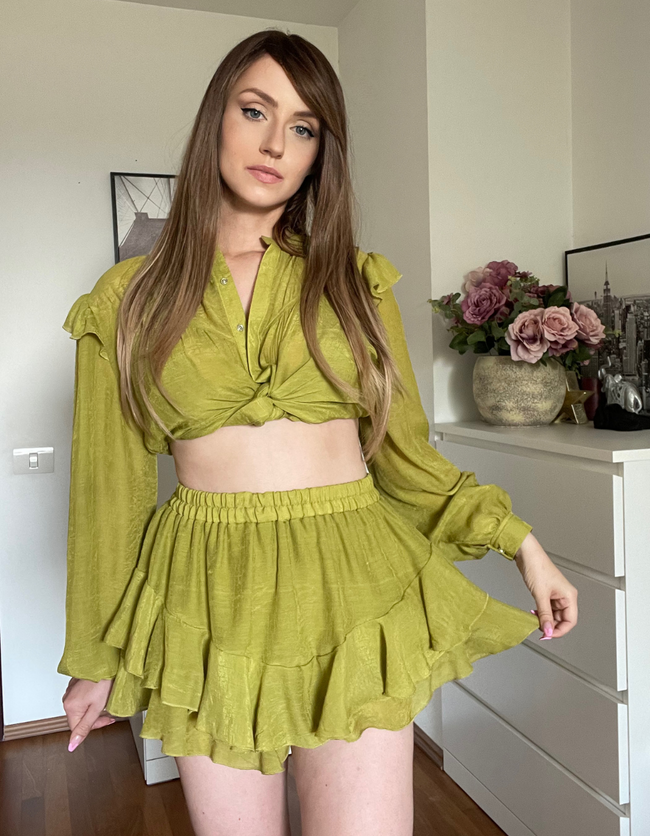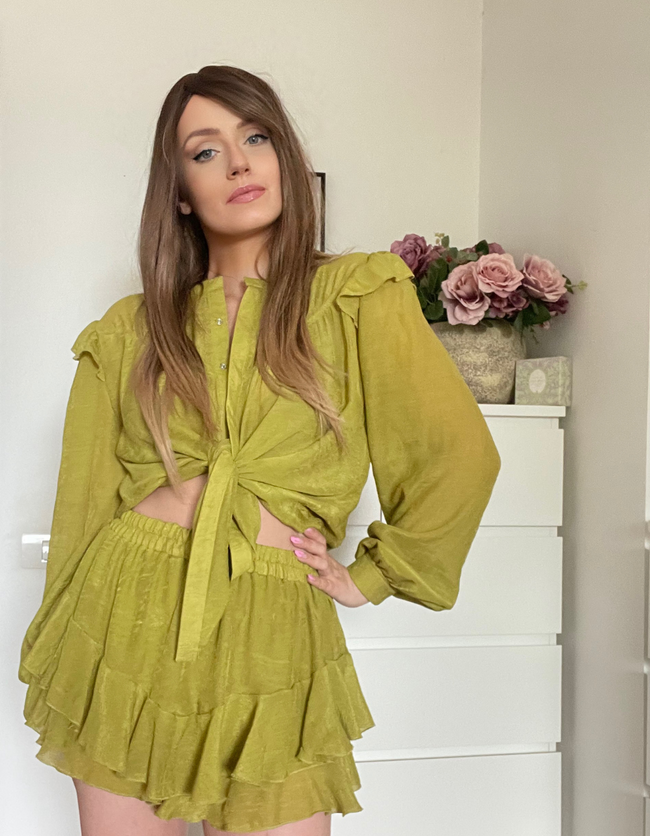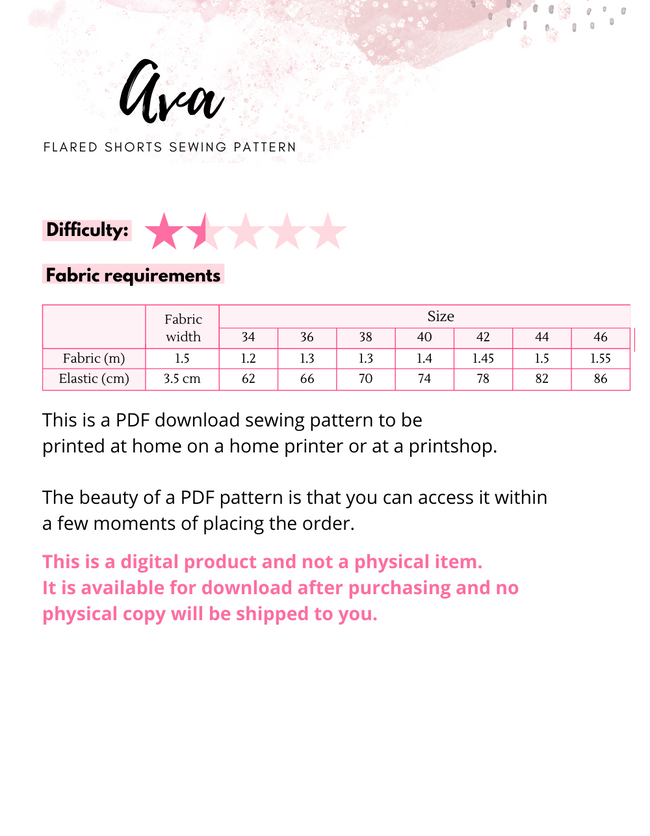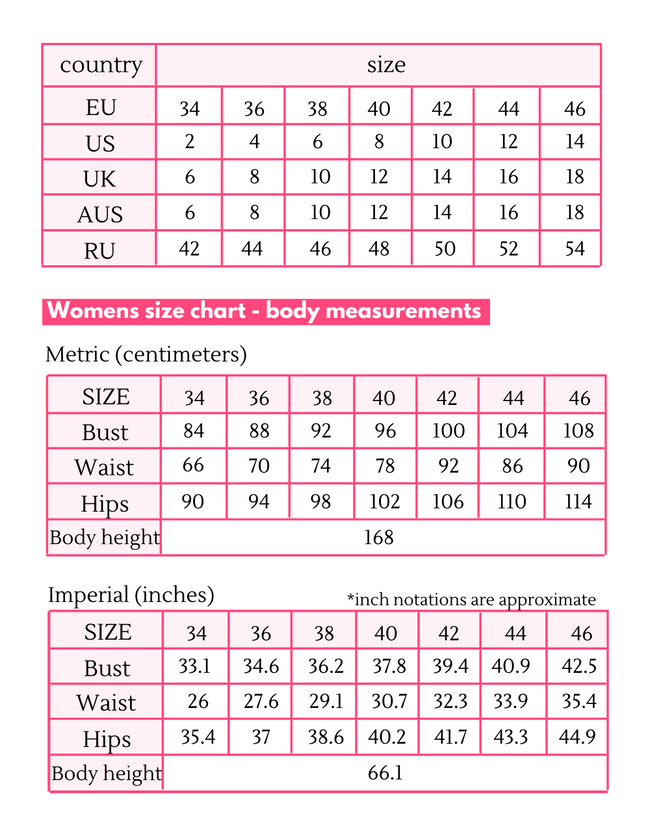 Summer calls for effortless dressing and this fuss-free pattern for high waisted shorts is the perfect way to beat the heat and keep your cool.
These beauties feature an elastic waistband for a comfortable fit, plus ruffled detailing for a touch of glamour. Plus, they're thigh-length, so you can rock them with your favorite sandals or sneakers.
Design Highlights
high waist
elastic waist
ruffled detailing
thigh-length
What to Wear With Your Pattern For High Waisted Shorts
With such a versatile shorts pants pattern, the sky's the limit when it comes to styling. There are endless ways to style your shorts pattern, but we've put together a few of our favorite looks for you to try:
For a casual look, combine them with a tank top and sneakers.
Go for a more glam ensemble. Style your shorts with a flowy blouse and strappy sandals.
Dressing up for a day on the water. Match a nautical-inspired striped shirt with your shorts and combine with a pair of boat style shoes
Embrace a dressier look with your shorts by tucking a button-up shirt into you pair of shorts, adding a belt, and wearing loafers. Elevate your look even further by wearing a blazer over it.
Either way, you'll look chic and summer-ready!
High Waisted Shorts Sewing Pattern Pattern Overview
These high waist shorts are so comfortable and easy to wear, you'll never want to take them off! The relaxed fit and high pull-on waist make them perfect for lounging around the house or running errands.
The best part is that you can customize the fabric to match your unique style. So whether you're looking for a laid-back pair of shorts to wear on the beach or a more structured pair to wear out on the town, you can find the perfect fabric to suit your needs. Furthermore, you do not have to worry about making a mistake - our sewing patterns are always downloadable, so you can start fresh if necessary. So grab your needles and thread and get started on your new favorite summertime staple!
Sewing Level
The Ava pattern for high waisted shorts is excellent for a beginner sewing enthusiast.
More Details Of What's Inside Our PDF Digital Pattern - Pattern Features
A Print at Home PDF sewing pattern (A4 and Letter size pattern) - You will need Adobe Reader on your computer to open the PDF files)
A0 for printing at the copy center on A0 paper rolls
Measurement sheet and size chart
Step-by-step sewing instruction booklet
Assembling your pattern pieces
Step by Step Instructions with Illustrations
Multiple sizes available, ranging from 2-14 (US) and 34-46 (EU)
Projector files for projecting the patterns directly onto the fabric using the home projector
*All files are compressed in the ZIP archive for easy downloading. All sizes have separate files, you only need to print the files that are relevant to you.
*no printed paper pattern version will be shipped to you. This is a digital download file.
Supplies
Sewing Your Perfect Size Shorts Pattern
These high waisted elastic waist shorts are the perfect addition to your summer wardrobe. The best part is that they're easy to sew!
With this pattern and our step by step sewing instructions, you'll be able to create the perfect pair of shorts for your zise. So grab some fabric and get started on your new Sewing project today!
Tools you'll need
-Your AVA PDF pattern
-Preferred fabric
-Color matching thread
-Fusible reinforcement tape - if needed
-fusible interfacing - if needed - for the waistband
-3.5 cm wide elastic
-sewing machine
Seam Allowances
-1 cm seam
-0 cm hem(ruffle)
Recommended Fabric:
If you're looking for the perfect fabric to use for this sewing project, you can't go wrong with a light weight woven fabric.
Linen, rayon challis, cotton gauze, muslin, rayon, lightweight denim, silk, satin, and chambray all have a nice drape and are easy to work with. They also come in a variety of colors and patterns, so you're sure to find something that matches your vision. And because they're lightweight, they'll be comfortable to wear even in the hottest summer weather.
How much fabric do you need for your diy elastic shorts pattern?
The amount of fabric you need will depend on the width of your chosen material.
The table below shows the sizes and amounts of fabric needed for a standard1 40-150cm width. If your fabric is a different width or has a design, such as stripes or plaids, then just adjust the pieces so that they fit your available width. With a little planning, you can easily make a pair of shorts that fit both your style and your budget.
Check your contraction!
When you're sewing your own clothes, it's important to pay attention to the fabrics you use. Different fabrics have different properties, which can affect how your garment looks and fits. Checking the contraction of the fabric before you start sewing will help you avoid any frustrating fitting issues down the line.
Ironing your fabric at its highest temperature recommendation will ensure that you get rid of any wrinkles or imperfections in the material. This will ensure that your finished garment will fit as it was sewn and that it won't shrink after washing.
How To Sew It
How To Make Your Flowy Shorts - Sewing Instructions
Sew the sides of the front skirt and the back skirt pieces, good sides together. Press the seams and overlock. fig 1
Sew the front skirt ruffle pieces together, on the side with the notch. Leave the other side open. Press the seam open and overlock. Repeat with the back skirt ruffle pieces. fig 2
Sew the front ruffles with the back ruffles on the side. Press the seam open and overlock. fig 3
Sew the bottom of the skirt and the top of the ruffles together, right sides together, taking care to meet the notches. Press the seam open and overlock the seam. fig 4
Sew the center seam of the front pants pieces, right sides together. Press the seam open and overlock. fig 5
Repeat with the pants back pieces.
Sew the side seams of the pants, front and back, right sides together. Also the crotch area, using a 1 cm seam allowance. Press the seams open and overlock. fig 6
Take the front pants ruffle and the back pants ruffle and sew them, right sides together. Press the seam open and overlock. fig 7
Attach the pant ruffles to the bottom of the pants, right sides together, taking care to meet the notches. Align the short edge of the ruffle with the crotch area and the widest part to the sides. Press the seam and overlock. fig 8
Prepare your overlock machine (serger) and sew a narrow 3 thread roll stitch to the raw edges of the skirt ruffles and pants ruffles hem.
Take the skirt and apply it over the pants, wrong side to right side, and sew them together at the waist, using a 5 mm seam allowance.
Fold the waistband in half length wise and press it .
Sew the short sides of the waistband together, right side to right side, at 1 cm. Press the seam open.
Sew the two parts of the waistband on the waist of the skirt and pants, right side to right side, leaving 5 cm open to insert the elastic
Cut a piece of elastic the length required and insert it in the elastic channel. fig 9
Pull the two ends of the elastic together and join them . Push the elastic into the casing and sew across the gap. Neaten the seam with a 3-thread serger stitch.
Sew a topstitch at the middle of the waistband, lenghtwise to hold the elastic in place
Finished! I commend your efforts! This great shorts pattern led to a stellar look item you can now share with the world.
Video Tutorial
A Video Sewing Tutorial For Better Understanding
Watching a sewing video tutorial is a great way to learn how to make the AVA shorts pattern. The video will show you every step of the process, with stepy by step and easy to follow instructions. This will help ensure that you know exactly what you need to do in order to successfully complete the project.
In addition, watching a tutorial can also be helpful if you get stuck at any point during the process. By seeing how someone else completes the task, you may be able to figure out what you are doing wrong and fix it. So if you are having trouble with the AVA shorts pattern, be sure to check our youtube video tutorial listed below. With a little practice, you'll be able to make your own pair in no time.
Sewing Projects - An Utterly New Way To Stay On Top Of The Fashion Game
If you're like most people, you probably have a love-hate relationship with fashion. On the one hand, you love being able to express yourself through your style. On the other hand, you hate how quickly fashion trends come and go. It feels like as soon as you've finally saved up enough money to buy that must-have item, it's already out of style.
Fortunately, there's a way to stay on top of the fashion game without breaking the bank: sewing patterns. Sewing patterns are an affordable way to create custom clothing that reflects the latest trends.
Plus, they're a great way to get creative and express your personal sense of style. If you're looking for a thrifty way to stay fashionable, sewing patterns are the way to go.
Whether you're just getting started with sewing or you're a seasoned pro, shop our sewing patterns. They are sure to help you take your wardrobe to the next level. We promise you won't be disappointed! We have everything you need to make your next sewing project a success.
Download a free pattern!
Give our patterns a try with a free pattern! Download a free sewing pattern for an off the shoulder top or a tiered skirt and get to work making your dream boho outfit. It'll take less than five minutes before you wonder why anyone would pay for clothes when they can just do this themselves
Size Chart
Terms of use
This digital pattern is for personal use only. No part of the pattern can be shared, reproduced, or resold in any format. Thank you so much!

**Due to the electronic nature of this pattern, refunds and exchanges are not accepted. If you have problems or questions, feel free to contact me via message
AVA - Pattern For High Waisted Shorts