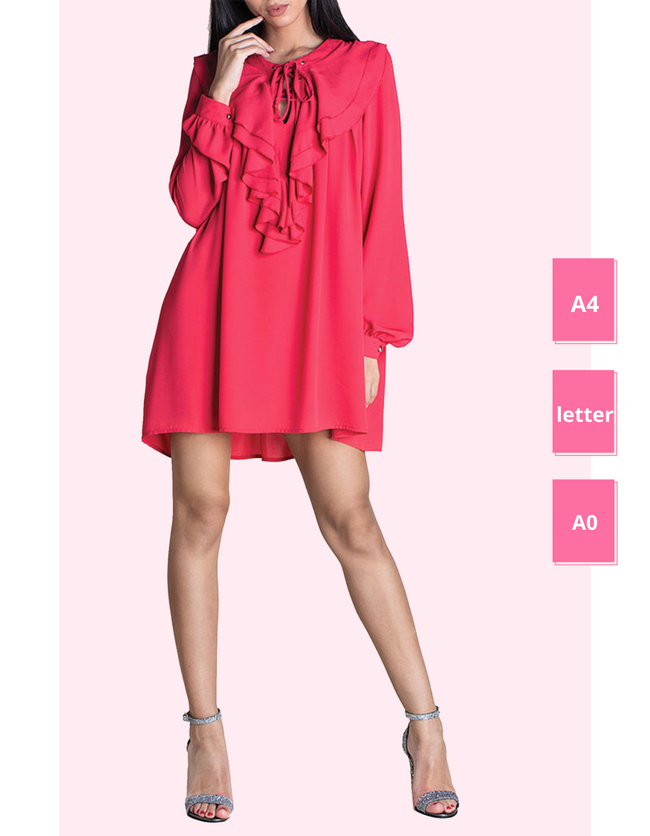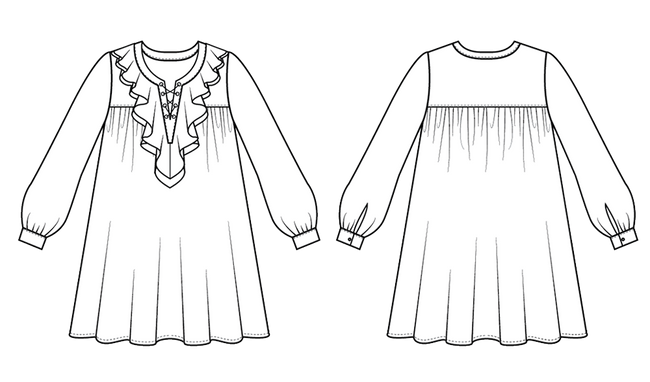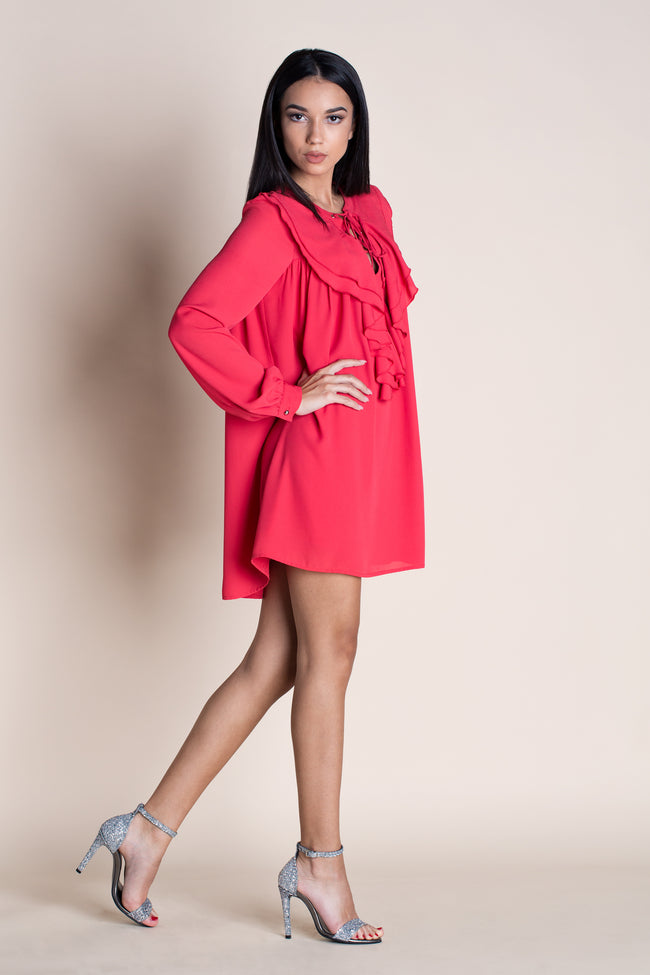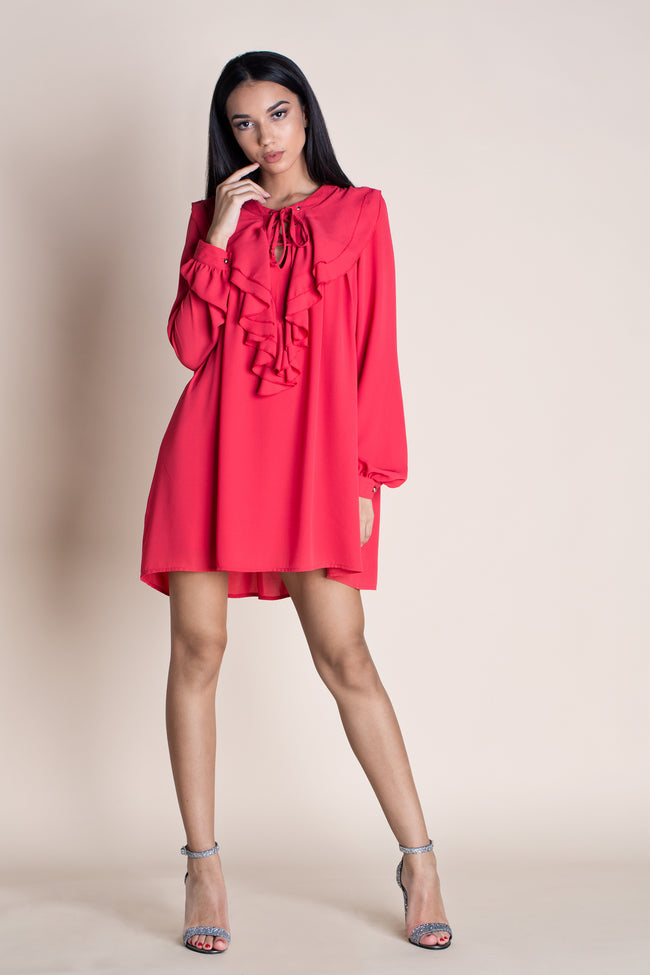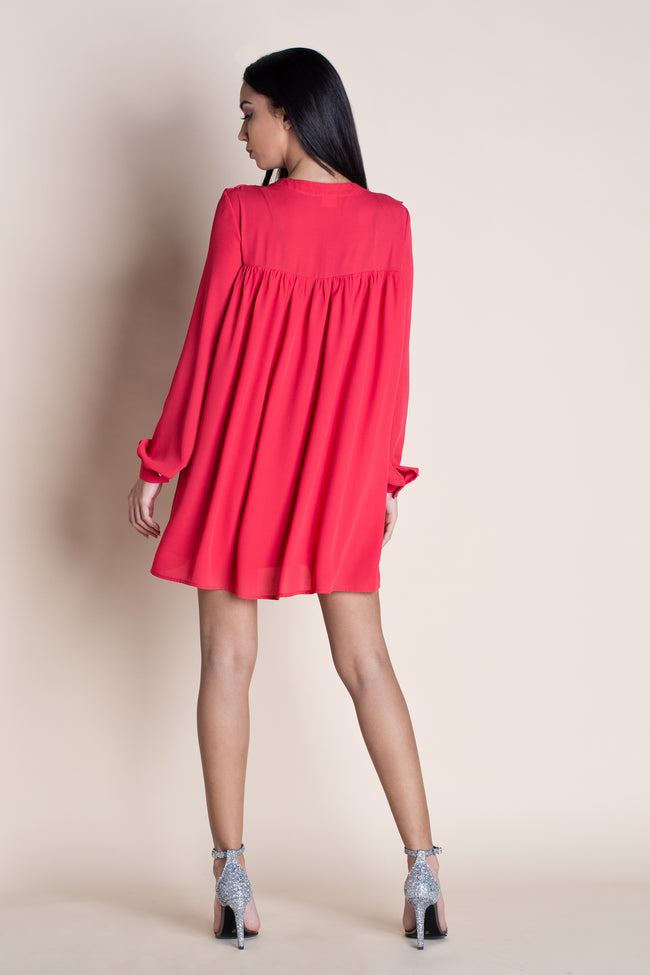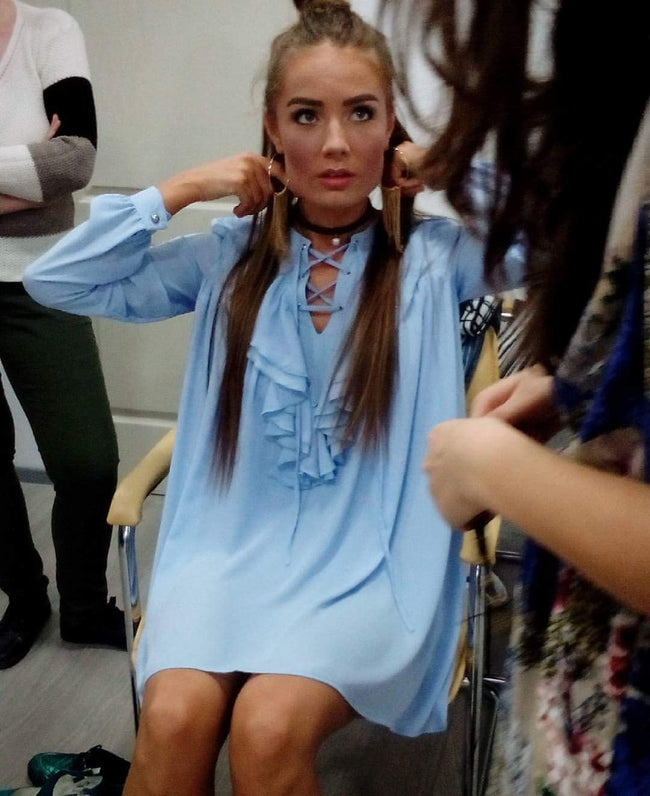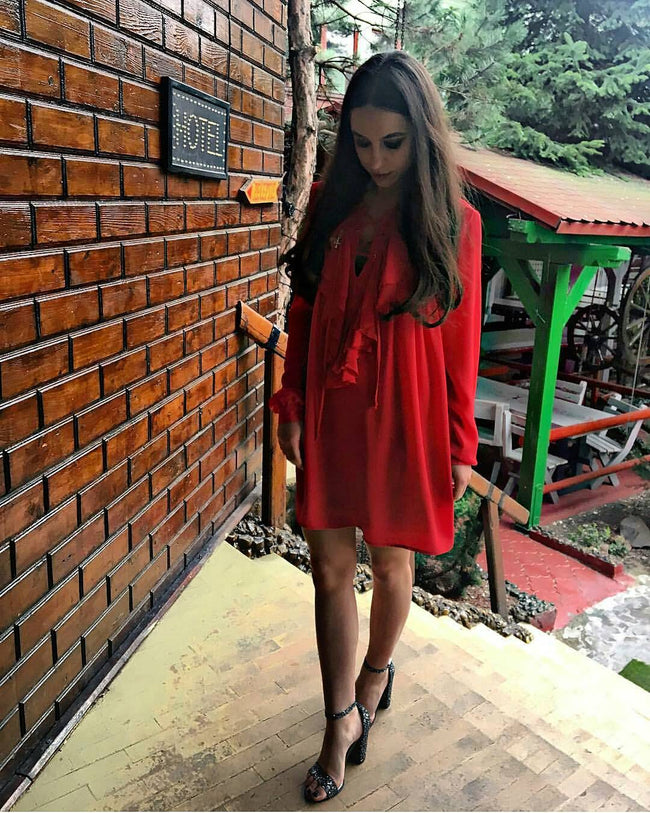 This babydoll dress pattern is a must. It's a trend - playful ruffles are a key accent right now! This wonderful easy breezy loose dress pattern, with lace and ruffles, has a summer comfortable look and has serious potential to become your go-to dress for a boho appearance. Delicate and lightweight, it features short lining and bishop sleeves with cuffs.
Design Highlights
mini length
long sleeves
bishop sleeves with cuffs
doll style dress
with ruffle details
How To Style And Wear Your Baby Doll Dress Pattern
If you've got a baby doll dress, you may be wondering how to style it and what to wear it with. Baby doll dresses are a great option for a variety of occasions, from casual get-togethers to more formal events. When it comes to styling your dress, options are endless. You can keep it simple with a pair of flats or sandals, or dress it up with heels and accessories. If you're looking for some inspiration, here are some stylish ways to wear your baby doll dress.
For a casual look, pair your dress with a pair of sneakers or boots. This is a great option for running errands or meeting friends for coffee. If you want to dress up your look, consider pairing your baby doll dress with heels or wedges. This is a great option for dinner dates or night outs. For a more formal look, consider pairing your baby doll dress with ballet flats or pumps. This is a great option for weddings or other black-tie events.
No matter how you choose to style it, a baby doll dress is perfect as a casual dress sure to bring out the feminine and fun side of your personality. So don't be afraid to experiment and have fun with your fashion choices!
Jade Babydoll Dress Sewing Pattern Overview
A delicate piece, this mini dress is perfect choice for a ravishing appearance. Be romantic, feminine, chic, and elegant, all in one! With its timeless design, it's sure to become a wardrobe staple. So don't hesitate, add this pattern to your collection and enjoy the results.
Sewing Level
The Jade pattern for babydoll dress is great for an medium skilled sewing enthusiast
More Of What's Inside Our Bohemian Babydoll Dress
A printable PDF sewing pattern format (You will need Adobe Reader on your computer to open the PDF files)
Measurement sheet and size chart
Step-by-step guide on how to cut and sew your puffed sleeve dress pattern
Assembling the pattern piece
Step by Step Instructions with Illustrations

A bunch of sizes to choose from! 2-14 (US) / 34-46 (EU) - yay!

A4 and Letter format for printing at home
A0 for printing at the copy center on A0 paper rolls
Projector files for projecting the patterns directly onto the fabric using the home projector
Supplies
Sewing Your Perfect Size Boho Dress Pattern
You're one step away from creating your own art! Let's put our creative minds to work and turn this stylish mini dress pattern into a one-of-a kind piece. Let's get started!
You'll need:
Your Dress PDF pattern
Preferred fabric
Color matching thread
Interlining for cuffs and neckline
10 eyelers
2 buttons
sewing machine
Seam Allowances
1.4 cm hem (double turned hem)
1 cm for all seams
Fabric Suggestion:
Ideally, this dress pattern is suitable on different fabrics but works best with natural or mixed fluid fabrics like cotton, silk, viscose, linen or chiffon. These fabrics drape nicely, creating a beautiful, flowing dress. Furthermore, they are lightweight and breathable, making them perfect for warm summer days. Ultimately, it's up to you to decide what fabric you think will look best. But we hope this gives you a place to start!
How much fabric do you need for your diy dress?
In the following table, you can find the fabric requirements for each size, but bear in mind that the measurements apply to fabrics with a width useful for 140-150 cm. It will be necessary to redo the pattern placement on fabrics with different widths and designs (stripes, plaids, etc.).
Check your contraction!
Be sure to determine the fabric's contraction before cutting. The raw material needs to be steamed and ironed at its highest recommended temperature. When you wash your garment for the first time using this method, it will still retain its sewn size.
It is recommended that you buy 5% more than you need to account for shrinkage
How To Sew It
Sewing A Dress - Instructions
Now that you're all set up, let's get started with the sewing process. Our dress pattern comes with easy-to-follow instructions so we can make this happen for ya!
Keep on reading!
Apply interlining on the cuffs and neck pieces.
Take the front and back and sew the side seams, right side to right side. Overlock and press the seams. (If you don't have an overlock machine, a zig zag stitch would do)
The same is done with the lining pieces
The top of the bodice is gathered along the bottom length of the yokes. Sew them together with the yokes and the lining, the yoke being placed between the right side of the bodice and the right side of the lining. overlock the raw edge and press the seam
Join the ruffles at the bottom, overlock the seam allowance and press to the side. Sew the hem of the ruffles with a Merrow Stitch at the serger
Sew the ruffles on top of each other and apply them on the neckline of the dress, starting from the shoulder
Sew the shoulders, good sides together catching the ruffles in the shoulder seam. Overlock and iron the seam
Cut the slit at the bottom of the sleeves according to the markings on the pattern and apply the bias tape on the slit.
Sew the sleeve on the sides; overlock and iron, pressing the seam allowance to the side
Sew the sleeves in the armhole, overlock and iron to one side.
The lower edges of the sleeves is gathered along the length of the cuffs.
Prepare the cuffs and sew them with the wrinkled side of the sleeve, good sides together.
Sew the buttonholes and buttons
The front and back collar parts are sewn together. The seam allowance is ironed, thus achieving both the front of the collar and its back. Place the front collar over the back of the collar (good sides together) and sew. Turn the seam over and iron to flatten. Then apply the collar on the dress, all around, overlock and iron, flattening the seam.
Put the eyelets according to the markings on the pattern
Sew the string and insert through the eyelets, put the 2 ends of the string
Done! You have achieved your goal! The tutorial we provided for you hopefully helped you achieve the best results possible for your work. It will be exciting to see what you create next!
Good Sewing Patterns for Good Moments
Check out our complete lineup of sewing patterns and other related products to discover a wide range of stylish items. We know you'll find something that will help make your next sewing project a smashing success! !
Sew a free pattern today
In addition, if you want to get a sense of the quality of our patterns, you can download our off shoulder top pattern for free to see if we are a match for your style. You can also sew our free skirt pattern for a matching outfit.
Size chart
Terms of use
This digital pattern is for personal use only. No part of the pattern can be shared, reproduced, or resold in any format. Thank you so much!

**Due to the electronic nature of this pattern, refunds and exchanges are not accepted. If you have problems or questions, feel free to contact me via message
JADE - Babydoll Dress Pattern