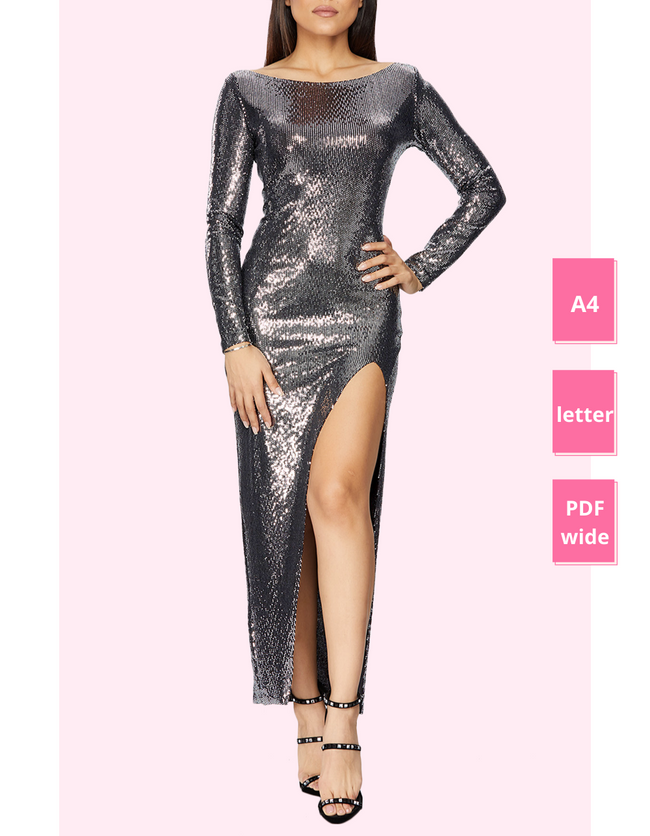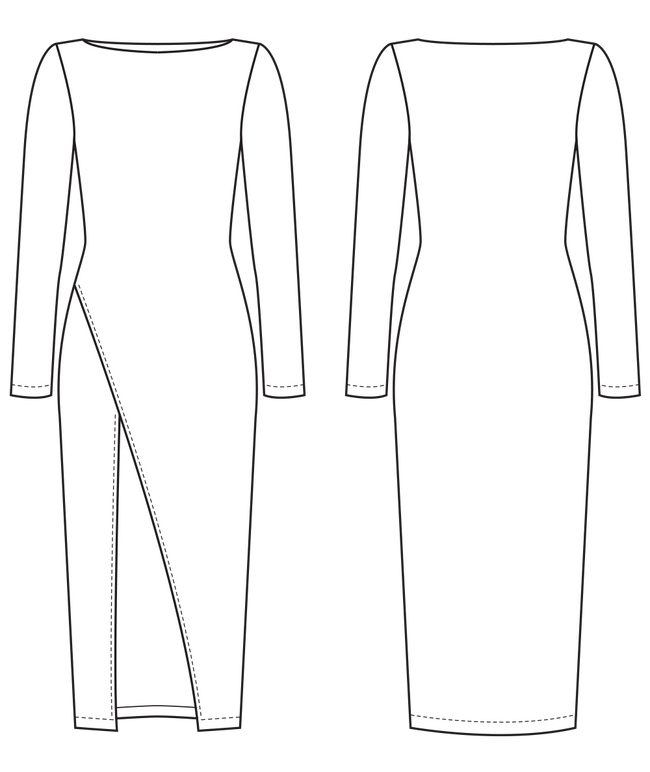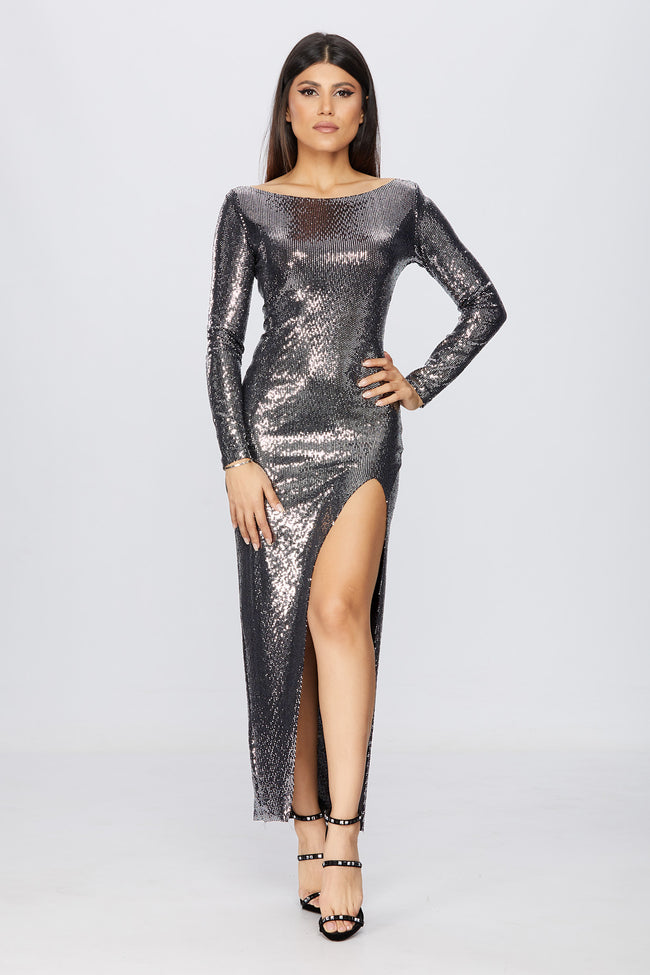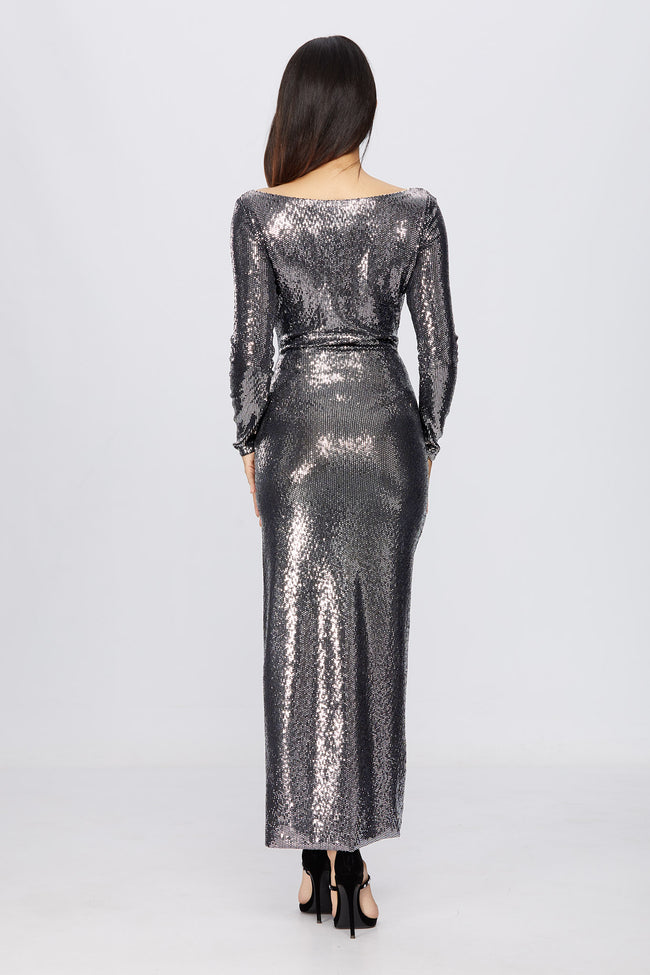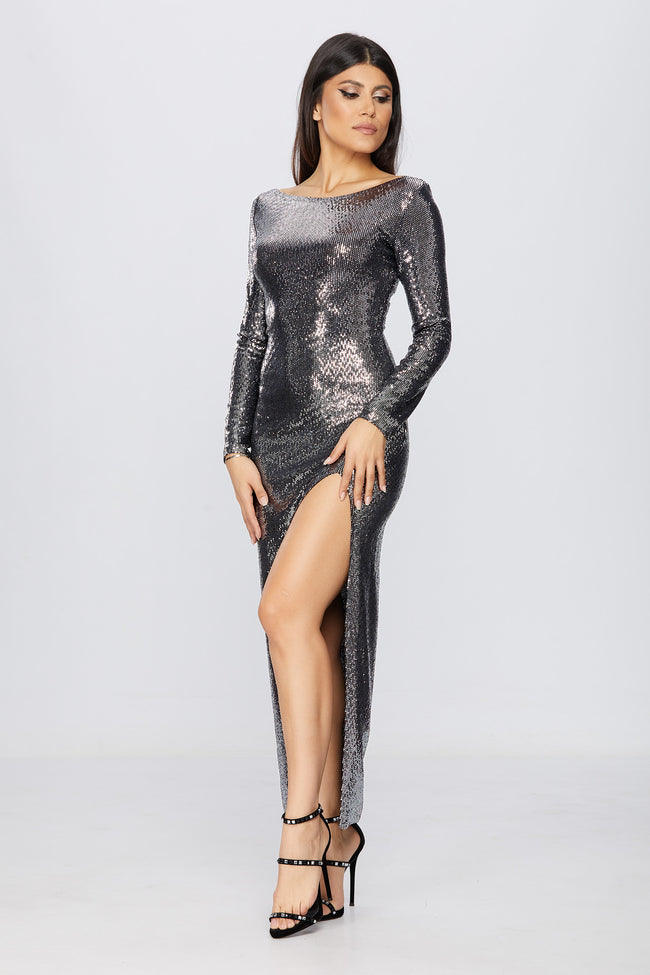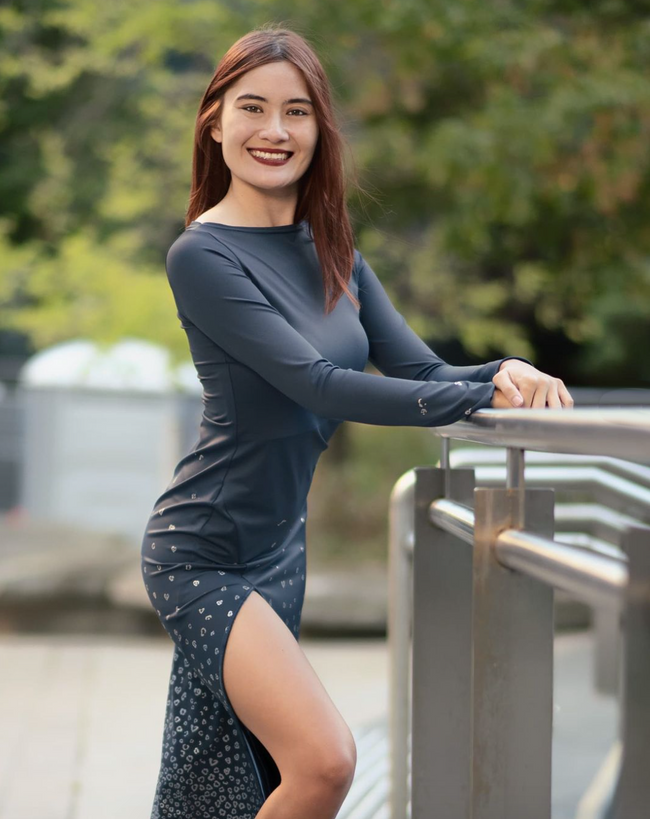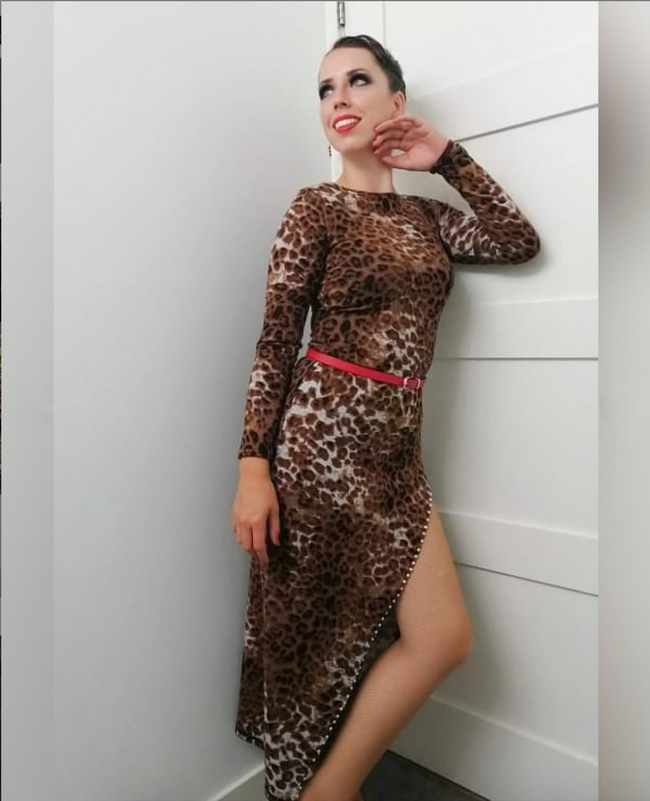 Are you ready to make a statement? This form-flattering bodycon dress pattern is the perfect way to do it. Designed to fit you perfectly, so you can feel confident and comfortable in any situation. So go ahead and take this perfect dress for a spin! You won't regret it -we promise!
Product Highlights
Body-Sculpting Fit
Midi length
Boat neckline
Side Slit
Long sleeve
Pullover style construction
Straight hemline
Corina Bodycon Dress Sewing Pattern Overview
If you're looking for a appreciative, form-fitting bodycon dress sewing pattern that's easy to sew and quick to put together, you've found it!
This bodycon dress is perfect as a casual dress for a summer night out on the town, or just a relaxed date with your favorite person. The boat neckline and midi length make it super flattering and cute, while the side slit adds some sass, allowing you to show off some skin without revealing too much.
If you choose a shinny fabric and make it as a party dress, keep your jewelry to the minimum. Otherwise, you can style a pair of bold and statement earrings to make your look feel grander. Put your hair in a low, sleek ponytail and layer a blazer or semi-formal coat over it.
*This is a digital pattern for bodycon dress that you'll be able to download within minutes after purchase and start sewing right away. No paper pattern will be shipped to you.
Sewing Level
Our Dress Pattern is perfect for anyone who wants an easy sew. It's great for beginners.
More Of What's Inside Our Pattern For Bodycon Dress
A printable PDF pattern format (You will need Adobe Reader on your computer to open the PDF files)
Measurements sheet and size chart
Step-by-step guide on how to cut and sew your puffed sleeve dress pattern
Assembling the pattern piece
Step by Step Instructions with Illustrations
Multiple size options to choose from, 2-14 (US) / 34-46 (EU).
A4, Letter and A0 format for printing at home
Supplies
A Body Hugging Dress Pattern
Flaunt your curves! Sewing the Corina pattern is a fun way to show off your figure, and we want to help you do it.
Your Corina pattern
Preffered fabric
Color matching sewing thread
Sewing machine
Fusible reinforcement tape
Seam Allowance
2 cm hem
1 cm front slit
0.7 cm seams
Suggested fabrics:
If you're looking for a fabric that will make your dress stand out in a crowd, we recommend a stretchy fabric, like stretch velvet or jersey fabrics. But we would try this pattern in a knit fabric too.
How much fabric do you need for your diy bodycon dress pattern?
Below is a table listing the amount of fabric needed for each size, considering a standard 140- or 150-centimeter width. If you're making your dress out of a different width or pattern (stripes, plaids, etc.), you may need to adjust the placement of the pieces so they will fit correctly.
Important!
It's happened to all of us: you carefully measure and cut your pattern pieces, only to discover that your garment doesn't fit after it's finished. What gives?
Before cutting your pattern pieces, check the contraction of your chosen fabric. Just iron steam the fabric at the highest temperature recommended on its label.
Your garment will stay true to its sewn size and fit exactly as planned!
Sewing Instructions
How To Sew A Skin Tight Dress Pattern - Sewing Instructions
We've got the sewing process broken down into easy-to-follow steps with lots of illustrations so just follow along.
Overlock the slit part of the front and side front. fig 1
Sew the front and right side front, right sides together with a straight stitch, from the side until the slit notch. fig 2
Press the seam open. If the fabric is very elastic apply a this strip of fusible reinforcement tape on the wrong side of the slit. Turn the hem of the slit 1 cm inwards and press again. Sew on the edge of the slit at 0.9 cm. fig 3
Sew the shoulders of the front and back pieces, right sides together, overlock and press the seam
Overlock the raw edge of the neckline. Turn the neckline seam allowance inwards to the wrong side and sew it a 2.8 cm. fig 4
Overlock the sleeve hem. Turn the hem inwards 2cm to the wrong side and sew it at 1.9 cm. fig 5
Sew the sleeves in the armholes, right sides together, taking care to meet the notches. Overlock and press the seam.
The side seams are made, starting from the wrist of the sleeve to the hem of the dress. Overlock and press the seam. fig 6
Overlock the hem of the dress, turn it 2 cm to the wrong side and sew at 1.9 cm
Iron the dress
We're on a mission to provide you the best sewing patterns
In crafting our patterns, we work hard to create designs that are easy to understand and fun to work with. Whether you're looking for something specific or just browsing, you can browse our shop to get inspired.
Free Pattern Available
We know you're busy and don't have time to waste with patterns that don't suit you. So we've got a free pattern for an off-the-shoulder blouse that is easy enough for beginners, but stylish enough for even the most experienced seamstress to make. To match it up, we also have a free skirt pattern. Just try us out and see if we're a fit for your sewing needs and if you are comfortable with our way of doing things.
We hope you enjoyed making your own dress as much as we did creating it. We're excited to make your sewing life just a little bit easier! We hope that our products be part of your next sewing projects.
Size chart
Terms of use
This digital pattern is for personal use only. No part of the pattern can be shared, reproduced, or resold in any format. Thank you so much!**Due to the electronic nature of this pattern, refunds and exchanges are not accepted. If you have problems or questions, feel free to contact me via message
CORINA - Bodycon Dress Pattern