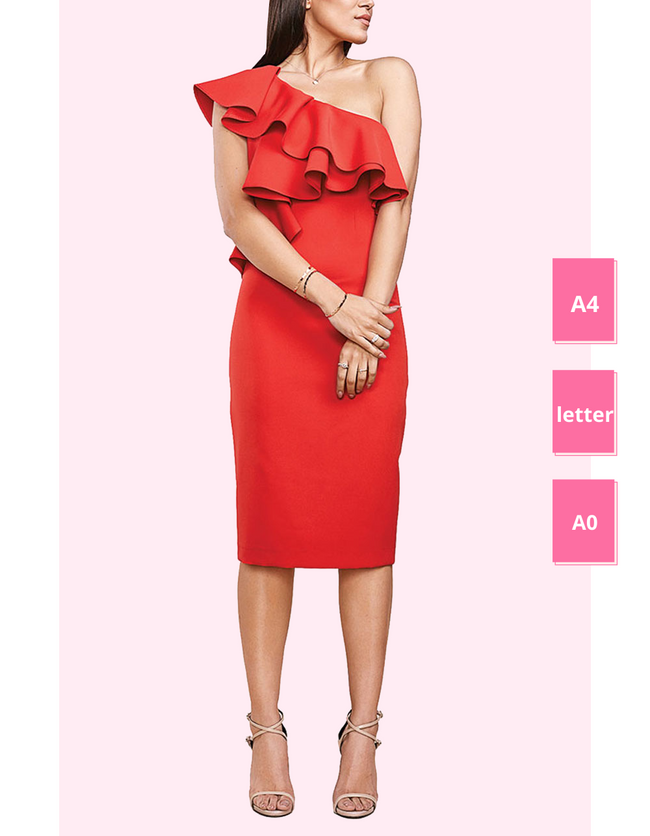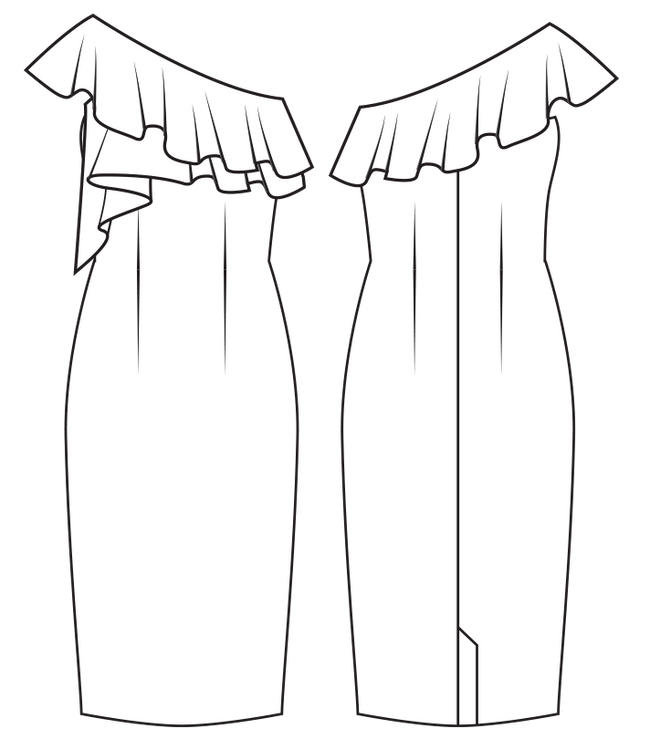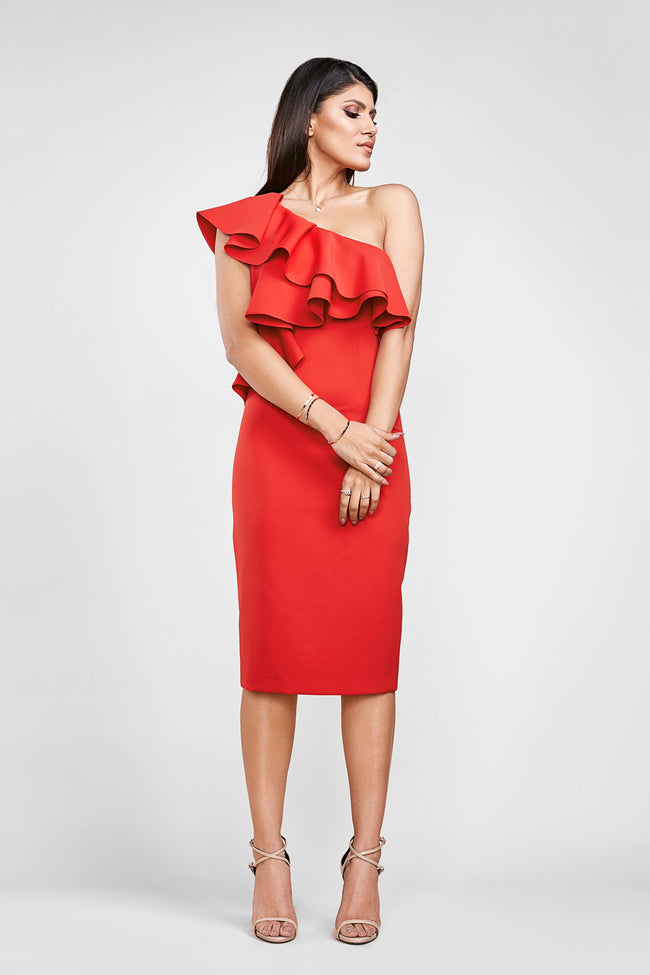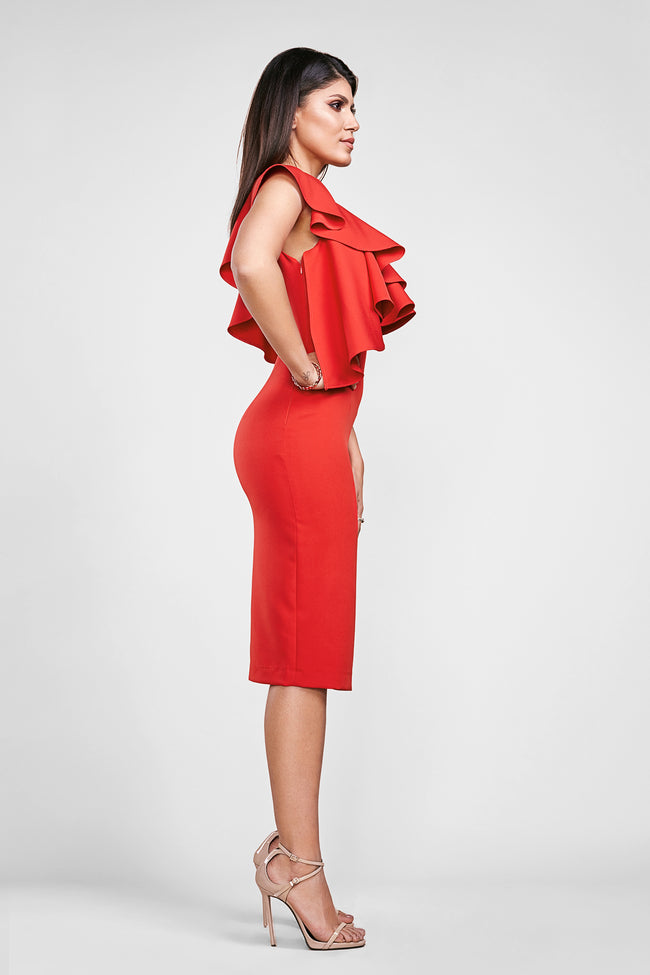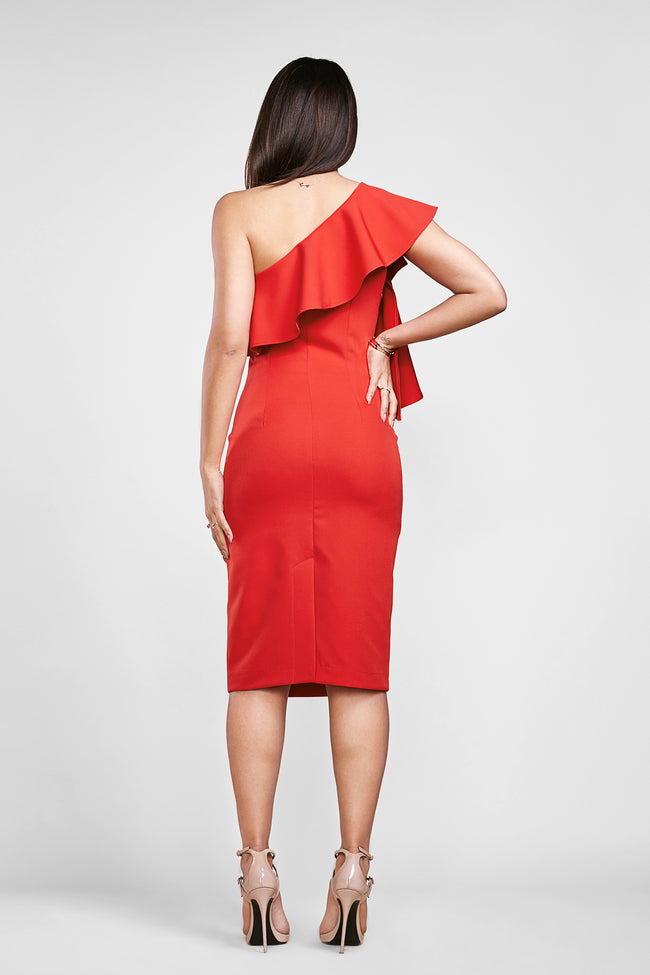 Are you ready to take your wardrobe to the next level? Then get ready to fall in love with this one-shoulder dress pattern. The Neckline is a showstopper on its own, but it's the flirty decadent ruffle detail that steals the show. Flattering and very stylish, this piece is perfect for day to evening outfits.
Design Highlights
Sleek One-Shoulder Neckline
Flirty Decadent Ruffle Detail
Body-Sculpting Fit
Midi Length
Pencil Skirt
Hidden side-zip closure
Sleeveless
Back slit
How To Style And Wear Your One Shoulder Dress Pattern
One Shoulder Dresses are ideal for weddings, afternoon cocktails by the pool, dinner dates, and pretty much every other semi-formal occasion.
Wear it with a pair of heels or flats
You can choose between wearing your outfit with a pair of heels or flats. Both will look equally good. If you look for a more glamorous look, opt for your ankle-strap sandals and add a top-handle mini bag to the mix. Simply gorgeous!
Add A Statement Necklace
You can also add interest to your one-shoulder dress with a statement necklace! Choose something with color or texture that matches the rest of the look or contrasts strongly with it— Put on your dainty necklace, and pearl studs. Either way, it'll be sure to make an impact on everyone around you.
Ella One Shoulder Sewing Pattern Overview
Our Ella pattern is the perfect combination of sophisticated, feminine style and ultra-modern silhouette. The one-shoulder neckline shows off just enough skin to keep things interesting and the back slit adds just enough to give you some breathing room while still keeping things classy.
Simplicity and convenience! The figure-flattering fit is designed to shape your body and give you that hourglass figure you've always wanted.
Download this pattern from our webshop and start sewing immediately! Pattern includes a detailed tutorial that will walk you through the sewing process, step by step.
*This is a digital pattern for sewing that you'll be able to download within minutes after purchase and start sewing right away. No paper pattern will be shipped to you.
Sewing Level
Our Ella pattern for one shoulder dress is great for an medium skilled sewing enthusiast
More Of What's Inside Our O

ne Shoulder Dress Pattern
A printable PDF sewing pattern format (You will need Adobe Reader on your computer to open the PDF files)
Measurement sheet and size chart
Step-by-step guide on how to cut and sew your puffed sleeve dress pattern
Assembling the pattern piece
Step by Step Instructions with Illustrations

Size options from 2-14 (US) / 34-46 (EU)

A4 and Letter format for printing at home
A0 for printing at the copy center on A0 paper rolls
Projector files for projecting the patterns directly onto the fabric using the home projector
*All files are compressed in the ZIP archive for easy downloading. All sizes have separate files, you only need to print the files that are relevant to you.
Supplies
A Dress Sewing Pattern
When you're ready to make an impact, this dress is the one for! We've put together a simple, easy-to-follow guide that will show you how to make your very own dress. This project is all about making sure you have the perfect fit and looking fabulous while doing it.
Supplies needed:
Your Ella

pattern for one shoulder dress

Preffered fabric
Color matching thread
Sewing machine
1 invisible zipper 40 cm
1 cm reinforcement tape (120 cm)
Seam Allowance
Suggested fabrics:
The thing is… the right fabric can make all the difference.
When it comes to finding the right fabric for this dress, you want something that's going to be as comfortable as possible. But you also want something that will hold its shape and won't stretch out. That's why we recommend a medium-weight woven fabric with 3-4% elasticity—it's just right! Our sample was made of bi-stretch woven fabric.
How much fabric do you need for your

diy one shoulder dress

?
The table below details the amount of fabric needed to make each size of the dress, based on a fabric width between 140 - 150 cm. To accommodate different widths or patterns (like stripes, plaids, etc.) you may have to adjust the placement of pieces to ensure a proper fit.
Important!
We know you're eager to get started on your next project, but before you cut your pattern pieces, we want to make sure that you've done everything possible to make sure your garment will fit right.
To do that, we suggest checking the contraction of your chosen fabric and iron steam it at its highest recommended temperature to make sure your finished item won't shrink after the initial wash.
Sewing Instructions
Sewing An Efortless Elegance Dress - Instructions
To help you put together your one shoulder dress pattern, we have written a step-by-step instructions and illustrations guide for each part. Let's get to work!
Apply a 1cm reinforcement tape on the neckline at the front and back (you can also use a thin stripe of interlining)
Sew the darts in the front and back and iron
Overlock the center backs separately.
Sew the center back seam from the top to the slit notch, good sides together. The slit on the left side bends inwards according to the notches, iron and fix with a top stitch.
Overlock the sides of the face and back pieces
Sew the left side, iron the seam open
Sew the right side from the zipper notch to the bottom, iron the seam open
Install hidden zipper
Overlock the hem, the seam allowance is bent inwards and sewn at 3.5 cm
Overlock the sides and the hem of the ruffles
Bend the hems of the ruffles 0.5 cm inwards and top stitch them
Place the ruffle 2 on the dress and sew it at 0,5 cm starting from the armhole to the shoulder and round the neckline
Sew the shoulder line, Overlock and iron
Apply interlining to wrong side of the armhole facings then sew them together on the upper side. Overlock them on the exterior side and sew them to the dress, good sides together. Turn facing inside out. Then, turn zipper out so the zipper tape is facing outward.
Take the ruffle 1 and sew together the sides. Overlock and iron the seam
Place the good side of the ruffle 1 over the bad side of the dress on the neckline, taking care of the notches and sew at 1cm. Sew a topstitch on the ruffle 2 so that it also includes the seam allowance from the neckline
Turn the ruffle 1 over the body of the dress and press gently with the iron
Done! You've just made your own custom-made dress, which we hope you've enjoyed making. We hope you're now inspired to try other sewing projects.
Sewing Patterns For Every Occasion
We know that when you're searching for a pattern, it can be hard to find one that fits your needs. That's why we've put together a collection of patterns that are sure to please. Our selection includes everything from casual wear to formal attire, so no matter what the event or occasion, you'll find something here that's perfect for you.
Whether you're sewing a new outfit for yourself or a costume for your kid's school play, the right sewing pattern can make all the difference. We consider every detail of the design and construction process so that you can get the best results with our patterns.
We want to make sure you get the most out of your sewing experience. That's why we want to offer you a free pattern: an off-the-shoulder top to test our patterns and see if we are a fit. We want you to love the way our patterns fit, so we're giving you a chance to try us out without committing to buying before you try.
We hope that this article helps you feel more confident about getting started with sewing, and we can't wait to see what you create! If you have any questions, comments, or concerns, we'd be happy to hear from you!
Size chart
Terms of use
This digital pattern is for personal use only. No part of the pattern can be shared, reproduced, or resold in any format. Thank you so much!

**Due to the electronic nature of this pattern, refunds and exchanges are not accepted. If you have problems or questions, feel free to contact me via message
ELLA - One Shoulder Dress Pattern