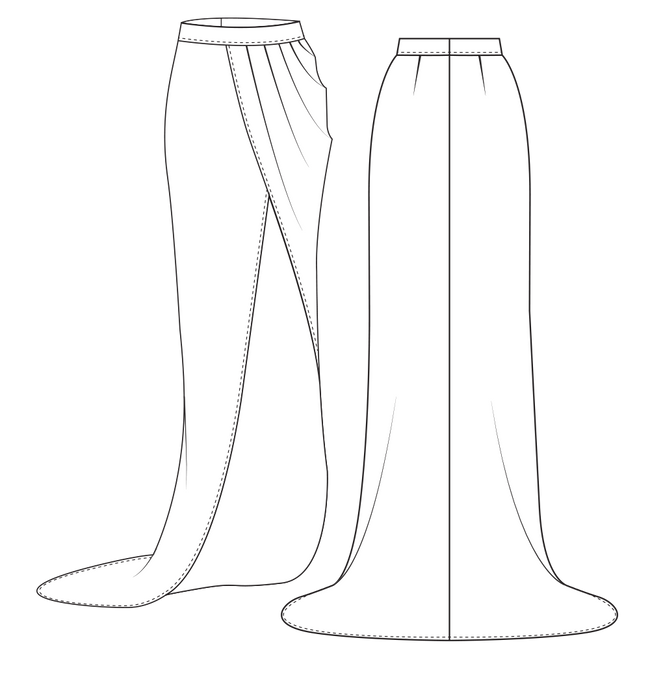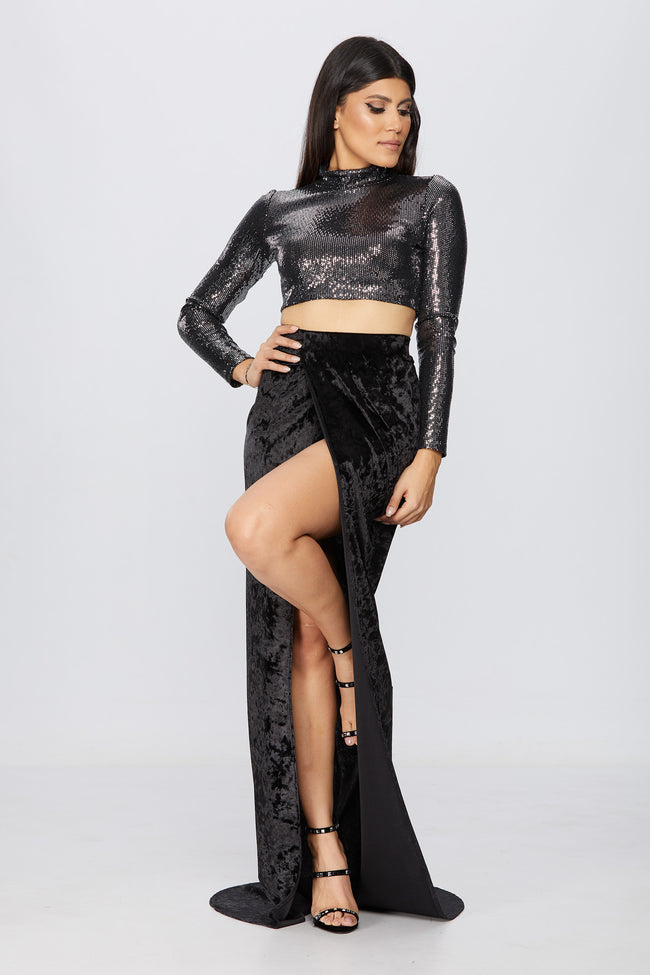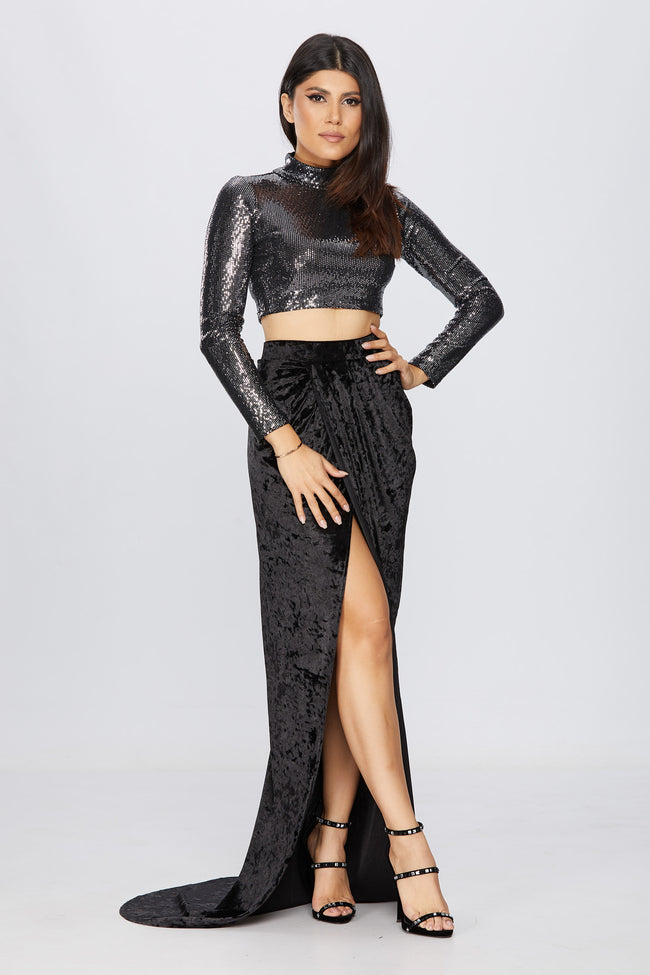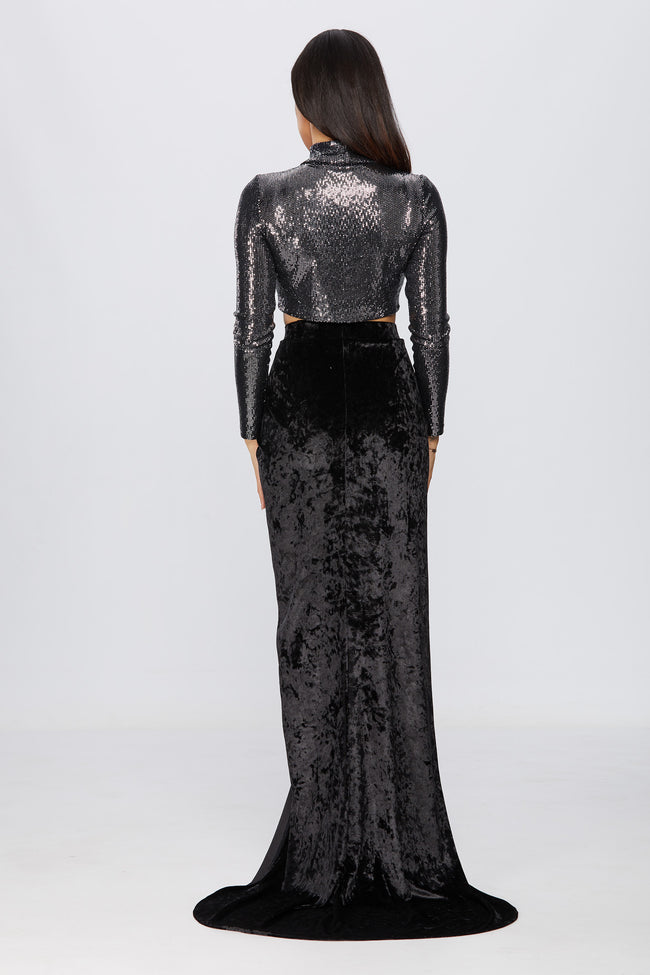 Dare to be flirty! This long tulip skirt pattern is going to be THE greatest addition to your wardrobe. Show off your sleek style and sew this flattering piece for a standout appearance!
- Design Highlights
Long length with train

Tulip style

High-rise fit

Wrapped silhouette

Pleated side

Head-turning high-low hem
How To Style And Wear Your
Perfect for afternoon outings with friends, dates with that special someone, or even holiday office parties, this long tulip skirt sewing pattern has all your vestiary needs covered. Pair it up with an off-the-shoulder top and a pair of pumps with your bedazzled clutch in hand. Layer it with a structured blazer with golden buttons and rock the wet hair look to add a touch of elegance. You can also style it with a black faux fair jacket for sumptuous night looks.
Delia Tulip

Wrap

Overview
Delia tulip skirt pattern is a gorgeous full-length skirt with train. The high-rise fit and wrapped silhouette are both flattering to your figure, while the pleated side adds a little bit of flair to your look.
With this pattern, you can make yourself a beautiful skirt that looks like it came from a high-end store—but at a fraction of the cost and without any of the hassle. This is an all-in-one package that lets you get started right away on making the perfect outfit for yourself or someone else in your life.
The best part abour our digital patterns is that they're available for instant download so you can start making your own skirt immediately! No paper pattern will be shipped to you.
  Level
Delia sewing pattern is great for a beginner skilled sewing enthusiast
More Of What's Inside Our Long Skirt 
A printable format (You will need Adobe Reader on your computer to open the PDF files)
and
Assembling the
by with Illustrations
you can choose from 2-14 (US) / 34-46 (EU)

A4 and Letter format for printing at home

A0 for printing at the copy center on A0 paper rolls

Projector files for projecting the patterns directly onto the using the home projector
*All files are compressed in the ZIP archive for easy downloading. All sizes have separate files, you only need to print the files that are relevant to you.
Supplies
Your Draped
The wrapped silhouette creates a beautifully feminine silhouette. Slip it on for your next important occasion and look like the best version of yourself.
It's long length with train will keep you feeling flirty and feminine, while also providing a touch of drama.
So let's dig right into it.
You'll need:
Your Delia
Preferred

Color matching thread

Elastic 3.5 cm wide (66 cm for 36)
:
 Elastic mid weight fabrics are the way to go when it comes to creating this skirt. The elasticity of these fabrics allows for a snug fit and an incredible range of movement. So our suggested fabrics would be elastic velvet, thick lycra, knit fabric etc
How much do you need for your diy ?
To make sure you're getting the right amount of fabric for your size, please refer to the chart below for fabric measurements based on a fabric width of 140-150cm. . If you're using a different fabric width than the one suggested (like stripes, plaids etc), adjust the placement of your pieces accordingly.
Check shrinkage!
Cutting your fabric isn't the end of the sewing process—it's just the beginning. But if you're not careful, it could be the end of your project.
We know that you want to get to the fun part—sewing! But before you cut, make sure to check for shrinkage. That way, when it comes time to wash your new garment, it won't shrink at all and will fit as you intended.
This can be done by iron steaming the raw material at its maximum heat recommendation.
Sewing Instructions
- A High Waisted
We're so excited to help you get started, and we want to make sure you have all the information you need.
We'll take you through every step of how to sew a tulip skirt process, so you can feel confident in your sewing abilities and make something that's uniquely yours. You can do this!
Let's get started!
Sewing the skirt
1.Copy all the markings from the pattern.
2. Sew the back darts and press them towards the back. fig 1
 3. Sew the deep V's together, right side to right side, using a 1 cm seam allowance. Press the seam and overlock. fig 2
 4. Form the pleats according to the markings on the pattern and topstitch at 0.5 cm to hold them in place. On the right skirt panel, turn the pleat upwards. fig 3
 5. Sew the center back seam, right sides together. Overlock and press the seam. fig 4
 6. Overlock the hem of the skirt
 7. Turn the hem of the skirt up 1cm to the wrong side and sew at 0.9 cm. Press the hem. fig 5
 8. Overlap the left side over the right side of the skirt, on the waist area, wrong side over the right side, according to the instructions on the pattern and matching the notches. Sew at 0.5 cm to secure them. fig 6
Sewing the waistband
1.Fold the waistband in half lengthwise and press it . Overlock the bottom edge of the waistband on its inner side.
2. Sew the short sides of the waistband together, right side to right side, at 1 cm. Press the seam open.
3. Sew the two parts of the waistband on the waist of the skirt, right side to right side, leaving 5 cm open to insert the elastic
4. Cut a piece of non-roll elastic the length required to go around the waist comfortably (see the right measurement for your size in the fabric requirements table above)
5. Pin one end of the elastic to the fabric just below the opening. Pin a safety pin to the other end and thread through the casing. fig 1
6. Pull the two ends of the elastic together and machine to join in a square shape with an X for strength. Push the elastic into the casing and sew across the gap. Neaten the seam with a 3-thread serger stitch.
Congratulations! You made it through the whole thing. You've mastered this project, and you're ready to add a new skill to your repertoire.
Video Tutorial
We've got a simple tutorial for you to follow, so you don't have to worry about getting lost or confused about sewing this tulip skirt pattern. To get started on your new favorite skirt, take a look at our video below!
We have everything you need for your next  project
At the end of the day, there are still plenty of reasons to sew. And patterns can help you harness the power of sewing in new and innovative ways, creating an end result that is both beautiful and tailored to your needs. With so many options at your fingertips, there's never been a better time to try something new.
So browse away—and remember: if there's something specific in mind but you don't see it here, just let us know. We'll do whatever we can to help get your idea out there.
Grab a FREE Pattern
 Want to try a sewing pattern before commiting? You can download a top off the shoulder blouse or a tiered skirt sewing pattern. We've designed them with YOU in mind. We want you to have the best experience possible—whether it's your first time trying a free sewing pattern or your hundredth.
So check it out and let us know what you think!
Size chart
Terms of use
This digital pattern is for personal use only. No part of the pattern can be shared, reproduced, or resold in any format. Thank you so much!

**Due to the electronic nature of this pattern, refunds and exchanges are not accepted. If you have problems or questions, feel free to contact me via message
DELIA - Tulip Skirt Pattern