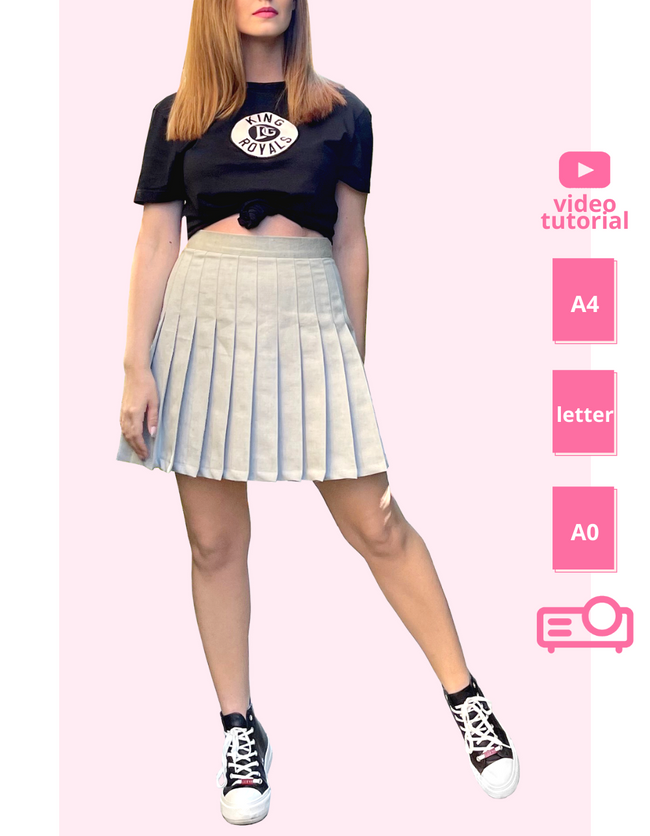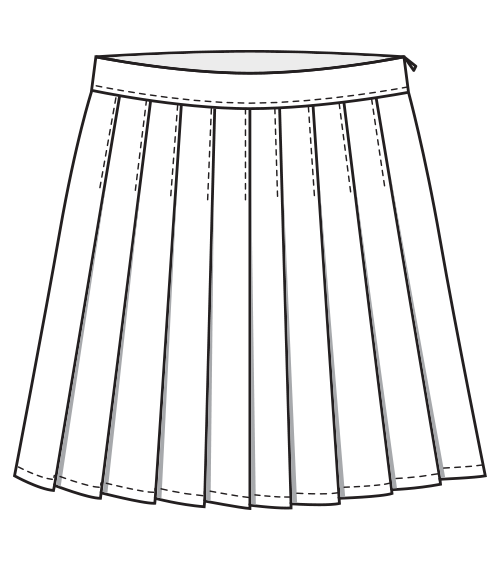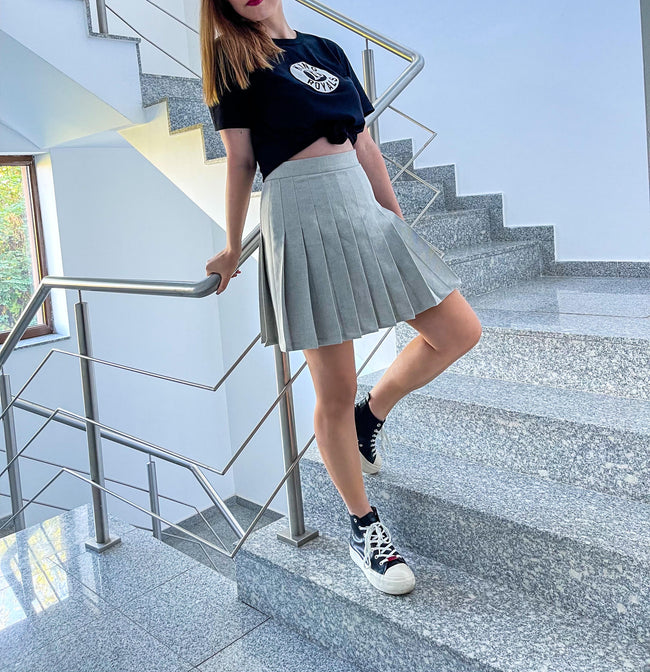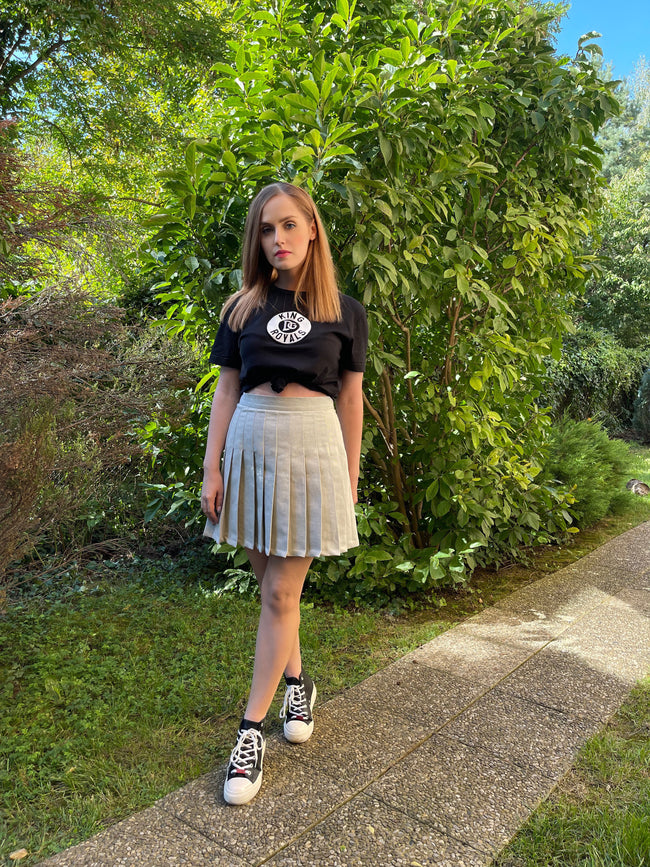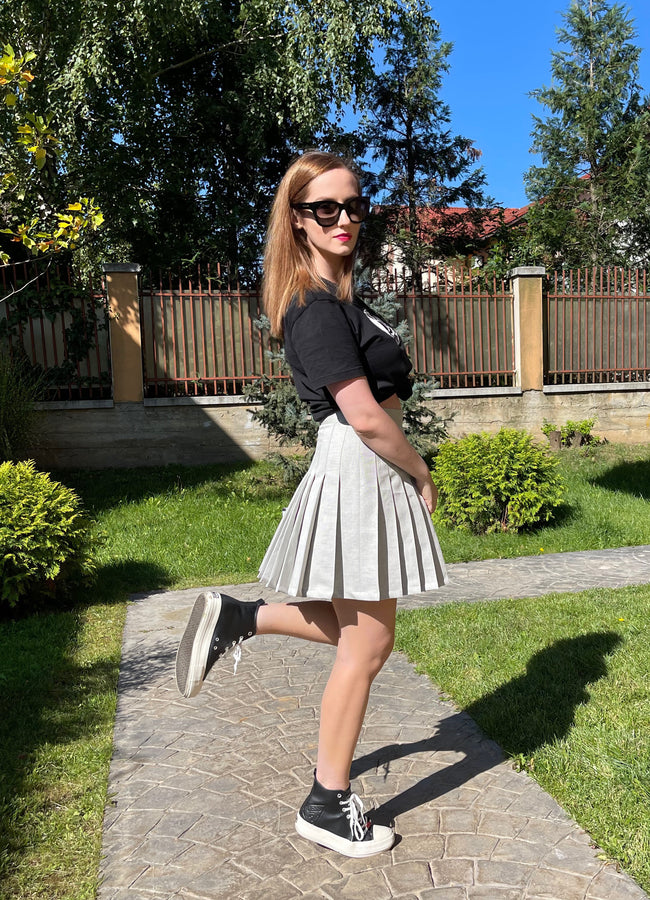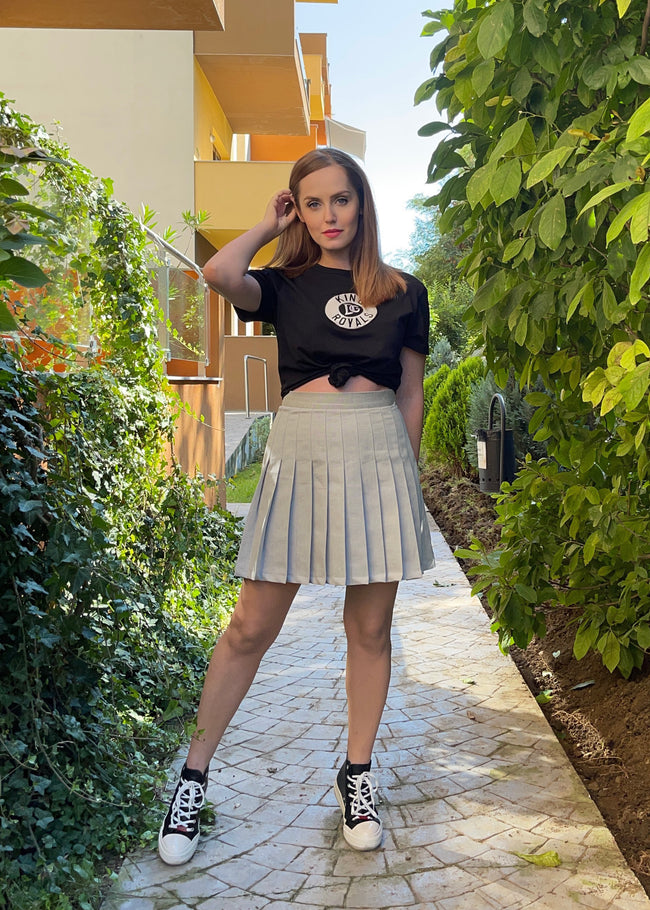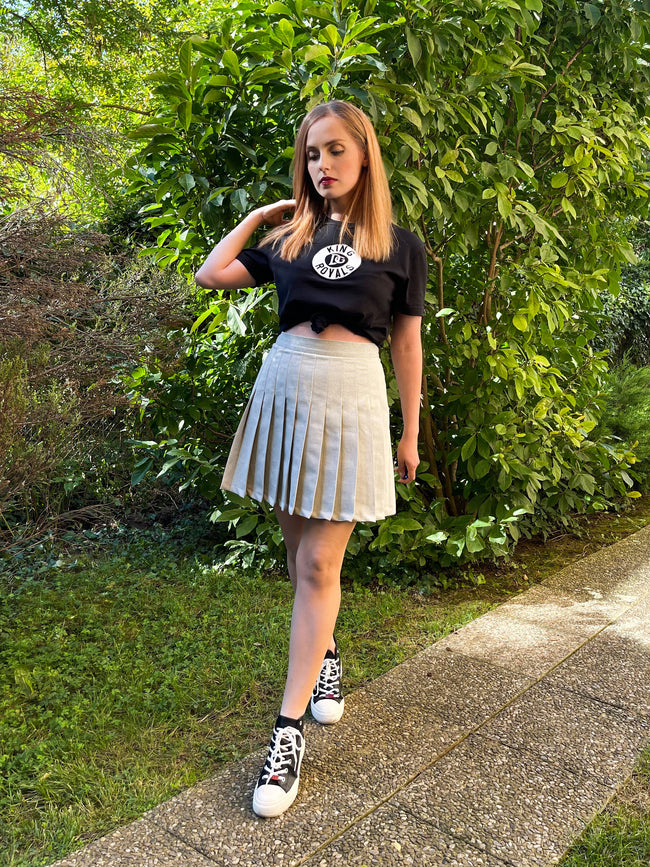 Up your style game this season with the Diana Tennis Skirt! This skirt is perfect for a day on the court or a day out on the town. The high-fitted waist and A-line mini hem give you a flattering silhouette, while the pleated overlapping overlay adds a touch of elegance. So don't wait any longer, add our Pleated Tennis Skirt to your wardrobe today!
Design Highlights
mini skirt length
invisible zipper
no lining
pleated style
perfect for summer time
How To Style And Wear Your Tennis Skirt
Pair your tennis skirt with a crop top or tank for a flirty and fun look
Dress up your tennis skirt with a blouse and heels for a more elegant ensemble
Add a denim jacket or cardigan to your outfit for cooler days
Sport a monochromatic look by choosing a top in the same shade for a more elegant and luxury aesthetic
Layer a long sleeve shirt underneath your skirt for added warmth
Rock your tennis skirt with white sneakers, sandals, or pumps depending on your desired look
Keep your jewelry simple to avoid overwhelming your outfit
So there you have it! Now that you know how to style a tennis skirt, go out and sew one for yourself!
Diana Pleated Skirt Sewing Pattern Overview
This tennis skirt pattern is full of charm and polish, detailed with tucked pleats for a swingy silhouette. Your favorite leg-baring piece to sew, it's sure to turn heads on the court.
Sewing Level
A beginner skilled sewing enthusiast will enjoy sewing the Diana Tennis Skirt Pattern.
More Of What's Inside Our Pattern
A printable PDF sewing pattern format (You will need Adobe Reader on your computer to open the PDF files)
Measurement sheet and size chart
Step-by-step guide on how to cut and sew your pattern
Assembling the pattern piece
Step by Step Instructions with Illustrations
A variety of sizes to cater to your needs, 2-14 (US) / 34-46 (EU)
A4 and Letter format for printing at home
A0 for printing at the copy center on A0 paper rolls
Projector files for projecting the patterns directly onto the fabric using the home projector
Supplies
Sewing Your Perfect Size Pattern
With this skirt, you can power serve and sprint across the tennis court with ease. Get your tennis skirt sewn today and up your style game.
You'll need:
Your skirt sewing pattern
Preferred fabric
Color matching thread
Interlining
16 cm long hidden zipper
Sewing machine
Seam Allowance:
Fabric Suggestion:
medium weight woven fabric such as cotton, satin, linen, etc
How much fabric do you need for your diy skirt?
The table below shows the amount of fabric needed for each size, and you must keep in mind that it is calculated for fabrics with a useful width of 150 cm. Pattern placement will need to be redone on fabrics with different widths and different designs (stripes, plaids, etc.)
Check your contraction!
Easily check raw material for contraction by ironing it at its maximum recommended temperature. Putting the fabric through this process will cause it to contract, giving you a better idea of what it will look like once it has been sewn into a garment. Your finished garment will retain its original size after washing, and won't shrink. Don't let any nasty surprises catch you off guard by ironing your fabric before you start cutting.
How To sew It
Sewing A Skirt - Instructions
ATTENTION: This pattern works for both front and back, but do not cut them in mirror( folded on the center)
1. Copy the markings from the pattern on the wrong side of the fabric
2. Align the vertical lines until the hip notches and pin them exactly, to create the pleats
3. Sew the pleats on the marking line using a straight stitch, being careful to meet the notches
4. Sew a topstitch at the waist at o.5 cm to hold the pleats in place
5. Turn the fabric on the good side and use the hem notches to create the pleat and iron one by one
6. Overlock the raw edge of the hem and the sides
7. Sew the sides of the skirt by placing the front over the back, right side to right side. On the left side start the side seam from the zipper notch down. Iron the seam open
8. Turn the hem 2 cm inwards and sew at 1.8 cm. iron the hem
9. Apply interlining on the waistband and overlock 1 side
10. Fold the waistband lengthwise and iron
11. Place the waistband on the skirt, good sides together and sew at 1 cm. iron the seam pointing up
12. Place the zipper starting from the fold line of the waistband and sew the zipper. Fold the waistband over the zipper and sew the sides. Cut the corner and turn over
13. Point up the waist seam and pin it to catch the inside waistband. Sew a topstitch on the front at 2 mm from the waist seam
14. Iron the skirt
Video Tutorial
How To Sew It: A Video Tutorial
You can also follow along with our sewing tutorial if you prefer video tutorials. With clear instructions and plenty of close-up shots, our sewing tutorial is easy to follow. In addition, you can pause and resume the video at your convenience.
Our designs are created with your comfort in mind
With a wide variety of styles to choose from, we have sewing patterns for everyone. Our patterns are easy to follow, and our instructions are clear and concise so you can be sure that your finished garment will look exactly as intended. We want you to enjoy the sewing process, and we're here to help you every step of the way.
Discover how easy it is to sew a fabulous off the shoulder top with a free pattern! You can adapt this pattern to a variety of different looks and it will flatter a variety of body types. No matter what your style may be, our off-shoulder top pattern will meet all your needs. We also offer a free skirt pattern, for a matching outfit!
Size chart
Terms of use
This digital pattern is for personal use only. No part of the pattern can be shared, reproduced, or resold in any format. Thank you so much!
**Due to the electronic nature of this pattern, refunds and exchanges are not accepted. If you have problems or questions, feel free to contact me via message

DIANA - Pleated Skirt Pattern