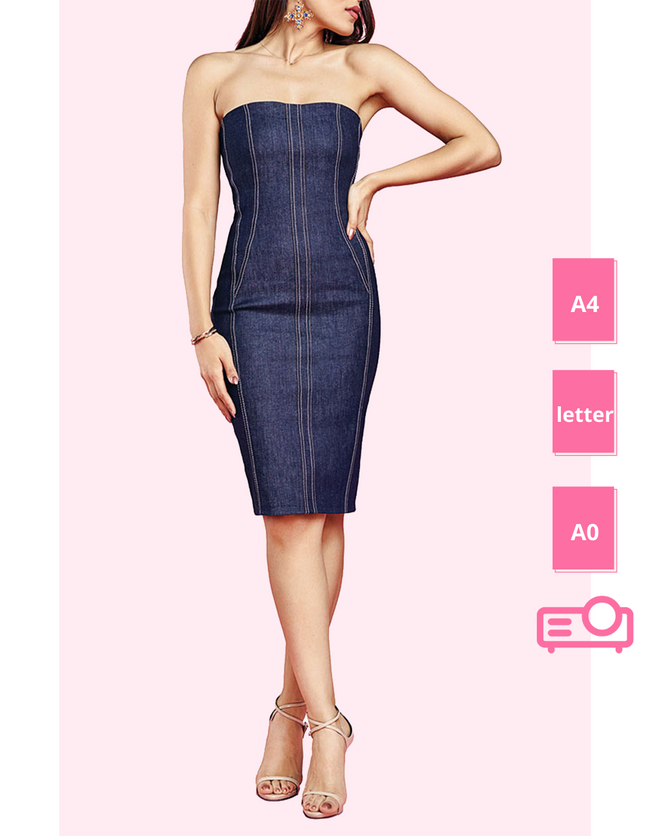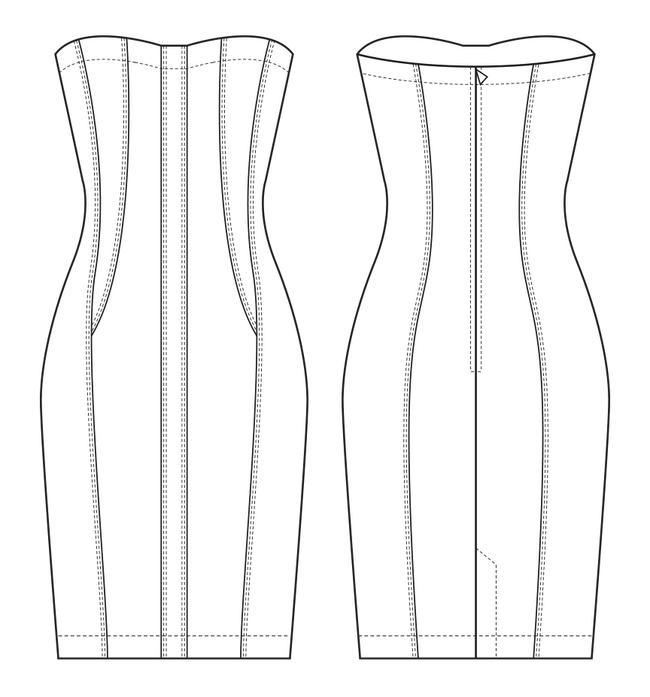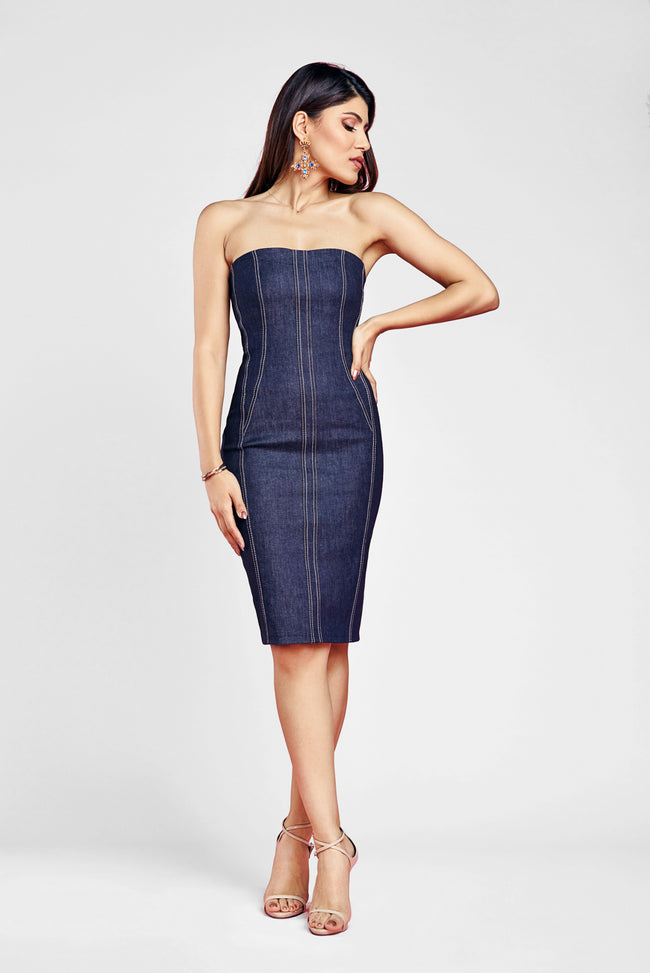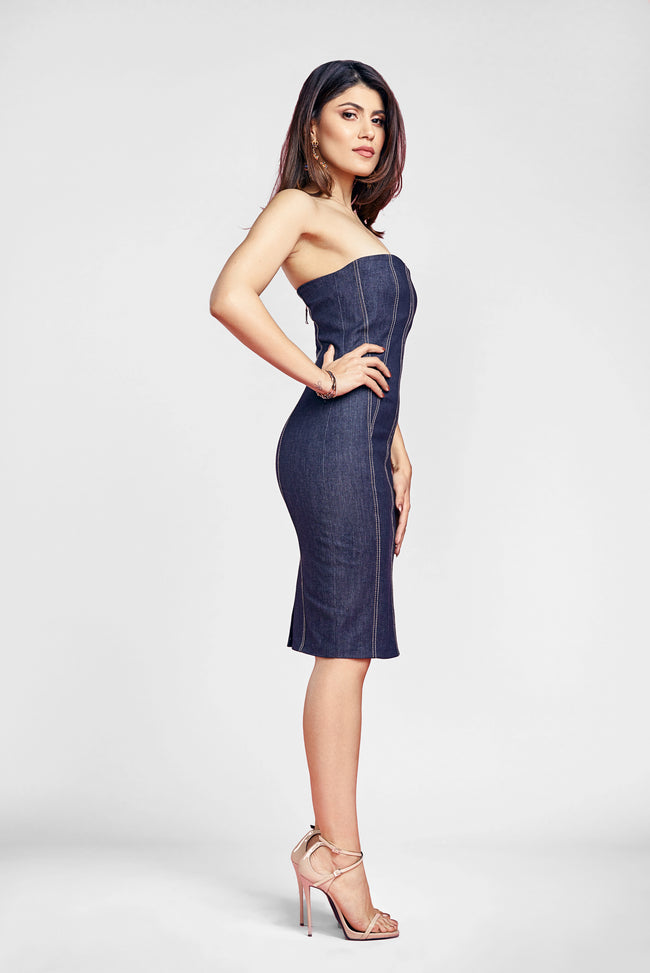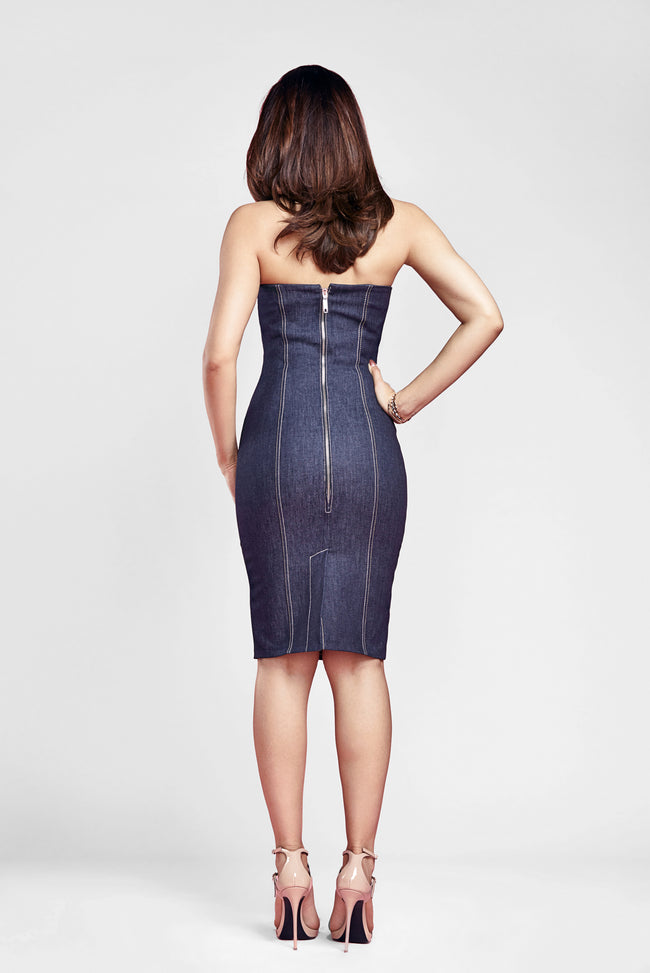 Get that flirty feminine look and craft yourself a new look with this fabulous strapless dress pattern. Its form flattering design will spread that retro vibe that could never go unnoticed. Sew your own red carpet dress today and feel good.
Design Highlights
Strapless
No boning
No lining
Back-zip closure
Midi Lengh
Bodycon Fit
Back slit
How To Style And Wear Your Strapless Dress Pattern
This Strapless Dress Pattern is perfect for all formal occasions (from evening dinners and weddings to graduations, and beyond. Add a statement piece of jewelry to your neck, grab your heel sandals or pumps and finish the look with a clutch or baguette bag. So chic!
Aniko Strapless Dress Sewing Pattern Overview
This strapless dress sewing pattern will have you looking like a total knockout at your next party!
Our Aniko dress is designed with you in mind, and it accentuates your curves to perfection. From every angle, this dress will flatter and make you feel confident in your own skin. It's designed with a snug fit that will hug and accentuate your body, giving you an enviable silhouette that's sure to turn heads wherever you go.
When you buy this pattern for strapless dress, you get instant access to the file so you can start making your own dress immediately! No paper pattern will be shipped to you.
Sewing Level
Aniko strapless bodycon dress sewing pattern is great for a medium skilled sewing enthusiast
More Of What's Inside Our Strapless Tube Dress Pattern
A printable PDF sewing pattern format (You will need Adobe Reader on your computer to open the PDF files)
Measurement sheet and size chart
Step-by-step guide on how to cut and sew your dress pattern
Assembling the pattern piece
Step by Step Instructions with Illustrations
Multiple sizes you can pick from (2-14 US / 34-46 EU)
A4 and Letter format for printing at home
A0 for printing at the copy center on A0 paper rolls
Projector files for projecting the patterns directly onto the fabric using the home projector
*All files are compressed in the ZIP archive for easy downloading. All sizes have separate files, you only need to print the files that are relevant to you.
Supplies
Effortless Femininity In A Strapless Pencil Dress Pattern
Whether you're hosting a formal event or going out on the town with friends, our dress will make sure that your style is on point all night long. You'll love the way it hugs your curves and accentuates your waistline with its fitted bodice.
Let's get right to it.
You'll need:
Your Aniko Strapless Dress Pattern
Preferred fabric
Color matching thread
Sewing machine
1 metallic zipper 35 cm long
Seam Allowance
Suggested fabrics:
When you're choosing the fabric for your next dress, remember that the key to a well-fitting dress is in the fabric. The best dress fabrics for this pattern are medium weight with 8-10% elasticity, which is why we recommend cotton, denim, or mixt
How much fabric do you need for your diy strapless dress pattern?
Sewing Instructions
Sewing A Dress - Instructions
We'll guide you through every step of the process, so that you feel confident in your sewing abilities and create something that's truly one of a kind. You can do this!

Let's get started!
Sew the center piece to the two middle sides of the front, taking care to meet the notches. Overlock the seam allowances together and iron them towards the center front. Continue the same with the next pieces of the front
Sew the sideback to the center back of the dress, overlock the pieces together and iron them towards the center back.
Double needle stitch all the stitches
Sew the sides of the dress, overlock and iron them
Overlock the center back of the back pieces and iron. Sew the center back from the zipper notch to the starting notch of the slit and also form the slit; ironing it towards the sides and top stitch them.
Insert the zipper
Sew the facing pieces together front and back
Apply the facing to the dress, iron the seam and turn facing right side out. Then, turn zip-per out so the zipper tape is facing outward.
Overock the hem of the dress, bend inwards the seam allowance, and sew the hem at 2 cm from the edge
You deserve congratulations! You have made it all the way to the end. Your skills have expanded as a result of completing this perfect dress. Now you're ready for the next step.
Sewing Patterns For Every Style And Budget
At the end of the day, there are still plenty of reasons to sew. And patterns can help you harness the power of sewing in new and innovative ways, creating an end result that is both beautiful and tailored to your needs. With so many options at your fingertips, there's never been a better time to try a new sewing project.
Would you like to test a sewing pattern before making a purchase?
We have a downloadable top off the shoulder blouse and a skirt pattern available for you to try out. It was designed with YOUR needs in mind. Whether it's your first time using a free sewing pattern or your hundredth, we strive to make your experience as smooth as possible.
Size chart
Terms of use
This digital pattern is for personal use only. No part of the pattern can be shared, reproduced, or resold in any format. Thank you so much!

**Due to the electronic nature of this pattern, refunds and exchanges are not accepted. If you have problems or questions, feel free to contact me via message
ANIKO - Strapless Dress Pattern