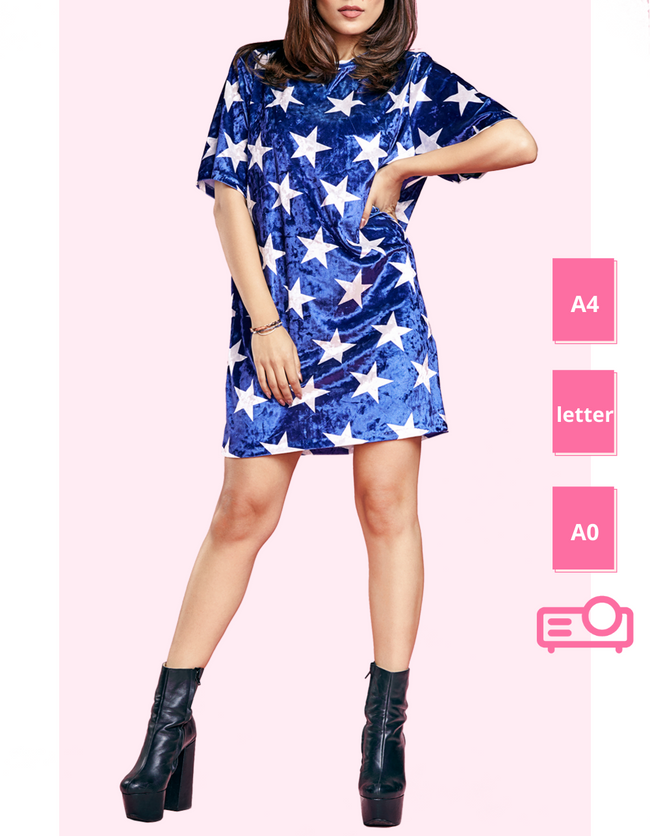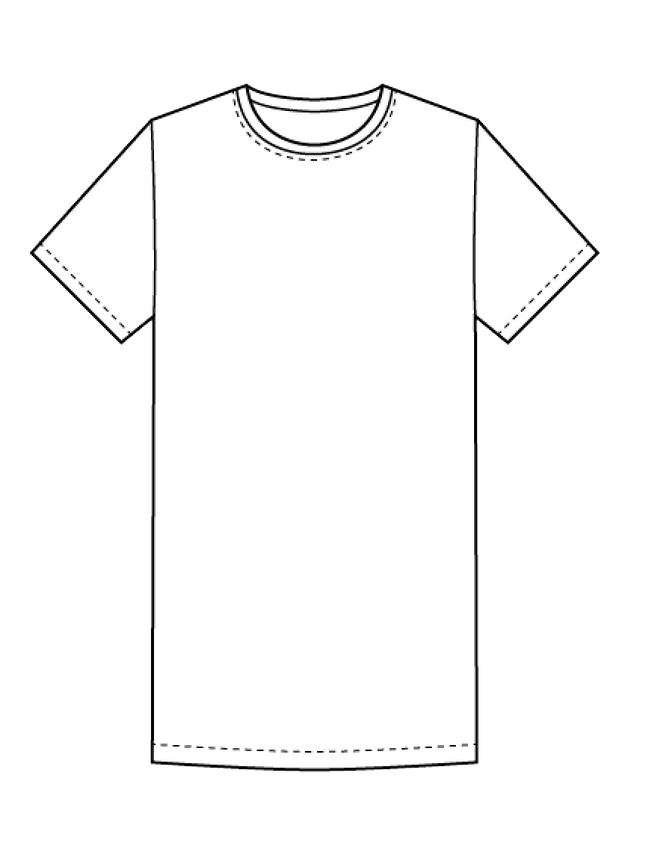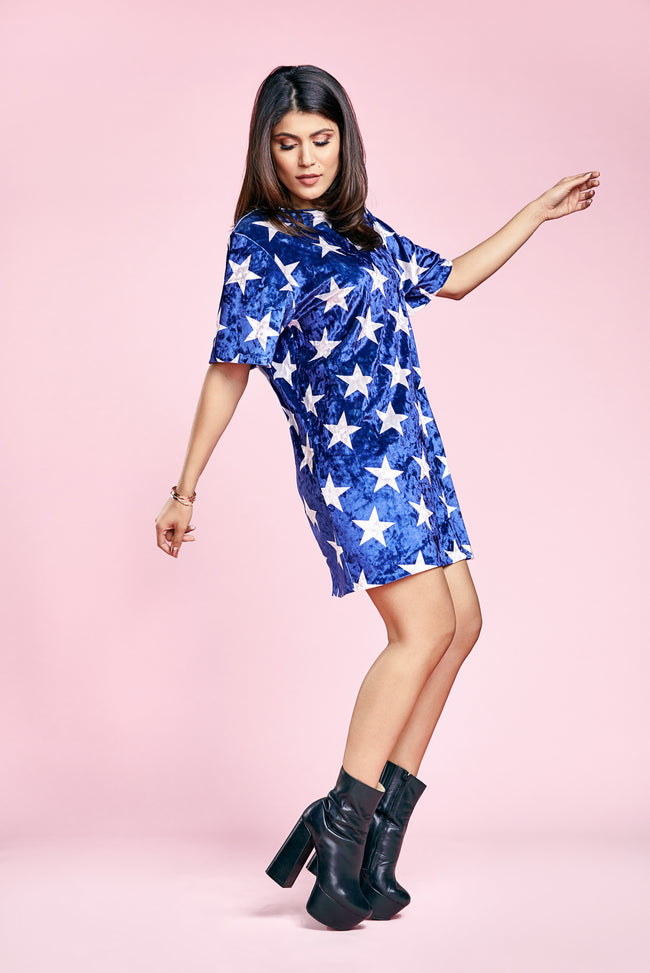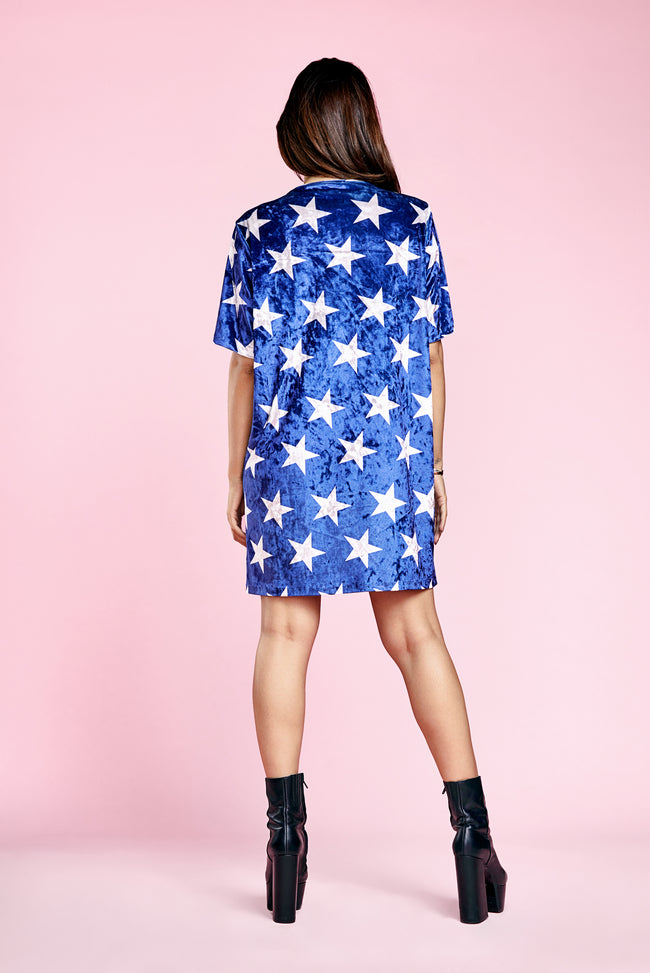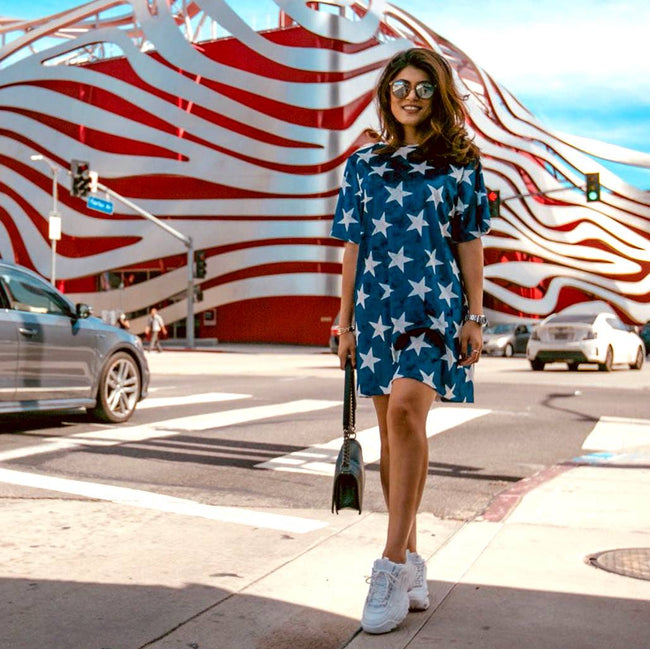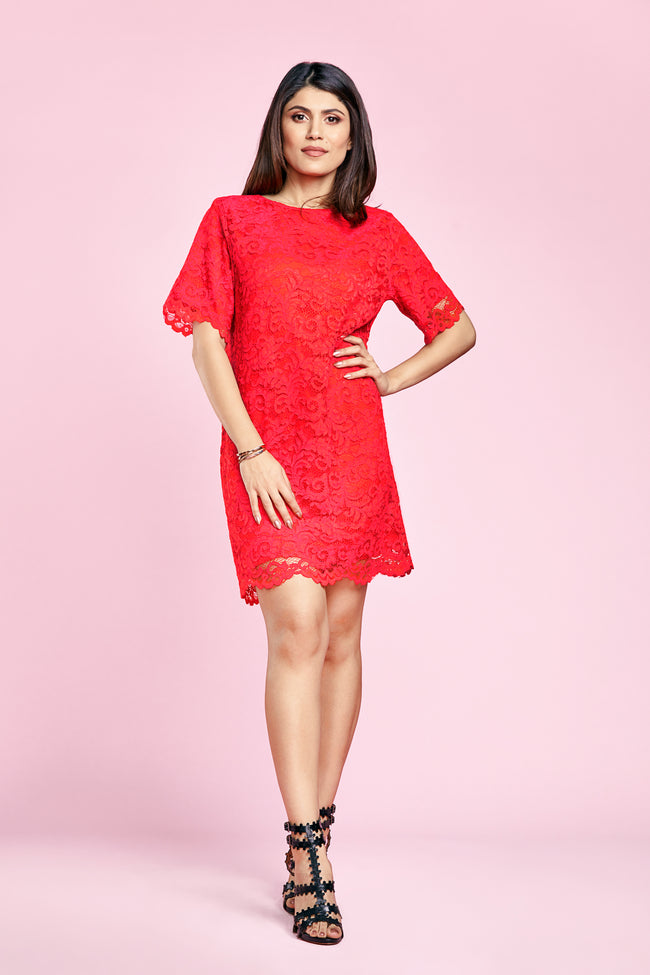 Dress up your day-to-day basics with our t shirt dress pattern. Win hearts with this oversized t-shirt mini dress and get in the mood for warm weather. Even the trendiest babes like to keep it chill sometimes!
Design Highlights
classic crew neckline
short sleeves
boxy silhouette
shift dress style
mini hem
How To Style And Wear Your T Shirt Dress Sewing Pattern
This oversized t shirt dress is super easy to style! Just throw it on over your fave pair of denim shorts and you're good to go. Or, if you're feeling extra lazy, rock it as a beach cover-up!
You can also dress this bad boy up by pairing it with a leather moto jacket and some killer ankle boots. Trust us, you'll be turning heads left and right! Accessorize or throw on and go! It's that simple.
Estella Sewing Pattern Overview
You can't go wrong with a classic T-shirt dress pattern. The kind of style you'll find yourself reaching for again and again, a go-to dress for sunny, kicked-back days.
Sewing Level
Our Dress Pattern is perfect for anyone who wants an easy sew. It's great for beginners.
More Of What's Inside Our PDF Pattern
A printable PDF sewing pattern format (You will need Adobe Reader on your computer to open the PDF files)
Measurement sheet and size chart
Step-by-step guide on how to cut and sew your pattern
Assembling the pattern piece
Step by Step Instructions with Illustrations
Size selections from 2-14 (US) / 34-46 (EU)
A4 and Letter format for printing at home
A0 for printing at the copy center on A0 paper rolls
Projector files for projecting the patterns directly onto the fabric using the home projector
Sewing Your Perfect Size Pattern
You'll need:
Your PDF Pattern
Preferred fabric
Color matching thread
Sewing machine
Seam Allowance:
Fabric Suggestion:
We recommend an elastic lightweight or medium weight woven fabric, such as elastic velvet, thick lycra, Lame, Jersey, Stretch fabric etc
How much fabric do you need for your DIY dress?
Listed below are the fabric requirements for fabrics with widths of 140-150 cm. Depending on the width and design of the fabric (striped, plaid, etc.), pattern placement may need to be reworked. Buying enough fabric for your project ahead of time will save you any last-minute trips to the store.
Check your contraction!
Please take note! Always check your fabric's contraction before cutting. You can achieve this by iron steaming the raw material at the maximum temperature recommended for it. You will be able to wash and dry your final garment at the same size that it was sewed to, and it will not shrink. You should buy 5% more than you need to cover any possible shrinkage.
Sewing A Dress - Instructions
Pin the front with the back at the shoulders, right side to right side and sew the shoulder seam. Press the seam and overlock. fig 1
Overlock the raw edge of the short sleeve and turn up the hem 2 cm to the wrong side of the fabric. Press in place and sew at 1.8 cm. fig 2
Place the sleeve into the armhole, right side to right side. Match the notches and sew at 1 cm. Overlock the seam and press
Pin the side seams, right sides together, starting from the hem of the sleeves to the hem of the dress. Sew at 1 cm with a straight seam. Overlock the seam and press
Overlock the hem of the dress and turn up the hem 2 cm to the wrong side of the fabric. Press in place and sew at 1.8 cm.
Press the neck band in 2 lengthwise
Sew the short sides of the neck binding together, right side to right side, at 1 cm. Press the seam open.
Apply the neck binding on the neckline, taking care to meet the notches. Start sewing from the left shoulder. Overlock and press the seam. fig 4
Sew a flattening seam at 3mm. fig 5
Congratulations! It's well deserved! This is the end of the journey for this pattern. Having completed this perfect dress has enabled you to master your sewing skills. You're ready to move to a more complicated sewing project now.
Sew. Wear. Repeat
Don't forget to explore our other sewing patterns and find the perfect one for your next project! Sewing is a fun and rewarding hobby. But it's not always easy to find the right sewing patterns, fabrics and all the other materials you need for your project.
That's where we come in!
Explore our free patterns
You can make a simple, but stylish off-the-shoulder blouse with this free sewing pattern. Our free skirt pattern matches it perfectly. We invite you to test us out so you can see if our way of doing things works for you and if we are a good fit. Your time is valuable, so don't waste it on patterns that don't suit you.
Size chart
Terms of use
Our digital patterns for personal use only. No part of the pattern can be shared, reproduced, or resold in any format. Thank you so much!

**Due to the electronic nature of this pattern, refunds and exchanges are not accepted. If you have problems or questions, feel free to contact me via message
ESTELLA - T-shirt dress pattern