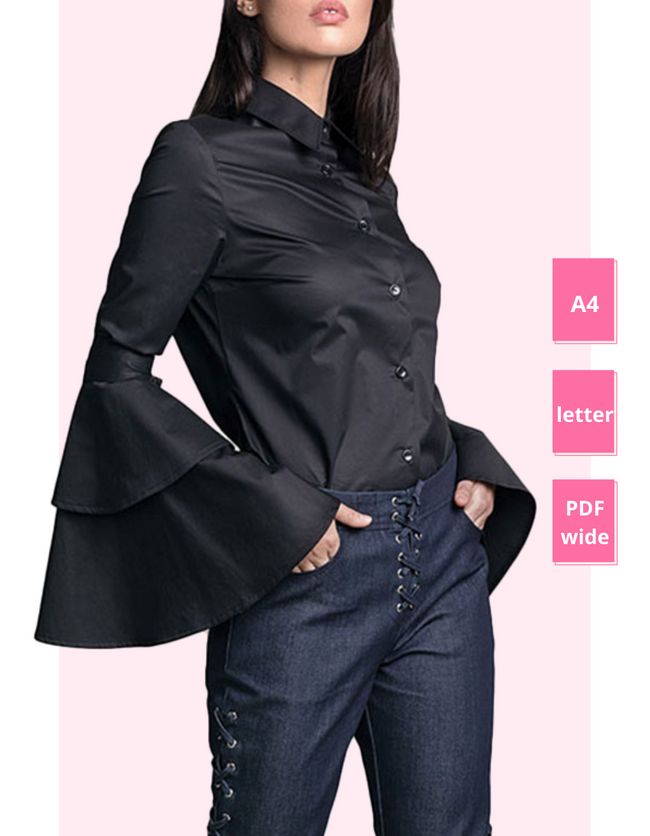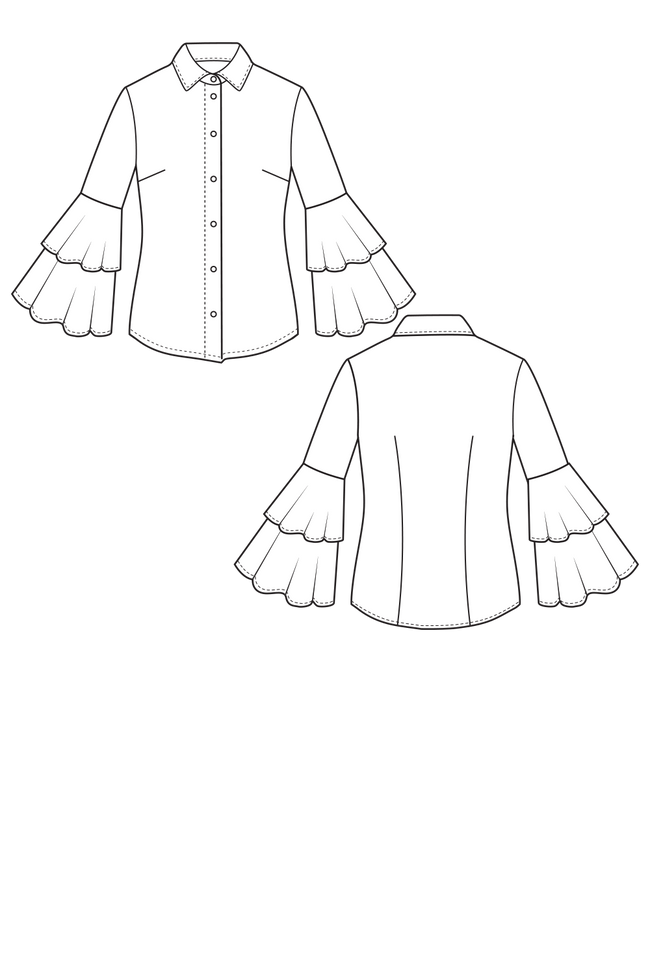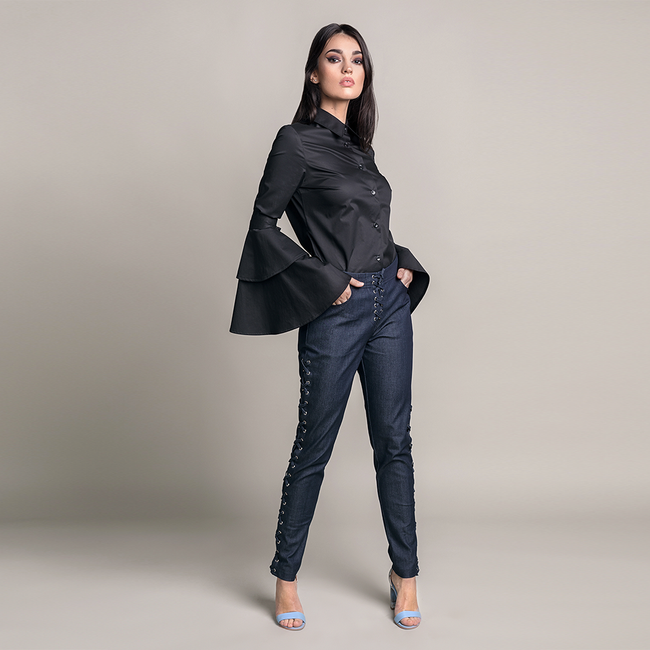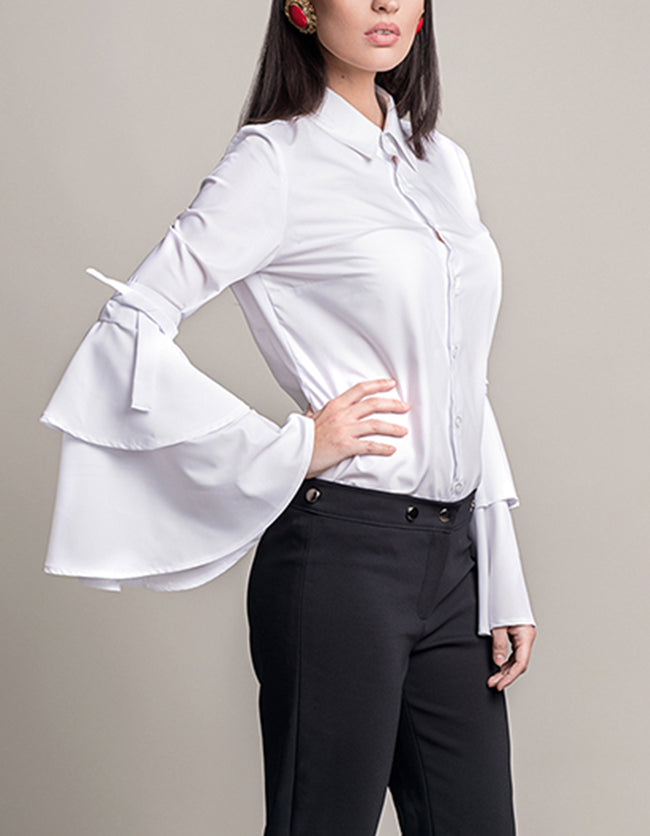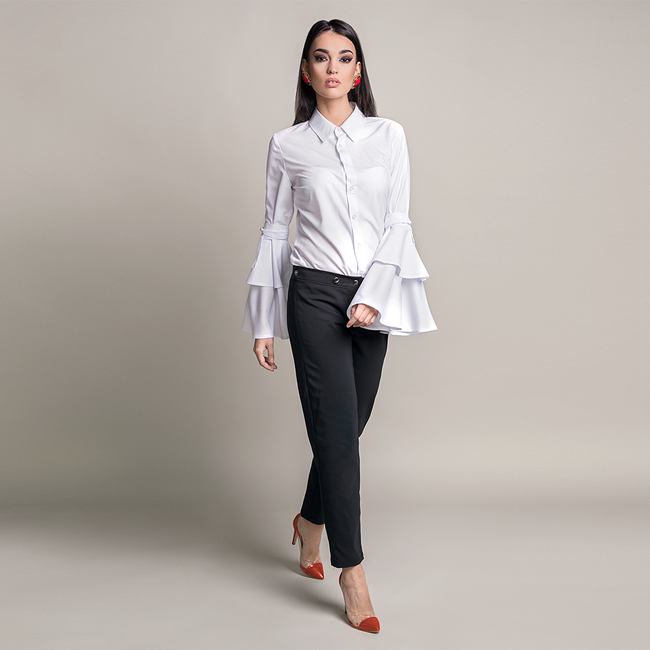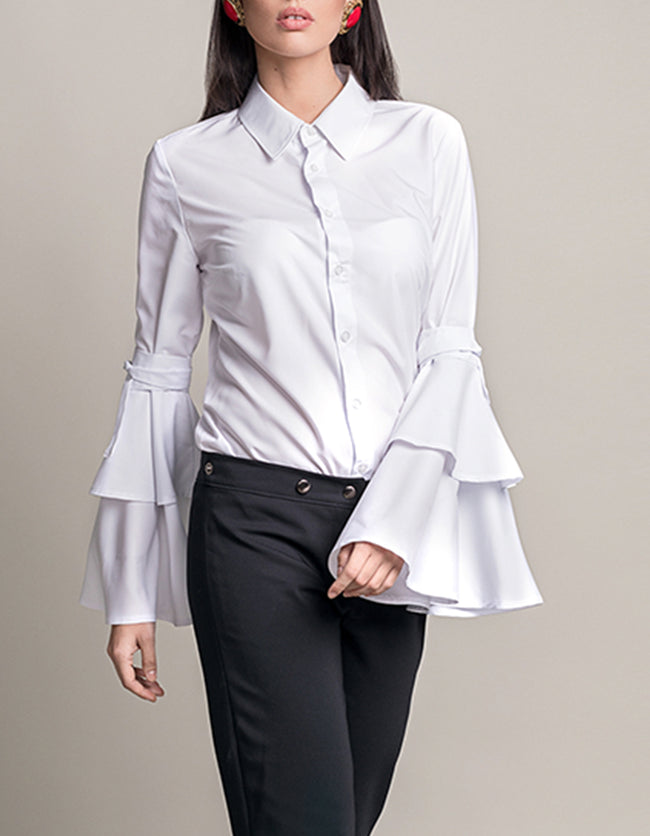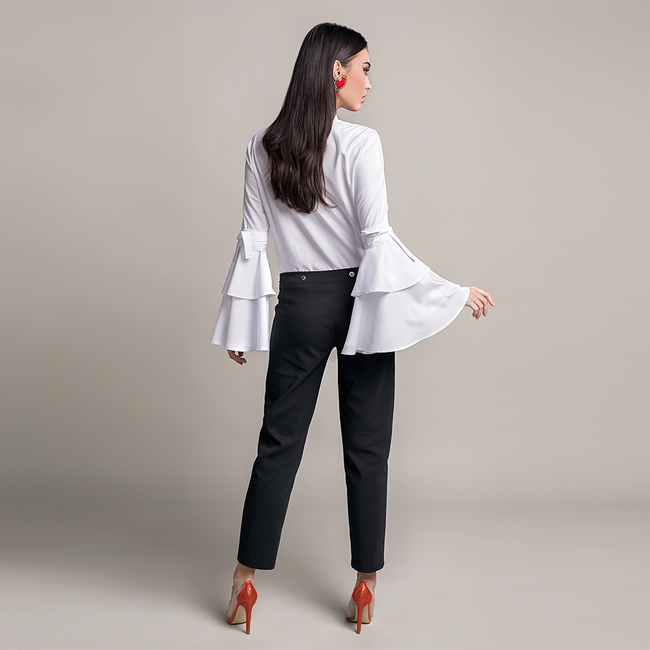 A button up shirt pattern that is effortlessly romantic and chic. This DIY simple sewing pattern featuring a pointed collar and statement-making long double bell sleeves it's a work week savior that can instantly go from desk to dinner date. Sew your own and wear it with everything from slim pants to pencil skirts.
Design Highlights
Layered bell sleeves
button down
pointed collar
How To Style And Wear Your Bell Sleeve Shirt Pattern
This is the perfect work week shirt. It looks great with slim pants and skirts. You can also style it with jeans for a more casual look. An essential button-up shirt to sew and wear.
Bianca Button Up Shirt Sewing Pattern Overview
Double bell sleeves and a pointy collar add funky, retro charm to this button-front blouse pattern.
Sewing Level
The Abby button up shirt pattern is great for an medium skilled sewing enthusiast
More Of What's Inside Our PDF Pattern
A printable PDF sewing pattern format (You will need Adobe Reader on your computer to open the PDF files)
Measurement sheet and size chart
Step-by-step guide on how to cut and sew your pattern
Assembling the pattern piece
Step by Step Instructions with Illustrations

A range of sizes 2-14 US / 34-46 EU available

A4 and Letter format for printing at home
A0 for printing at the copy center on A0 paper rolls
Projector files for projecting the patterns directly onto the fabric using the home projector
Supplies
Sewing Your Perfect Size Button Up Shirt Pattern
You'll need:
Your sewing pattern
Preferred fabric
Color matching thread
Interlining for buttonstand, collars, collar stand
7 buttons
Sewing machine
Seam Allowances
1.5 cm hem
1 cm rest of the seams
Fabric Suggestion:
a medium weight woven fabric such as cotton, denim, etc
How much fabric do you need for your diy long sleeve shirt?
Fabrics with a width between 140 and 150 cm must meet these requirements. If the fabric is striped, plaid, or has a design or of different width, pattern placement may have to be adjusted. Invest in extra fabric in advance so you do not have to make last-minute trips to the store.
Check your contraction!
Preparing your fabric for cutting begins with washing it. You will preshrink the fabric and remove excess coloration this way. Using this method ensures that your garments will not shrink after being washed and remain true to size after being sewed.
How To Sew It
Sewing A Shirt - Instructions
Sew the bust darts and iron them down
Sew the back darts and iron sideways
On the center front, fold the fabric inwards according to the lines, forming the button stand and top stitch it at 1mm
Sew the shoulders, overlock and iron the seam
Apply interlining on the collars and the collar stand
Sew the two sides of the collar, good sides together. Cut narrow the seam allowance and cut the corners obliquely. The collar is turned and ironed. Take one of the collar stands and iron the hem at 1 cm inwards. Place the collar between the pieces of the collar stand and sew all 3 together, taking care to meet the notches.
The outer collar stand is sewn on the neckline, good sides together. Then sew a topstitch at 1mm catching the inner collar stand in the seam also.
Sew the side seams of the shirt, front and back, good sides together. overlock and iron the seam
Iron the hem of the shirt 0.7 cm inwards fold once more inwards and sew at 0.6cm (double turned hem)
sew the side seams of the sleeves. overlock and iron the seam
Sew the side seams of the ruffles. Overlock and iron the seam.
Overlock the hem of the ruffles and turn it 1 cm inwards. Sew the hem at 0.9 cm
Sew the ruffles to the sleeve pieces. overlock and iron the seam
Sew the sleeves in the arm holes, taking care to match the notches. overlock and iron the seam
Sew the buttonholes according to the markings, then sew the buttons
This was it! This bell sleeve shirt pattern has come to an end. With this shirt pattern, you have improved your sewing skills. It's now time to take on more complicated sewing projects.
Stitch Your Own Outfits From The Comfort Of Your Home
Now that you know how to sew a shirt, why not try your hand at sewing some other garments? You can find many different patterns for all sorts of clothing items online or in sewing pattern books. With a little patience and practice, you'll be able to stitch up your own complete wardrobe in no time!
A Free Sewing Pattern Awaits You
Busy schedules leave little time for patterns that don't work. Get familiar with us trying an easy off-the-shoulder blouse free pattern. It matches perfectly with our free skirt pattern. Feel free to test if our approach and your sewing needs are a good fit.
Size chart
Terms of use
This digital pattern is for personal use only. No part of the pattern can be shared, reproduced, or resold in any format. Thank you so much! 

**Due to the electronic nature of this pattern, refunds and exchanges are not accepted. If you have problems or questions, feel free to contact me via message
BIANCA - Button Up Shirt Pattern